Main Content
Anatomy of a Web Accessibility Audit
Diagnosing a website for accessibility and fixing any issues that are uncovered is not a one-size-fits-all endeavor. 
Every site has a distinct set of strengths and challenges. Plus, site owners vary widely in their level of expertise and the availability of resources that can be devoted to accessibility -- which includes diagnosing the site, making the necessary modifications, and ensuring that the tools and expertise are in place to maintain compliance. 
That's why flexibility is an essential criteria when seeking ADA Section 508 accessibility solutions.
Another key: a consultative approach. Generally speaking, developers and content editors aren't hired for their knowledge of WCAG 2.1, and for most organizations, this expertise is not mission critical. Tapping the expertise of a Certified Professional in Accessibility Core Competencies (CPACC) is the most efficient and effective path for bringing a site into compliance.
Read: How to Fix Common Web Accessibility Barriers in Drupal
For organizations that partner with Promet Source to transition their websites into compliance, the process consists of a series of value-added steps in a specific order.  
The following graphic depicts the essential steps involved in an Accessibility Audit in which Promet review all facets of a website's accessibility relative to WCAG 2.1, and consults with site owners on remediation.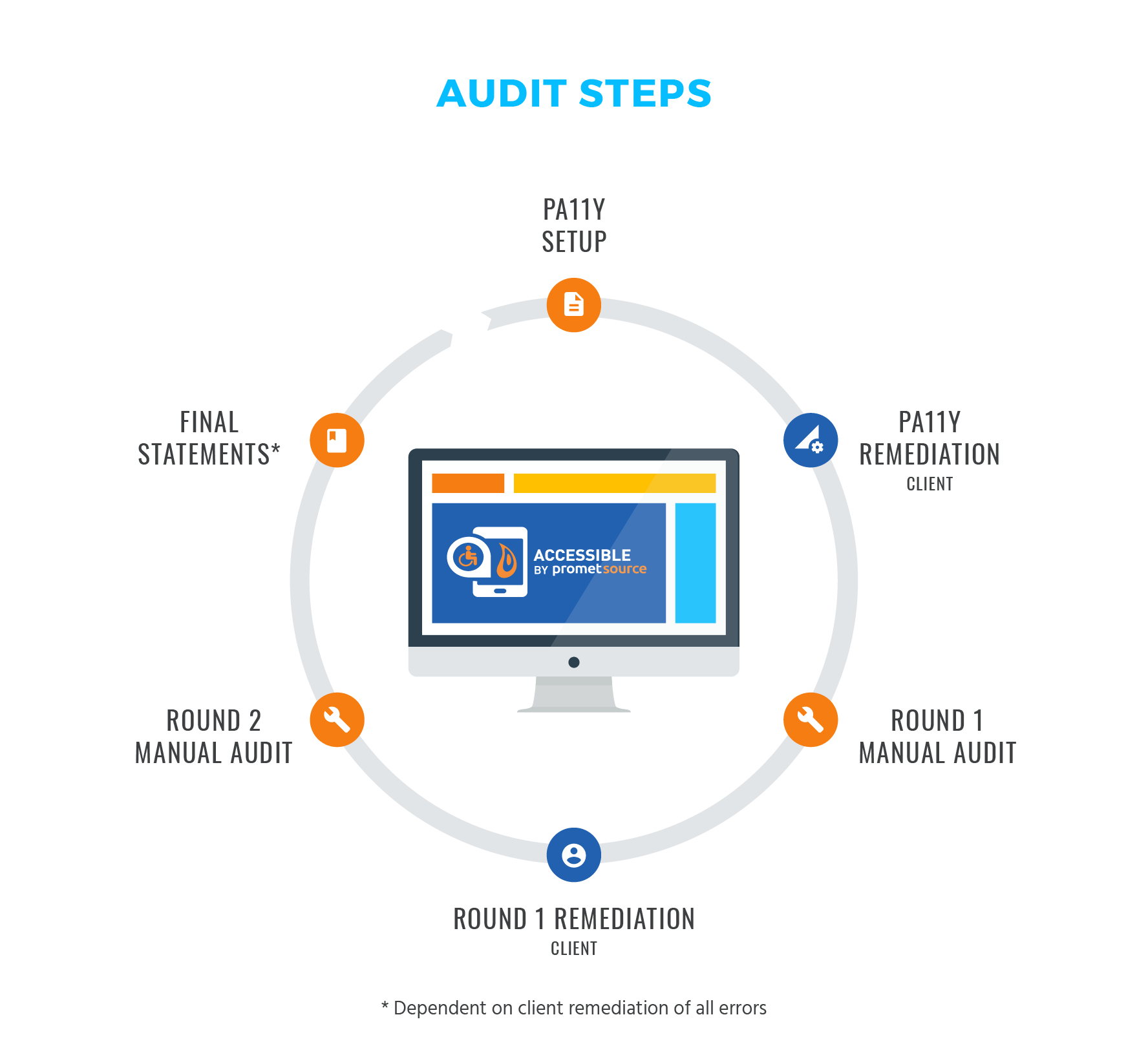 PA11Y Setup
A11Y is an abbreviation for accessibility, with the number 11 representing the number of letters between the first and last letter. PA11Y is an automated testing tool that scans web pages to detect inaccessibility. While automated testing is an essential component of the accessibility audit process, it cannot be counted on to be comprehensive. 
On average, automated testing detects approximately 30 percent of a site's accessibility errors. The errors detected by automated testing tend to be the "low-hanging fruit" found within global elements across the site, as well as logins, landing pages, and representative page templates.
 
PA11Y Remediation
What sets Promet Source apart following this initial, automatic testing phase is a high degree of consultation, along with a list of custom code fixes for bringing the site into compliance. Additionally, for a year following the audit, clients have the advantage of a dashboard, that serves as a tool from which pages can be scanned and red flagged for accessibility errors.
It's also important to point out that at the onset of the audit process, it might not be clear what remediation will entail. For any number of reasons, clients who initially intended to manage the remediation in house, might opt for a different approach once they gain an understanding of the scope of work involved.
 
Round 1 Manual Audit 
The manual audit does not occur until all of the issues flagged by the PA11Y scan are fixed. This process is facilitated by the customized code fixes that Promet provides, along with a dashboard that provides a roadmap of sorts for tracking progression and red flagging issues that need to be fixed.  
As mentioned above, the PA11Y scan cannot be counted on to detect all of the accessibility errors on a site. Manual testing is required to root out the deeper errors, which are the issues that have a greater tendency to expose site owners to legal liability. Among them:
Keyboard testing,
Color contrast testing,
Screen reader testing,
Link testing,
Tables and forms testing,
Cognitive testing, and 
Mobile testing.
If a site is revealed to be unresponsive, this finding can result in a recommendation to not move forward with remediation. Another potential remediation deal breaker: a mobile site that is not consistent in terms of content and functionality with the desktop site, as a mobile site is required to have the same content as its desktop counterpart.
It's important to note that a strong accessibility initiative has been built into Drupal 8, and that will continue to be the case for Drupal 9 and subsequent updates. At this point, we have found Drupal to be the best CMS in terms of accessibility.
Read: Creating a Culture for Web Accessibility Compliance
Round 1 Remediation
Promet is in close consultation with clients during the manual audit, and walks through every component of success criteria before the client moves forward with Round 1 Remediation.
A customized plan is created that varies according to depth and breadth of remediation work required, as well as the in-house expertise, and available resources. Depending on client needs, the plan can incorporate various levels of consultation, and either online or in-person training.
Working closely with both content editors and developers, the training focuses on the required remediation steps, as well as how to write code that's accessible. Ensuring the accessibility of PDFs is another key area of focus.  
The remediation dashboard serves as an essential tool during and following Round 1 remediation. The dashboard flags errors and issues warnings which then need to be manually reviewed and addressed.
Round 2 Manual Audit
The Round 2 Audit represents the final review, along with ongoing consultation concerning any remediation challenges that have proven to be complex, and best practices for maintaining compliance. The Round 2 Audit won't begin until all errors reported in the Round 1 Audit have been remediated to 0 errors.
Final Statements
Once all recommended remediation has been completed and verified, final statements are prepared. The final statements provide official language that the audit and remediation are complete. A final Statement of Accessibility and Statement of Work Completed will be provided.
Optimally, a complete Statement of Conformance is issued, but in instances where the site links to third-party vendors, (which is often the case) and the vendor sites are not accessible, a Statement of Partial Conformance is issued, along with an explanation of the site owner's good-faith efforts. 
It is recommended that instances of inaccessibility be reported to third-parties that are linked to the site. Often the result is ongoing remediation work and ultimately, a comprehensive Statement of Conformance.
 
Moving Forward
Without exception, Promet clients report a high degree of added value during and following an accessibility audit. The education, consultation, and opportunity to dig deep and deconstruct aspects of a site that no longer serve the organizational mission fuels a better and wiser team of developers and content editors. Plus, the dashboard that remains in place for a full year, is an essential resource for staying on track.
In the current climate, websites are highly dynamic and serve as the primary point of engagement for customers and constituents. Constantly evolving sites call for an ongoing focus on accessibility, and an acknowledgement that staff turnover can erode the education, expertise, and commitment to accessibility that is in place at the conclusion of an audit.
For this reason, a bi-annual or annual audit, which can be viewed essentially as an accessibility refresh, is a highly recommended best practice.
Interested in kicking off a conversation about auditing your site for accessibility? Contact us today.