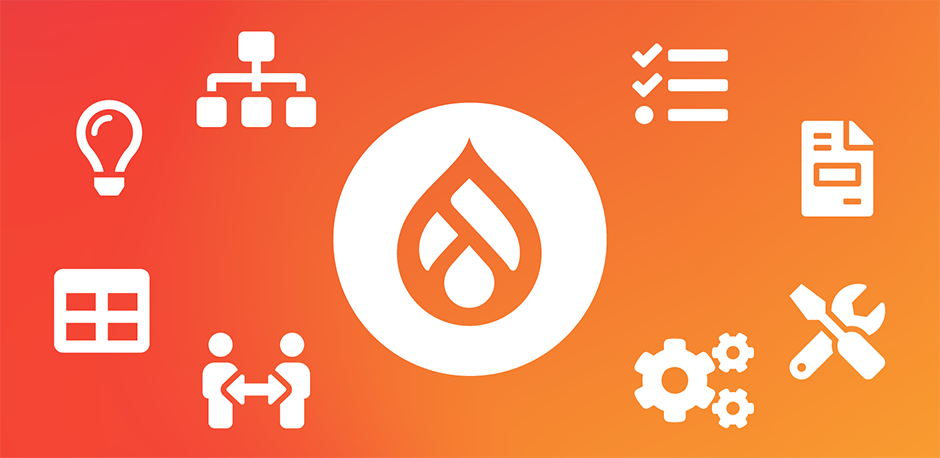 Fast Track and Optimize Your Migration to Drupal 10
In the current environment, migrating to Drupal 10 is an absolute imperative. It's also an excellent opportunity to begin to benefit from a far superior CMS. 
The Drupal 7 end of life date has been extended to November 2023. Drupal security releases for Drupal 8, however, ended on November 28, 2021, with no option for continued security support. This forced end of life for Drupal 8 is due to a Symfony 3 dependency, which has an end of life date of November 2021. This is a publicly available fact, well known to bad actors. All Drupal 8 sites are at risk after this point.
Here's a quick visual concerning key dates for Drupal site updates.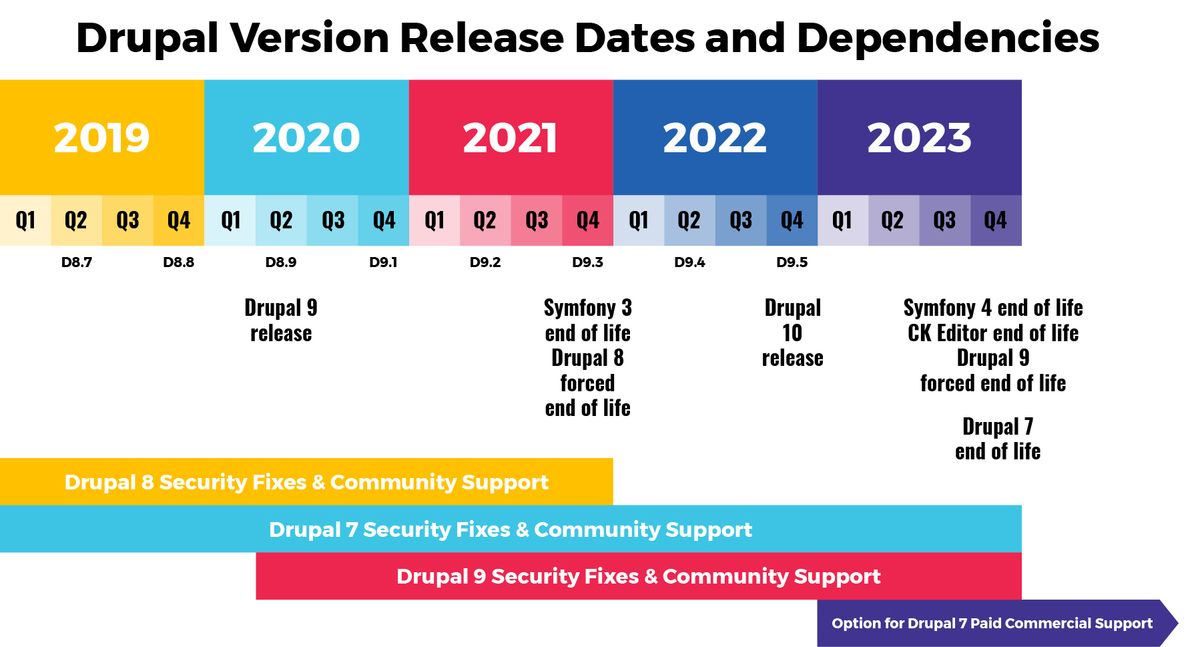 With unsurpassed Drupal expertise, Promet Source has developed an efficient audit process for thoroughly researching a site in preparation for a straightforward and seamless migration that involves no surprises. We have the tools, the team, and the processes in place to ensure a streamlined and value-added migration that positions you to benefit from Drupal 10 ASAP.
Read: Drupal Migration FAQs
Streamlined Path to New Possibilities
Here are the essential steps in Promet's migration processes, proven to optimizing your advantage every step of the way.
Take Stock of the Current Site
A Drupal 10 migration offers an excellent opportunity to ensure that the architecture, UX, and design of your website is in sync with your current brand and objectives, and evaluate your site on a wide range of factors. 
Audit Existing Content
A content inventory that flags outdated, redundant, or off-brand content is a critical first step in the site migration process. The less content that needs to be migrated to the new site, the simpler the migration process will be. 
Scrutinize Site Analytics
Analytics that reveal which pages get the most traffic will bring much-needed insight and objectivity into the decision-making process. 
Audit Modules
A close audit of contributed modules is required to determine whether they've been updated for Drupal 10 or pulled into Drupal 10 core.  Custom modules need to be flagged followed by a determination of whether there is now a contributed module that could provide the same functionality, or if the custom module needs to be rewritten for Drupal 10. 
Assess the Theme
If the current site is using a contributed theme, there is likely to be a Drupal 10 version. Often, there are sub-themes within contributed themes. The ability to maintain the same base theme (such as Bootstrap, Zen, or ZURB) in a Drupal 10 form, will help to streamline migration.   
Identify Complexities
Particularly complex features or functions of the site, such as multi-language capabilities or single sign-on (SSO), can have a significant impact on the migration. Migration processes are significantly more straightforward when complexities are identified at the outset.
Optimize the Opportunity
At Promet Source, we understand that your organization's website tells your story and that no two are alike. We to approach every Drupal migration with a deep dive into both the details and the big picture, with a passion for adding value throughout the entire process as your site is migrated toward a CMS provide the advantage of increasingly tighter security, improved performance, greater speed, a built-in emphasis on accessibility, multilingual capabilities, and a mobile-first UX, and a lot more. 
Wait! There's More!
Check out the following articles and updates for further information on migrating to Drupal 10.
The Next Frontier: Top New Features of Drupal 10
A Comprehensive Guide to Drupal Migration Resources
Migrating From Drupal 7 to Drupal 9? Acquia has your back
How to Optimize a Drupal 7 to 9 Migration
Drupal 9 has Dropped! What to Do Now?
Looking for insights or consultative support on any aspect of a Drupal migration? That's what we do. Let us know how we can help!