Main Content
Drupal vs Joomla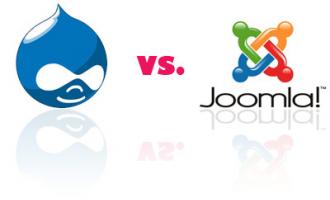 Drupal 7 vs Joomla 1.6
This is a comparison between Drupal 7 and Joomla 1.6.  We evaluate which CMS is best in 5 categories; Installation, administration, code, expandability, and usability.  Lastly, we draw an overall conclusion about these two CMS's and help you choose which will work best.  It's no surprise that as an open source Drupal development shop we have already made the decision to commit to Drupal over Joomla.  Here is a bit of a breakdown about how we have come to these conclusions.

 
---
Installation:
Joomla:
The installation of Joomla is fairly straightforward.  You must create a database, copy Joomla files to your directory, and follow on-screen instructions to complete the installation.  Newbs should take things slow and remember to read the full instructions and details on each page.  All and all the Joomla installation is simple and has many tutorials for anyone who may have any difficulties setting up a database or moving files.
 
Drupal:
The Drupal installation is pretty similar to that of Joomla.  Drupal needs to have a database created, files moved, and then the user needs to follow on-screen instructions to complete the installation.  The one difference in the Drupal installation is the necessity to copy the default.settings.php file to setting.php and do some minor configuration.  To someone who has done this before, it is a very simple step, but to a newbie, this could be a big hurdle.  Luckily, there are plenty of detailed tutorials to help a first timer configure and finish the installation.
 
Winner:
Joomla wins this one by a slim margin.  Although both installations are on the simple side, Joomla avoids requiring the user to modify files.  
 
---
Administration:

Joomla:
One of the top initiatives for Joomla 1.6 was to improve the administration side of the CMS.  Although this has been done, there is still a long way for the platform to go.  Joomla has a separate backend where all administration is performed.  The problem with the backend administration of Joomla is in its permissions.  Permission settings are found in different places, are not straightforward, and often it is assumed that the ability to edit content also gives a user the ability to do other administration that you may not want them to.  In other words, individual selection of permission aspects is difficult.

Another issue with the administration of Joomla is the inability to recognize and administer updates to the core and its extensions.  Why do I bring this up, because the issue appears to be fixed for 1.6.  Joomla now offers the ability to tell you when updates are available and help you download and install.  This is a big step forward for Joomla's administration.
 

Drupal:
Drupal may very well be known because of its administration capabilities.  Drupal is an administrators dream when it comes to permissions, updates, and configuration management.  One of Drupal 7s main initiatives was to continue to improve the usability both as a user and administrator.  Drupal has continued its trend of allowing very specific and direct permission controls.  Roles are straightforward and easy to customize.  Additionally, a multi-site capability is built in.  

With regards to updates, it is easy to tell when updates are available.  One downside that that sometimes updates are not straightforward.  Drupal requires you to manually copy files.  Following the file copy you must run an update script.  This is one area of usability that was not changed and improved in Drupal 7.
 
Winner:
Drupal is a hands-down favorite when it comes to administration.  It has far superior permissions, roles, and configuration management.
 
---
Code:
Joomla:
Code has been an issue to Joomla for quite some time now.  Although there has been a significant improvement in 1.6 (cutting nearly a 3rd out) Joomla is still not there yet.  A major side effect of this is several bug and security issues.  For large sites, this is increasing a big issue and concern.  Companies can often rule out Joomla as their go-to CMS due to the security concerns.
 
Drupal:
Drupal, on the other hand, has a long track record of great code.  In addition to great code, Drupal has far superior documentation to that of Joomla.  Not only are features well documented, but they are also easy to override and control.  This is an area where Drupal shine with Drupal.org as a great resource for developers and users alike.  Drupal is a "developers" CMS and allows for great code customization.
 
Winner:
DRUPAL
 
---
Expandability:
Joomla:
Joomla has a vast expandability for both functionality and design.  It is fairly straightforward in how to expand the functionality of a site with the extensions.  Where Joomla really shines is its ability to be easily extendable with regards to design.  It is easier for a newer developer/user to build quality themes with little expertise.  This is an expandability factor where Joomla is superior.
 
Drupal:
Drupal has a huge library of contributed modules to expand the functionality of the Drupal core. Drupal has chosen to continue to keep its core simple (although it has added a significant amount since Drupal 6, in order to allow developers to choose only modules that need to obtain the desired functionality.  This leads to a performance increase, but also add an additional knowledge base level to the development of Drupal.  

Drupal's lack of expandability compared to Joomla comes in the form of design/themes.  Drupal doesn't offer too many simple and customizable themes out of the box.  It requires a higher level of design and templating be performed to obtain more complex themes.  For a development team, this comes in the form of a template specialist that has the ability to take the design and implement them.   
 
Winner:
Functionally they are both equally expandable.  Theme/design wise puts Joomla as the favorite.
 
---
Usability:
Joomla:
Usability with Joomla is a big issue.  It is very difficult for new users to easily find there way around.  Someone with very little to no experience with content management will have a very difficult finding there way around without the direct instruction and time of a trained professional.  The learning curve for Joomla is tough to overcome.  The workflow in Joomla is not where it would need to be for a CMS.  

Content editing is a big issue with Joomla.  Formatting is not straightforward and is difficult to teach an amateur.  This seems perplexing for a system that is built of constant changes and updating.  Usability for a CMS is a must and Joomla leaves a lot to be desired.
 
Drupal:
When Dries (Drupal creator) made usability the #1 initiative for Drupal 7 he wasn't kidding around.  The usability improvements from 6 to 7 are night and day.  Creating, editing, and navigating content is easier than ever in Drupal 7.  Form fields, permission control, content types, and quality workflow are all aspects of Drupal that make it far superior to Joomla in regards to usability.    
 
Winner:
Drupal
 
---
Conclusion:

Joomla:
Joomla grabs a small edge over Drupal in installation due to the fact that Drupal required the modification of the settings file.  Joomla also has a small edge of Drupal in expandability due to the ease of use in creating complex themes.  Joomla leaves a lot to be desired with a CMS in the areas of administration, code, and usability.
 
Drupal:
Drupal must be viewed as a vastly superior CMS due to its administration, code, and usability.  What it lacks in installation and theme expandability are greatly countered by these other areas.  In the end, Drupal is a CMS that does CMS right.  This is not to say that Drupal 7 is the final product.  The continual development of Drupal is necessary to continue to improve a web platform that is increasingly being used to manage complex sites.
 
Winner:
DRUPAL
 
---
Why Promet Has Chosen Drupal:
Promet has chosen Drupal because of its superiority in administration, code (customization), and usability.  Additionally, we believe that the expandability of Drupal is superior to that of Joomla.  Design/theme expandability is not an issue for us because we have designers and templaters that are well versed in creating professional themes for our clients.  Additionally, we believe that the superior code of Drupal allows us to build our own custom modules as well as modify modules easier than that of Joomla, leading to easier expandability.  

The installation has never been an issue for us.  The installation is trivial to our system administration teams.  We have even built our own standard Drupal installation profile that we use for the majority of our clients.  At the end of the day, Drupal is a better CMS and is backed by a top-notch community of developers who dedicated countless hours to continue to expand, improve, and grow the platform.
---
Promet Source is a Chicago based full-service Drupal Web Development Company focusing on open source technologies to build complex websites and web applications. Promet uses Drupal to build a broad variety of websites, web applications and mobile application development.  Along with their Drupal expertise, Promet Source differentiates themselves by providing a superior customer experience throughout all facets of the development process, including design, software engineering, project management, quality assurance as well as hosting & online marketing services.

---