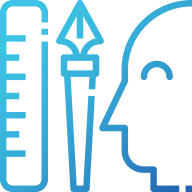 Driving Strategy with Human Centered Design
By developing strategies in collaboration with our clients, powered by insights about users, we lay the groundwork for transformative possibilities.
We engage with clients in strategy workshops that analyze problems and opportunities from multiple perspectives, taking into consideration needs and expectations among the groups they serve. We expose key challenges and competitive risks as well as assess current approaches, legacy considerations, and help shape the vision for the future.
Clients that engage in our strategy workshops benefit in multiple ways
Accelerate Innovation Fueled by a Common Vision

Intentional Alignment of Key Stakeholder's Needs

Reduce Risk and Lower Costs with Early Alignment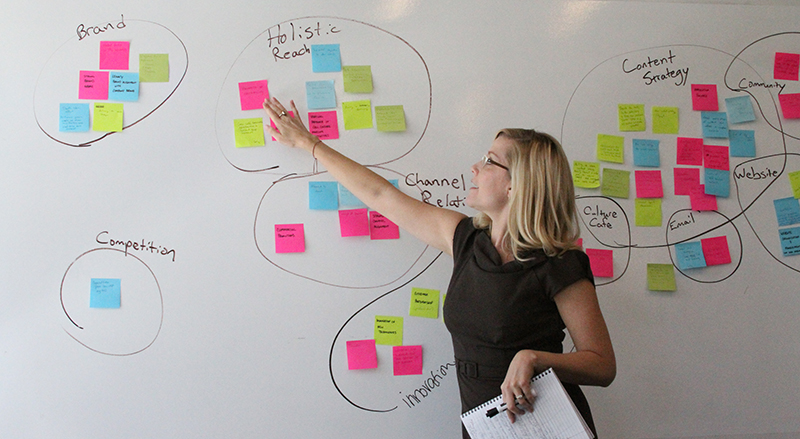 Our Structured Workshop Models
After consulting with clients and actively listening to their distinct needs, we tailor workshop engagements based on what they are looking to achieve. Workshops we construct align with the following models:
Discovery Workshops

Discovery Workshops dive deep into understanding requirements for a site, along with consultative website planning to determine whether objectives will be best met whether your goal is development of a new site or revisions to an existing site.

Marketing and Brand Workshops

Marketing and Branding Workshops focus on defining organizational strategy for messaging and marketing by evaluating target audiences, determining goals, and determining distinct value propositions.

Design Workshops

User Experience and Design Workshops evaluate the user experience of a system in order to optimize navigation and content structures within a framework of the user journey. 

Architecture Workshop

Drupal Technical Workshops are highly consultative and provide a blueprint for the Drupal technical architecture and content strategy for clients that have their own development team, as well as those that engage with Promet Source as a development partner.

Accessibility Workshop

Accessibility Workshops offer an intensive examination of websites and all online resources for creating a roadmap  to achieve compliance with ADA Section 508 and WCAG 2.1. 

Our Strategy Workshop Approach
Leveraging Human-Centered Design and Design Thinking methodologies, we facilitate conversations for synthesizing an outpouring of new ideas within the framework of organizational objectives. We define and drill down on the needs and expectations of key persona groups served. We move toward consensus among stakeholders from disparate functions. 
Facilitated workshops may range in length from one to five days. Groups range in size from intimate workgroups to large-scale conferences. We can accommodate onsite facilitation or remote groups with virtual workshops utilizing remote collaboration technologies.
| | | |
| --- | --- | --- |
| Multidisciplinary collaboration and consultation with your team and our technical and design experts | Evaluate key stakeholder needs to discover their sentiment and uncover any potential challenges | Definition and prioritization of target user groups to build a solution that addresses their needs |
| User interviews to validate the findings and assumptions made in the workshop | Comparative and competitive research to identify industry trends and benchmarks | Vision documents that synthesize results into an actionable strategy to garner stakeholder support |
Strategy Workshop Outcomes
Assessment of requirements for a new product or site
Engagement of disparate teams for the purpose of gaining consensus
User experience evaluation and recommended solutions for an existing site
Evaluation of buyer/user journeys within the context of an existing site
Persona development and identification of user groups 
Migration planning to Drupal 9
Cross training/consultation for developers who are new to a Drupal team
Onboarding for content editors and contributors who are new to Drupal
Drupal-focused content strategy creation for data structures and blocks
Non-Drupal site design and development
Evaluation and creation of taxonomies
Engagement of DevOps teams for automating deployment
Brand and messaging strategy
Evaluation of brand properties across the web
Creation of social media and digital advertising strategies
Consultation for ADA 508 and WCAG compliance
Looking to start a conversation about how a workshop can help your organization define objectives or achieve key goals? Contact us.