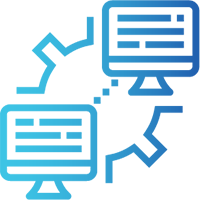 A Streamlined Path to New Possibilities  

Drupal Migration Expertise
Our team of migration experts is adept at guiding clients through complex web migrations. We've tailored agile project management methodologies specifically for web migration projects to ensure no disruption to current operations while optimizing outcomes. Promet's focus on accessibility during every phase of the strategy, planning, design, and development enhances efficiency while providing the confidence that backtracking will never be required to ensure the new site meets current web content accessibility guidelines (WCAG). 
What Sets Us Apart
As a leading Drupal consulting and development company, we leverage a depth and breadth of skills and perspective, with a commitment to add value and share expertise every step of the way. 
Breadth of Benefits
Migrating your website allows for a new world of digital possibilities. Promet's award-winning web design and UX team works closely with developers and offers the option of efficiently integrating a redesign of your website into the migration process. If your website is currently on Drupal 7, a vast array of new features and a superior CMS is in store. If your site is currently on Drupal 8, you can count on a straightforward and seamless migration process.
Contact us today for a conversation about what's involved and what you can expect from migrating your site to the latest version of Drupal.