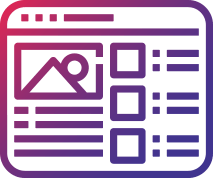 Purposeful, Powerful Digital Interactions
Our UI and web design services are driven by leading-edge research with a foundation in UX and deep empathy for human engagement to create extraordinary web experiences.
We create delightful and functional designs that optimize your brand elements for increasing engagement and the interactivity of your site, powered by meaningful visual elements.
Design Systems
Component-based design systems produce inherent efficiencies with better brand management and a more flexible system for content editors without breaking brand guidelines or page structures. Using Atomic Design principles, our team builds systems that create strong brand consistency across large, complex sites with multiple content editors.
Promet supports and contributes to Emulsify®, an open source tool for creating web design systems which help us provide our clients with:
Design systems that can flex, bend, and scale within and among complex web designs,
Powerful new possibilities resulting from enhanced consistency, flexibility, re-usability, and velocity for front-end development,
Elimination of painstaking QA processes in favor of proven patterns and high-quality built-ins that get designers, developers on the same page, and
Assurance that non-technical content editors can make changes to a web page without breaking layouts or straying from brand guidelines. 
For the content creator and editor, component-based web design provides the ability to edit and revise pages to fit evolving needs and new priorities. For our developers, component-based design makes front-end web development up to four times faster. This translates into happier clients and freeing up resources to focus on fine-tuning and greater functionality. 
Award Winning and Accessible Web Designs
Our passion for superior web designs that are easy to use and accessible has led to our being recognized with several awards for work that transcends industry standards to provide lasting impact for government and education clients. A few of our recent awards include:
26th Annual Communicator Award of Distinction: Websites - Government
2019 W3 Awards Silver: Websites - Associations
American Association of School Librarians: Best Websites for Teaching & Learning 2019
25th Annual Communicator Award of Distinction: Features - User Experience
25th Annual Communicator Award of Distinction: Websites - Education
25th Annual Communicator Award of Distinction: Websites - Government
Need help in creating a design system for your website? Contact us today.