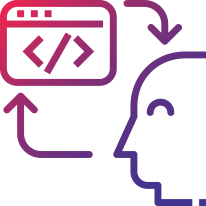 Design Powered by Empathy
"People ignore design that ignores people."

— Frank Chimero
Multiple Tools Optimize UX Design 

Our approach to User Experience Web Design draws upon informed research, and the insights of our UXperts, to incorporate audience perspectives and behaviors into solutions that are both efficient and elegant in their simplicity. In the current environment, excellent UX Web Design is a business imperative, that's essential to the success of a website -- if not the entire organization.
Our focus on customer and constituents at the center of our design process, fuels momentum for powerful solutions to a wide spectrum of organizational objectives.
Promet's Approach to UX Design
Our team practices a human-centered design methodology which is a discipline directed toward solving problems for the people who actually use your website. The focus on the end user is a critical distinction that calls for our designers to empathetically focus on optimizing the experience for the user.
As a leading User Experience Web Design agency, our clients have the advantage of marketing and design expertise, that's built upon a deep understanding of how people interact with technology and seamless user experiences that raise the bar and achieve expectation-exceeding results.  
UX Design Services
Human-Centered Discovery Workshops
User Research
Stakeholder Interviews
Persona Development
Usability Testing
A/B Testing
Information Architecture
Wireframes
User Journey Flow Diagrams
Prototyping
Interested in Learning What Great UX is All About?
We'd love to talk with you about what you are looking to achieve and to delve into the latest possibilities for UX Design. Contact us today!