Main Content
SEO and Analytics for Zero-Click Searches
Google  has made gigantic leaps in streamlining search results -- to the point that more than 50% of Google searches no longer result in a click-through to a website or other content. More often than not, search queries and question-based searches can now be answered directly from the Search Engine Results Page (SERP). 
This new world of Zero-Click Searches has upended prior approaches to SEO and analytics, and calls for new expertise and new strategies.
 
What are Zero-Click Searches?
Zero Click searches refer to search results that appear on top of the search engine results page (SERP) that answer the search query without the need to click any further. The search can result in a direct answer, a snippet of the content from the webpage that answers the search query, and sometimes a considerable depth of information.
The type of zero-click search result depends on the search query. There are currently six types of search results that are displayed in on the SERP.
Types of Zero-Click Search Results
1. Featured Snippets
Featured snippets are search results that appear in the highly-sought-after position zero of the search engine results page.  Featured snippets provide relevant answers to question-based queries. There are typically five types of featured snippets.
Paragraph snippet - Paragraph snippets typically appear on question-based queries such as how-tos, as well as "who," "why," and "what" types of queries.
List type snippets - List type results can appear as a numbered list or bulleted lists depending on the search query. List type snippets typically appear for search results such as recipes, ingredient lists, or step-by-step tutorial instruction lists.
Table snippets - Table snippets are results that display content in table format.
Video snippet - video snippets are results that appear in video format together with featured snippets.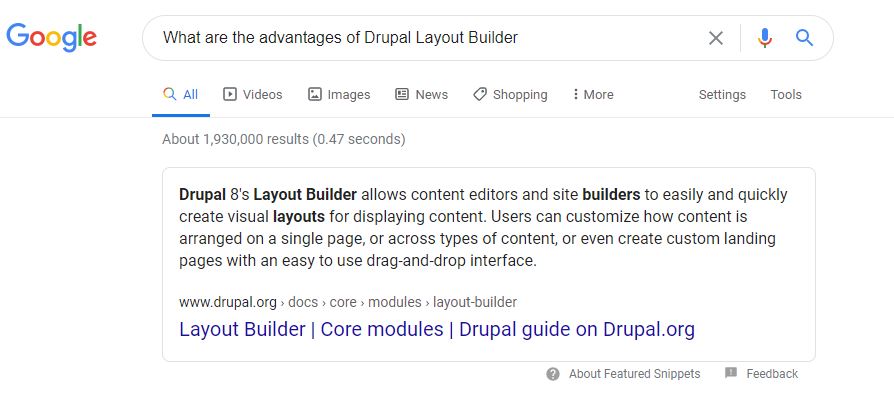 The following is another example of a featured snippet that follows sponsored ad content, while providing a considerable view slice of information along with a photo from a Promet blog post on the topic.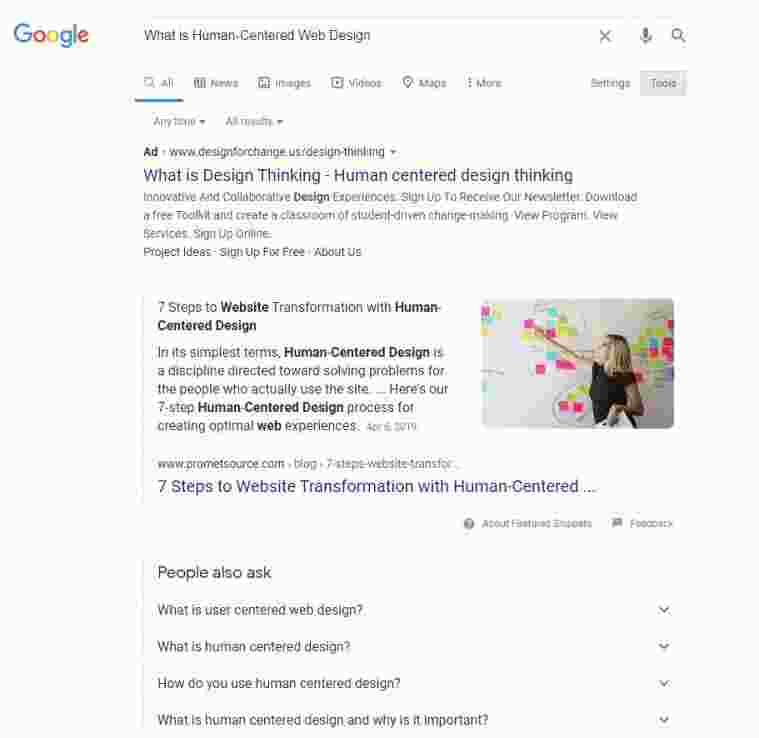 2. Instant Answers
Instant answers are search results from vetted resources -- often quick answers to uncomplicated questions.
Here's the top result from Google Search for "How Many Ounces in a Gallon?"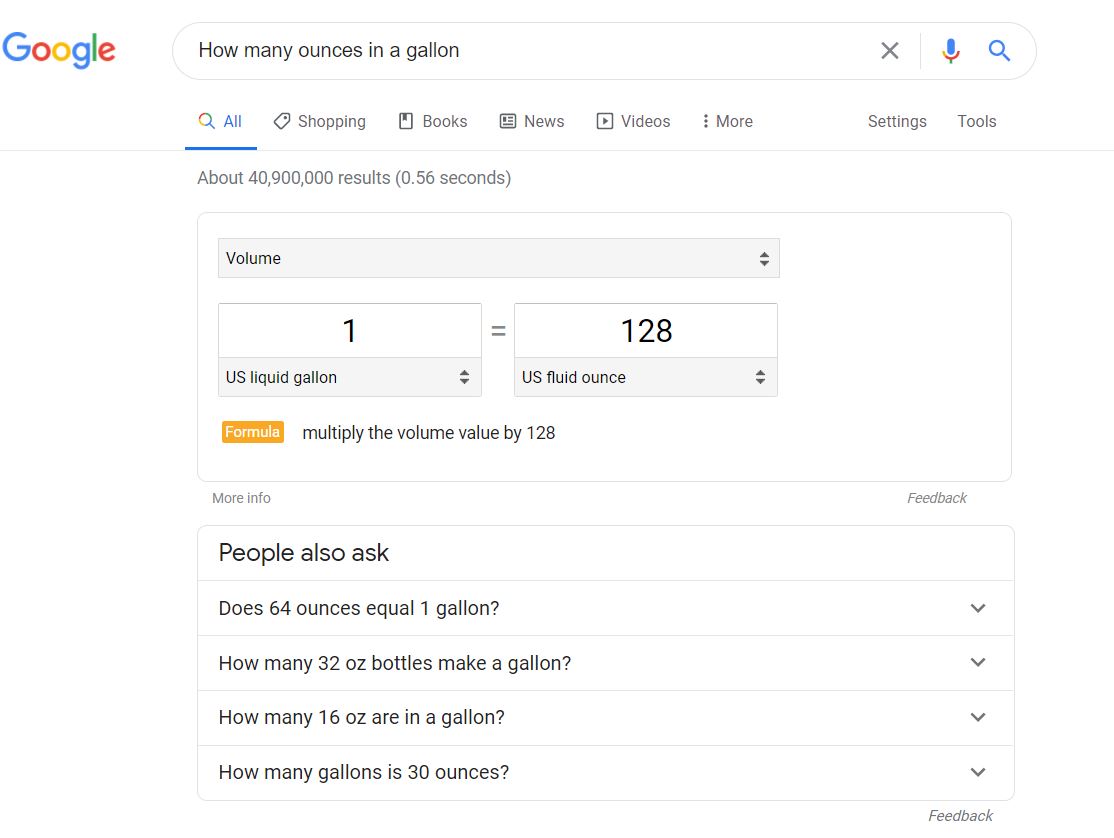 3. Definition
Definition-based results are for search queries that involve word definition, meaning, usage, and spelling.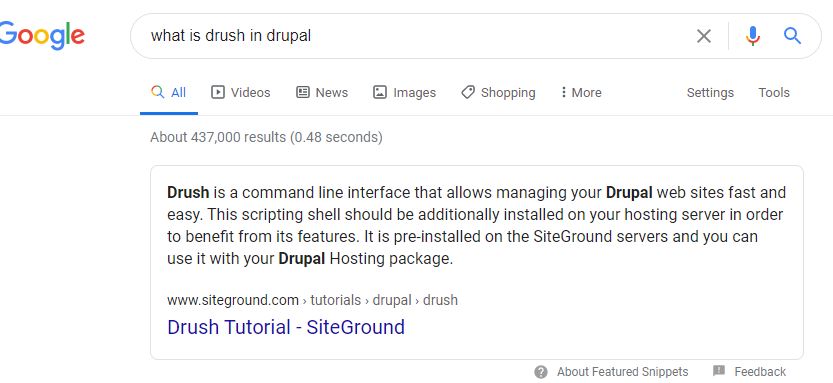 Definition search results can take the form of a featured snippet or more closely resemble a dictionary entry as in the example below.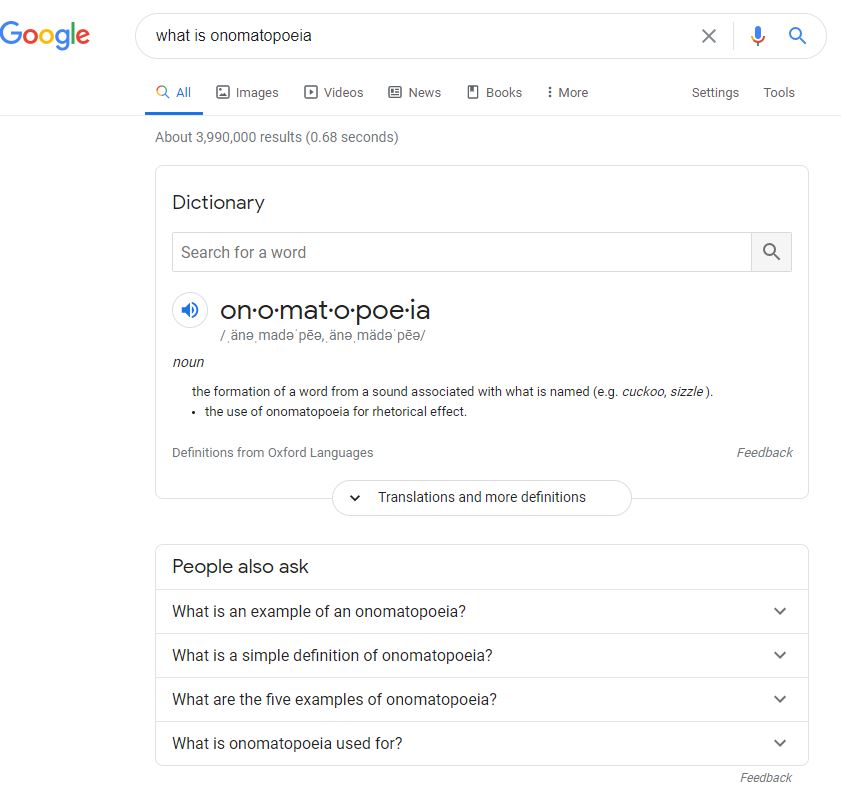 4. Map Results
Map results are for location-based search queries that display a Google map result in the search result.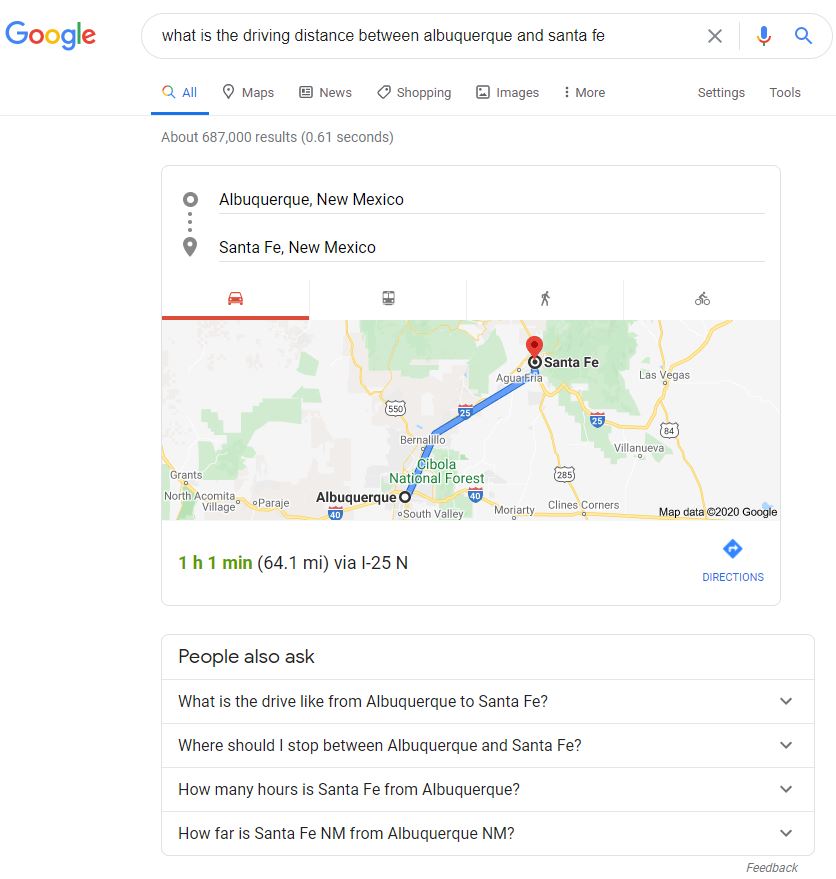 5. Calculator
Google also provides a calculator for mathematical related searches. Users can perform basic or highly complex mathematical operations straight from the search results page.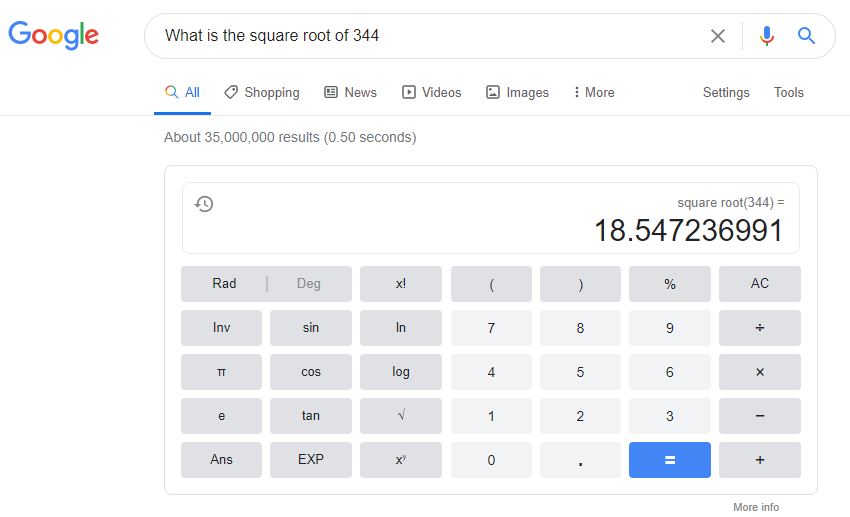 6. Knowledge Panel
A knowledge panel is an expanded featured snippet search result with more detailed information such as additional pictures, map results, and content that is relevant to the search answer. Google has two different types of knowledge panels: brand knowledge panels and local knowledge panels.
Brand Knowledge Panel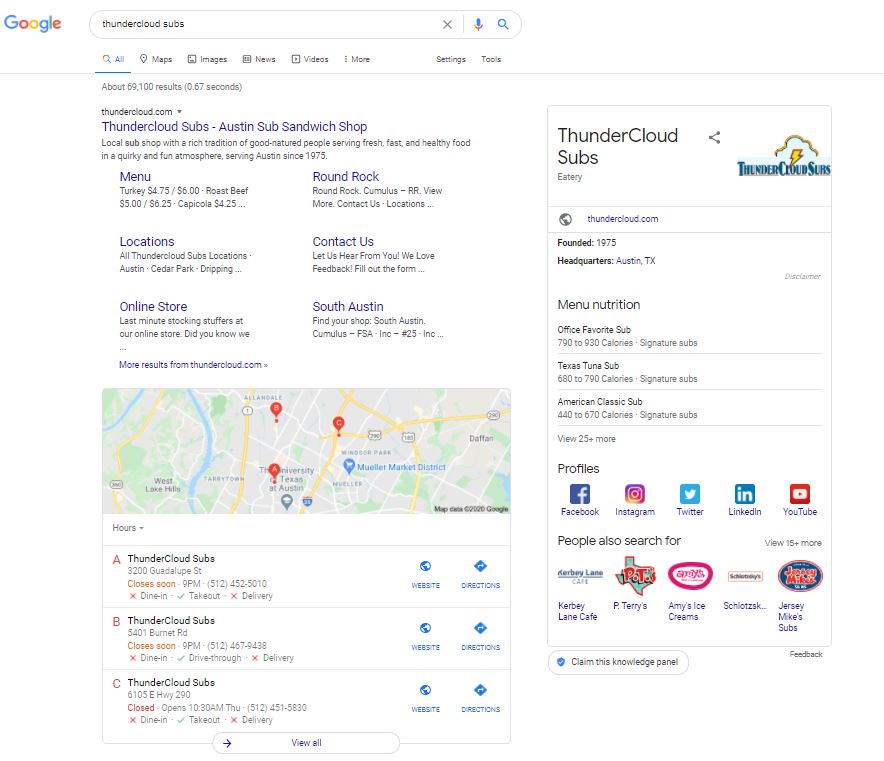 Local Knowledge Panel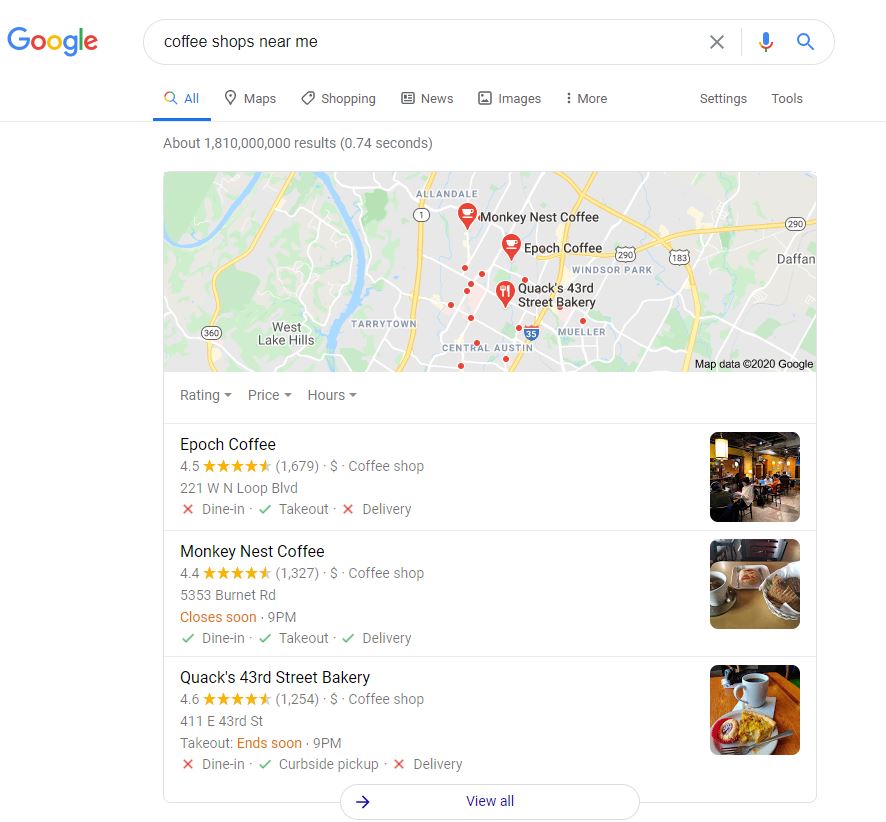 Impact of Zero-Click Searches on Website Traffic
A featured snippet displays information directly to the search engine results page, which can reduce the click-through rate from the SERP to the website, because the search query is answered -- resulting in a "zero-click." While the impact of zero-click can be net-zero web traffic from a particular search term, there is always the likelihood that of a click to learn more.
Since digital marketing and search engine optimization (SEO) strategies have traditionally focused on generating site traffic from organic searches in the SERP, zero-click search has created a new dimension to SEO and analytics.
Creating a Strategy for Zero-Click Searches
Being featured as a zero-click search result in the SERP is a significant achievement, because it means that Google has selected the content of a particular webpage over thousands of other webpages. For audiences, this means that the webpage contains the most relevant information based on their search query. Appearing in a featured snippet result provides an immediate credibility boost for the brand and the website.
Despite the inherent achievement, appearing as a featured snippet upends traditional SEO and the potential loss of site visits is not always viewed as an advantage. The following five steps for an updated SEO strategy can help overcome perceived drawbacks, while taking full advantage of the new zero-click world.
Read: Drupal SEO: The Ultimate Guide [2023]
1. Conduct Thorough Keyword Research
The first step in ranking for zero-click positions is to identify the keywords that display them in the SERP. Once you have identified the keywords that have zero-click search features then you can create a content strategy to help target those features. 
Targeting question based keywords and creating content to answer those queries will help you rank for the featured snippet position.
2. Optimize Pages that are Already Ranked for Keywords with SERP Features
After identifying the keywords that have the zero-click feature in SERP, the next step is to identify current web pages that are already ranking for this keyword. Once you have identified the pages, the next step is to optimize them and add more content to the page.
Optimization includes reducing page loading times by using light images, streamlining the CSS of the webpage, and improving the content on the page.
3. Improve Page Navigation
The next step is to help web visitors already in your website find the page by adding internal links to other relevant web pages in your website. 
Another effective strategy for improving page traffic is to generate more referral traffic to the page by conducting a backlinking campaign to generate more incoming links to the webpage.
4. Always Add Meta Data to Web Pages
Adding metadata such as alt text for images, graphs, and other digital assets will allow Google and other search engines to properly identify the contents of your pages. This is extremely helpful, especially if you want to rank for images searches.
Meta descriptions or meta tags help search engines identify the content in the webpages by providing a concise snippet of the content. The meta descriptions can also be displayed as a snippet in the SERP.
5. Register Your Business with Google My Business
Creating an account in Google My Business will help increase the visibility of your website, especially for local searches. A detailed profile about your business, products, and services will maximize  chances of being featured in the SERP. 
Optimizing Zero-Click Searches 
Zero-click searches may not directly result in a visit to your website, but they absolutely boost brand visibility and referral traffic. Targeting the featured snippet position for a particular keyword search phrase is an essential SEO strategy in the current climate. 
Interested in optimizing your search strategies or gaining deeper insights into the new world of zero click search results? Contact us today.