Main Content
Structured Data: Raising the Bar for SEO
Structured data, also known as schema or schema markup, has become a standard feature on search engine results pages (SERPs). 
Simply defined as coding that can be added to the back end of website for purposes of helping search engines to effectively crawl a site and highlight relevant content on the SERP, a solid understanding of structured data is fundamental to both SEO and user experience. 
In our current search environment, SEO calls for a lot more than ranking high on a SERP. Structured data needs to be leveraged to ensure that a listing's position is fully maximized. 
Recent studies reveal that more than two thirds of all websites currently utilize some form of structured data. Evidence of structured data at work is apparent from nearly any SERP. 
Structured Data at Work
A search results panel such as the following from a Google search for Promet Source has become a relatively standard search outcome.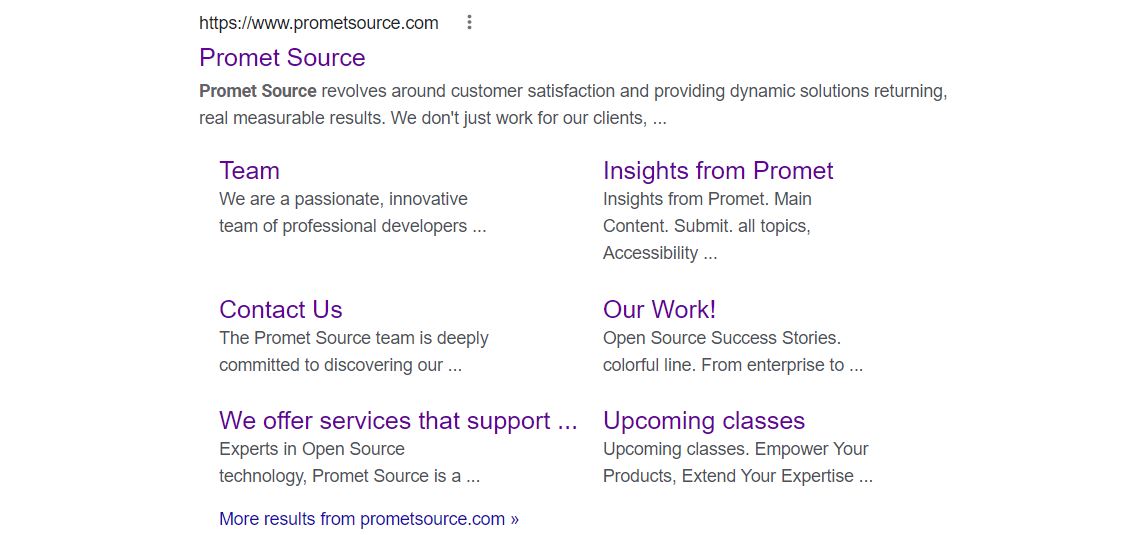 Recent studies show that structured data, utilizing tools such the Google Structured Data Markup Helper, can have a dramatic impact to click-through rates. 
One example: after adding 100,000 search features to their site, Rotten Tomatoes experienced a 25 percent increase in click-through rates.
Use of structured data is essential for:
Meeting and exceeding user expectations,
Staying ahead of or at least on a level with your competition,
Fully leveraging your site's content, and 
Ensuring alignment with the search engines.
Signposts for the Search Engines
While Google's search algorithm is incredibly smart and effective in its ability to crawl and index a site's content, there remain some inherent limitations to machine intelligence. Search engines are helped with structured data snippets and data labels that appear in the HTML code to deliver more detailed results on the SERPs
The result is clear indicators for the search engines concerning the content on a page and in a format that is well organized and easily understood by machine language—explicitly identifying content within a wide range of categories such as names, dates, addresses, phone numbers, FAQs, recipes, reviews, ratings, and many, many more. 
Structured data essentially spoon feeds search engine crawlers and bots with information to help interpret a site's content using their algorithm, and then use that information to streamline a user's search.
Better, More Efficient Search Experience
SERPs have have rapidly evolved in recent years, raising user expectations in the process. Due the prevalent use of structured data, users are now receiving greater value from their searches, often getting the answers and information that they are looking for without the need to click beyond SERPs, which increasingly function as robust, information-packed resources in and of themselves.   
Key to the enhanced value offered on SERPs is the rich snippet.
Rich snippets refer to organic search results that include enhanced information displayed on a search listing beyond the standard the URL, meta title, and description. They serve to optimize listings with the inclusion of more space and attention-grabbing information that will help a listing to stand out with data such as hours of operation, "closing soon," ratings, reviews, geolocation and more.
Users have come to count on rich snippets to streamline their search activity, and with a sharp focus on enhancing value.  
Featured rich snippets not only boost web traffic, but they also serve to improve brand recognition and awareness.  
Implementing Structured Data
There are essentially three options for structuring data. These formats ensure uniformity across all the webpages in the website.
 
JSON-LD
JSON-LD is the recommended format that Google recommends and is also one of the easiest to implement. JSON-LD stands for JavaScript Object Notation for Linked Data and is usually implemented as a block on the page rather than embedded across the content of the page. 
Microdata
Microdata is another method of marking up the content of the site by adding tags that help search engines understand the content of the webpage. It is mostly used in the page body and uses HTML tag attributes to mark the content on the page as structured data.
RDFa
RDFa is an HTML5 extension that uses HTML tag attributes to mark up content on the webpage as structured data.
General Guidelines for Structured Data
Google does not provide a guarantee that the structured data will show up in the search engine results page, even if it is applied correctly. This is because their search algorithm tailors the results based on several variables.
Adherence to SEO best practices is an essential consideration. Key points to keep in mind: 
Google advocates that all content in the structured data follows the Google webmaster quality guidelines, discouraging the use of content that is automatically generated, keyword stuffing, and scraped content.  
Refrain from marking-up hidden content in the page or content that is not visible to page visitors
Avoid using click-bait content that misleads users from clicking into your site like marking up irrelevant content, fake reviews, or false headlines.
Testing Structured Data
Google provides a free tool, the Structured Data Testing Tool, to help websites test the structure of their webpages. This tool provides a live preview of the structured data generated based from the HTML core or structured data code snippet.
Types of Structured Data Results
There are currently more than 31 types of structured data results available in Google's search gallery. Here is the list of the most common types of results.
Article
This is typically used to display results of a keyword search that is published as a news or blog format. The rich results typically display the thumbnail of the article and a headline with links to the page.

How-to
The How-to result is primarily used to display results that convey instructional content that relates contextually to the search term. This type is also closely related to the Recipe results. How-tos such as the following, have become a standard search feature:

Local Business
The local business result is typically displayed in the knowledge panel. It provides a concise summary of business information such as business hours, review rating, direction, geolocation, and more.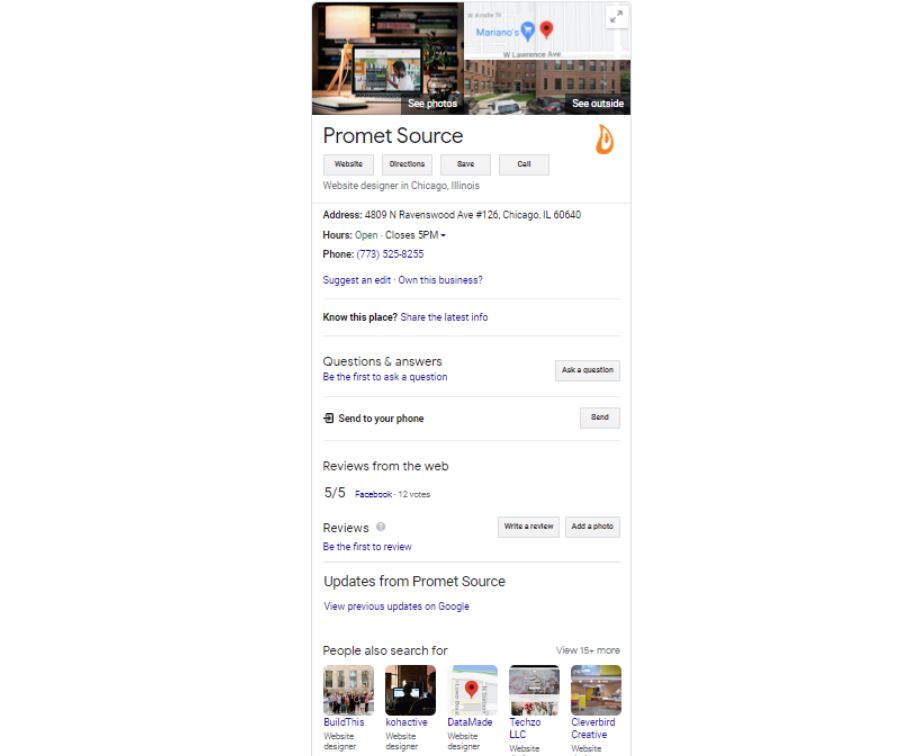 Product
This result provides a summary of the product information like a brief product description, pricing, and user reviews.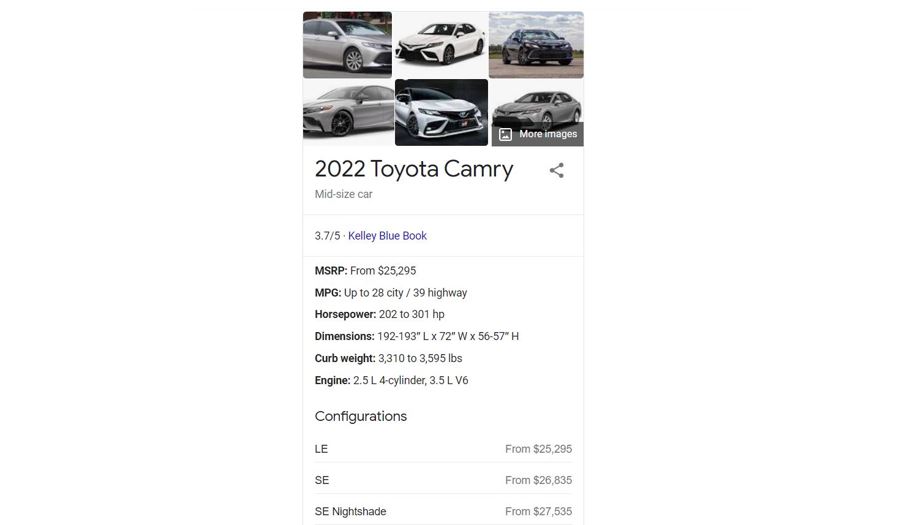 Recipe
This is a rich result that is commonly found as a search result for recipes and cooking advice. The result provides a concise summary of the recipe that is displayed directly on the search engine results page. 

As with all disciplines in the dynamic world of SEO and digital optimization, staying on top of structured data trends and opportunities requires close alignment with Google's constantly evolving search algorithm, and a sharp focus on what's new and next. At Promet Source, optimizing the inner workings of your website to ensure that it's working hard for you is what we do. Interested in taking your website to the next level? Let us know how we can help!