Main Content
Texas Sees Sharp Rise in Rate of ADA Lawsuits
As ADA Accessibility standards adjust to the digital age, websites and all digital properties need to adhere to the latest accessibility compliance standards. 
Legal action in Texas pertaining to ADA web accessibility non-compliance has been on a particularly sharp trajectory. In 2019, Texas saw 239 ADA Title III lawsuits, up from 196 in 2018. This represents a 21.9 percent increase in Texas, and many other states have seen similar or even greater increases in their case volume.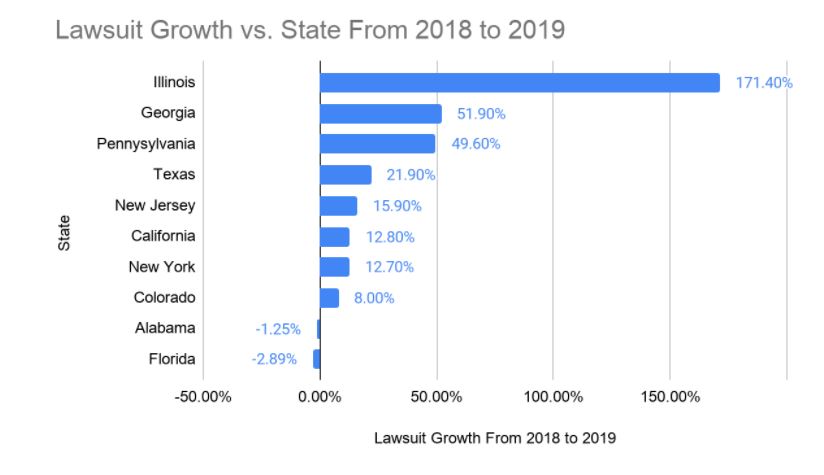 For organizations that have not yet started to pay attention to ADA web accessibility compliance, now is the time to do so. Taking interest in the newest developments in ADA law, ensuring that your business is kept up-to-date in the sphere of accessibility is not just good business for any organization that wishes to avoid legal action. It's the right thing to do.
In addition, providing web-accessible content to the end user of your site, accessibility can increase the value of your website and provide additional traffic from users that would otherwise not be able to take advantage of the services or products provided by your business.
Basis for ADA Title III Lawsuits
What is an ADA Title III lawsuit? According to ADA.gov:
"Title III prohibits discrimination on the basis of disability in the activities of places of public accommodations (businesses that are generally open to the public and that fall into one of 12 categories listed in the ADA, such as restaurants, movie theaters, schools, day care facilities, recreation facilities, and doctors' offices) and requires newly constructed or altered places of public accommodation — as well as commercial facilities (privately owned, nonresidential facilities such as factories, warehouses, or office buildings)—to comply with the ADA Standards."

In other words, ADA Title III lawsuits consider the accommodations in place are applicable when these accommodations do not meet acceptable standards. While at first glance this appears to only apply to the physical world, ADA Title III has been likewise applied to websites and all digital properties websites as equally applicable places where accessibility concerns are vital to consider. The easiest way to do this is through making your website comply with current Web Content Accessibility Guidelines (WCAG).
WCAG is a series of rules published by the Web Accessibility Initiative, part of the W3C — the primary organization behind international standards for the internet. WCAG 2.1 is the current release of these standards and complying to them is essential to protecting your organization from lawsuits surrounding ADA Title III violations.
Read: Pros and Cons of 6 Top Web Accessibility Testing Tools
WCAG Compliance Imperative
The recent upsurge in lawsuits filed in Texas proves that now, more than ever, it is vital to have a website that follows best practices and compliance standards for web accessibility. The importance of ADA Title III undisputed in the current environment. When comparing Texas' 239 lawsuits to California's much larger number of 4,794, activity in Texas might not seem that significant. What's important to note, however, is rate of increase within Texas.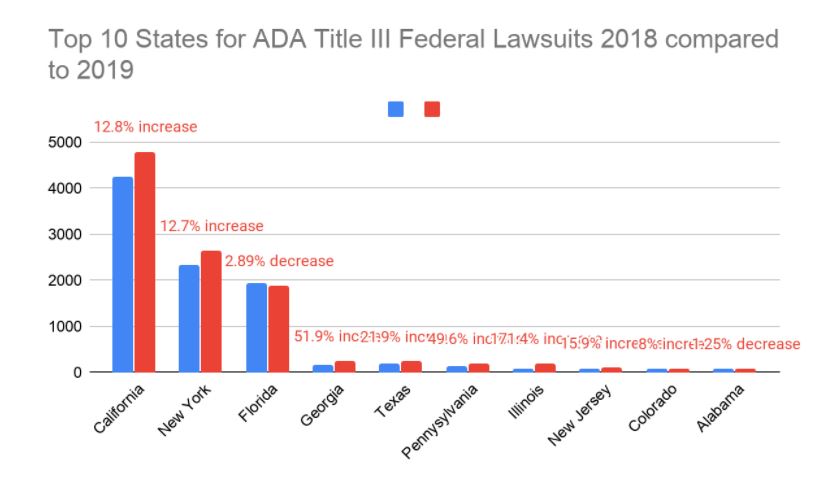 Similarly, the states of Georgia, Pennsylvania, and Illinois have experienced a particularly steep rise in the number of ADA Title III lawsuits filed between in 2019 over 2018.
While the cases inspected by this study were covering all instances of ADA Title III law, as opposed to web only suits, it is nonetheless important to keep in mind that this upswing is having an impact on all facets of business in an increasingly electronic world, as organizations conduct more and more business online. One particularly visible example of this is obvious in the case of Robles v. Domino's Pizza, LLC.
Read: Baking WCAG into Web Design and Development
Legal issues with a company website can carry heavy penalties and the best way to ensure this does not happen is through an a11y-compliant website that follows modern web standards for accessibility. The anticipated increase in ADA Title III cases over the course of the coming year makes it even more important to pay attention to the legal sphere when it comes to web accessibility.
Now more than ever, organizations are being called to action to create websites that are accessible to people of all abilities. 
Interested in an accessibility audit of your site and learning more how to achieve WCAG Compliance? Contact us today.