Main Content
A Roadmap for Manual Web Accessibility Testing
The process of auditing a website for ADA accessibility compliance, as described by the W3C(R) Website Accessibility Conformance Evaluation Methodology (WCAG-EM) 1.0,  falls into two essential categories: automated and manual.
The automated part of the process is relatively straightforward. It's simply a matter of leveraging the right tools for diagnosing non compliance with WCAG 2.1. The next and indispensable step tends to be open-ended and undefined. 
The WCAG-EM is the definitive to the evaluation process.
[WCAG-EM documentation]... is intended for people who are experienced in evaluating accessibility using WCAG 2.0 and its supporting resources. It provides guidance on good practice in defining the evaluation scope, exploring the target website, selecting representative samples from websites where it is not feasible to evaluate all content, auditing the selected samples, and reporting the evaluation findings. It is primarily designed for evaluating existing websites, for example, to learn about them and to monitor their level of accessibility. It can also be useful during earlier design and development stages of websites. 
The process is very well defined and W3C(r) provides a sample reporting tool for audits. 
We, at Promet Source like to tinker and apply small changes, without deviating from the process to improve the report and make it easier to use and read.
Our version of the Website Accessibility Evaluation Report Generator is Google Doc based, provides an executive summary, a simple dashboard of results and is free! This template from Promet Source reflects WCAG 2.1 guidelines and designed for use by accessibility analysts and developers to detect errors missed by automated testing.
As a part of our commitment to advancing inclusivity and web experiences that are accessible to a full range of differently abled web users, we are making this tool available to all.
Get Promet's FREE Accessibility Manual Audit Template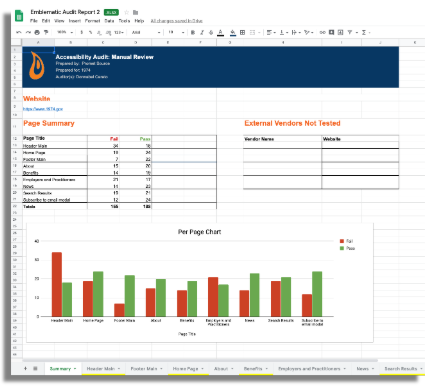 Why Manual Accessibility Testing Matters
Manual accessibility testing goes deeper and wider than automated scans. It includes:
Keyboard testing
Color contrast testing
Screen reader testing
Link testing
Tables and forms testing
Cognitive testing
Mobile testing
The types of non-compliance issues, which are detected by manual testing tend to have the greatest likelihood of exposing site owners to ADA accessibility lawsuits.
Keep in mind that diagnosing a website for accessibility and fixing any noncompliance issues that are uncovered is not a one-size-fits-all endeavor. 
Every site has a distinct set of strengths and challenges, and in the current environment, the stakes are high for getting it right. That's why we at Promet Source believe that tapping the expertise of a Certified Professional in Accessibility Core Competencies (CPACC) is the most efficient and effective path for bringing a site into compliance.
We follow a distinct WCAG 2.1 auditing and remediation process that consists of a series of value-added steps in a specific order.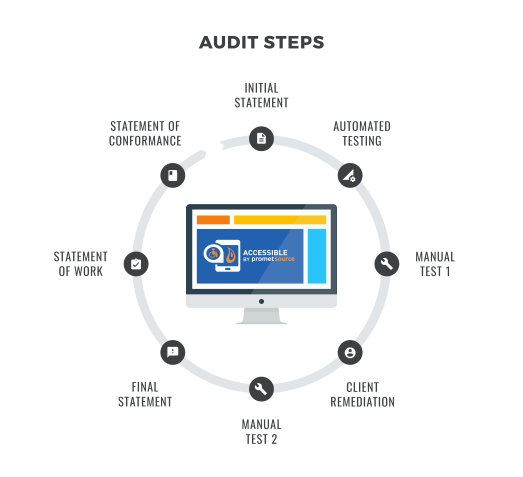 Value-Added Elements
There is a high degree of added value that occurs during and following an accessibility audit. The education, consultation, and opportunity to dig deep and deconstruct aspects of a site that no longer serve the organizational mission fuels a better and wiser team of developers and content editors. For a number of reasons, web accessibility also enhances SEO.
In the current climate, websites are highly dynamic and serve as the primary point of engagement for customers and constituents. Constantly evolving sites call for an ongoing focus on accessibility, and an acknowledgement that staff turnover can erode the education, expertise, and commitment to accessibility that is in place at the conclusion of an audit. 
For this reason, a bi-annual or annual audit is a highly recommended best practice. 
Interested in kicking off a conversation about auditing your site for accessibility? Contact us today.