Main Content
Illinois Sees Sharp Rise in Rate of ADA Lawsuits
ADA Title III lawsuits are on the rise, but nowhere was the 2018 to 2019 increase more extreme than in the state of Illinois, where the number of federal lawsuits more than doubled from 70 in 2018 to 190 in 2019. This 171 percent increase highlights the importance of ADA web accessibility compliance.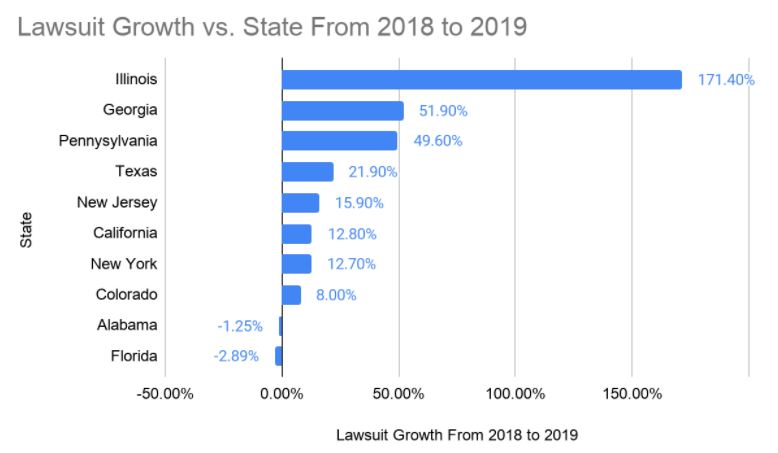 Other states including Georgia and Pennsylvania have also seen significant increases in the number of federal lawsuits filed. While no other state experienced the percent increase seen in Illinois, the growth trends are nationwide. As such, it is very important to pay attention to developments in ADA law, and to ensure that your organization is kept up-to-date on web accessibility requirements.
What's Covered by ADA Title III
How does an organization mitigate against an ADA Title III lawsuit? According to ADA.gov, "Title III prohibits discrimination on the basis of disability in the activities of places of public accommodations, (businesses that are generally open to the public and that fall into one of 12 categories listed in the ADA, such as restaurants, movie theaters, schools, day care facilities, recreation facilities, and doctors' offices), requires newly constructed or altered places of public accommodation. Commercial facilities that include factories, warehouses, and office buildings are also covered by Title III, and required to comply with the ADA Standards."
ADA Title III lawsuits are sparked when there is a claim that accessibility standards are not not being met.  While at first glance this appears to only apply to physical locations, ADA Title III accessibility standards are applicable to organizations' websites, just as accessibility of physical locations is required.
Read: Accessibility Remediation is a Must
WCAG Compliance
Web accessibility is achieved through compliance with current Web Content Accessibility Guidelines (WCAG). WCAG is a series of rules published by the Web Accessibility Initiative, part of W3C, which is the primary organization behind international standards for the internet. WCAG 2.1 is the current release of accessibility standards, and compliance with WCAG 2.1 is the key to avoiding  ADA Title III violations.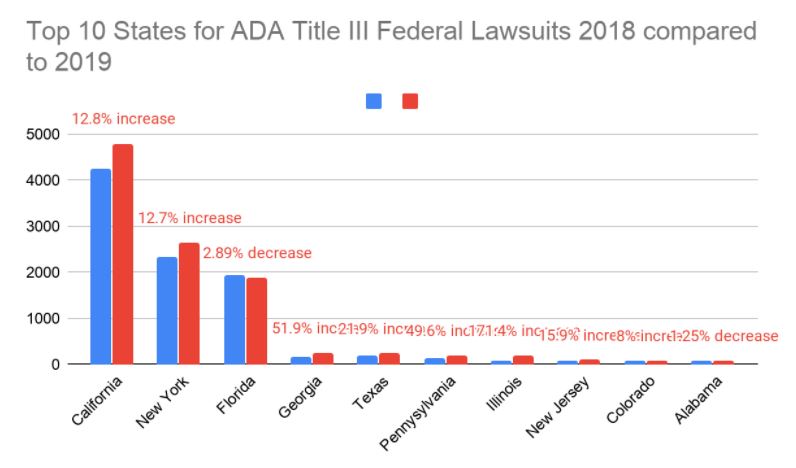 As the above chart points out, other states experienced a far higher rate of ADA Title III accessibility lawsuits in 2019 than Illinois. When comparing Illinois' 190 lawsuits to California's much larger number of 4,794, the most critical factor is the sharp rate of increase, and the expectation that this trajectory will continue in this direction.
It's also important to point out that accessibility compliance enhances the value of a website and draws more visitors to a site.  
Read: Pros and Cons of 6 Top Web Accessibility Testing Tools
Spike in ADA Title III Lawsuits
The states of Georgia, Pennsylvania, and Texas have a proportionally larger number of cases from 2019 when compared to 2018, and it can be anticipated that these percentages will continue to hold true for the next year, or perhaps grow even larger.
While the cases inspected by this study were covering all instances of ADA Title III law, vs. web accessibility in particular, it is important to keep in mind that this upswing will impact all facets of business in an increasingly electronic world, as businesses continue to move more services to online spaces. One particularly visible example is the recent case of Robles v. Domino's Pizza, LLC.
Read: Texas Sees Sharp Rise in Rate of ADA Lawsuits
The anticipated increase in ADA Title III lawsuits highlights the importance of adhering to ADA web accessibility guidelines and ensuring that a site remains in compliance. Never before has it been more important to ensure that websites adhere to WCAG standards.
Interested in an accessibility audit of your site and learning more how to achieve WCAG Compliance? Contact us today.