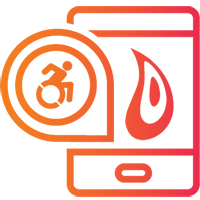 ADA Web Accessibility Compliance Benefits
How We Work
At Promet Source, certified accessibility developers work collaboratively with our UXperts and designers. Assurance of ADA website compliance closely aligns with the objective of superior user experiences and designs that drive engagement, while reducing the risk of accessibility related lawsuits.
Our flexible accessibility audit and remediation processes provide a straightforward path to achieving Section 508 compliance for websites, applications, and online documents.
What Sets Us Apart
Passionate about digital accessibility, we are vocal and visible advocates  -- actively speaking, writing, and training about the advantages, and the urgency, associated with creating and maintaining accessible online experiences.  
Our supporting membership in the International Association of Accessibility Professionals (IAAP) demonstrates our dedication to continually expanding our knowledge of accessible web development best practices, as active participants in the committed community of digital accessibility advocates.  
Contact us today to learn what ADA Compliance is all about and how we can help to ensure your website is where it needs to be.