Main Content
New Normal for 2021: Drag & Drop Drupal Content Editing
2020 was hard.
At Promet Source, we're planning for and counting on 2021 being easier and better in many ways.
We realized last year that there actually was something we could do to raise the bar for 2021 and make life easier and better for everyone who manages a Drupal website. 
We developed Provus®.
What is Provus®?
The brainchild of Aaron Couch, Promet's Lead Solutions Architect, Provus® is Promet's newly launched Drupal platform.
Utilizing Atomic Design principles, Provus® combines the latest drag-and-drop page building tools in Drupal with a curated library of design components, enabling content editors to easily layer designs, add functionality, and rearrange layouts.  
An essential differentiator from other drag-and-drop tools is the degree to which Provus® empowers content creators, while at the same time adhering to an organization's brand guidelines to ensure consistency and aesthetic alignment. 
From a development perspective, Provus® is allowing for vast new efficiencies as we work toward eliminating the wall that had previously existed between easy-to-create and manage SaaS solutions, and scalable Drupal solutions, for websites that have complex data models and a depth of content.
New Perspectives and Possibilities
Provus® was inspired by the realization that nearly every website consists of various combinations of roughly 15-20 types of features or patterns. By organizing a library of high-quality components that can be repurposed for low-code, no-code site building, we create a foundation for:
Easier content editing capabilities with drag and drop functionality;
Greater design flexibility within defined brand standards; and
Streamlined development using Drupal's proven content models.
The Provus® Technology Stack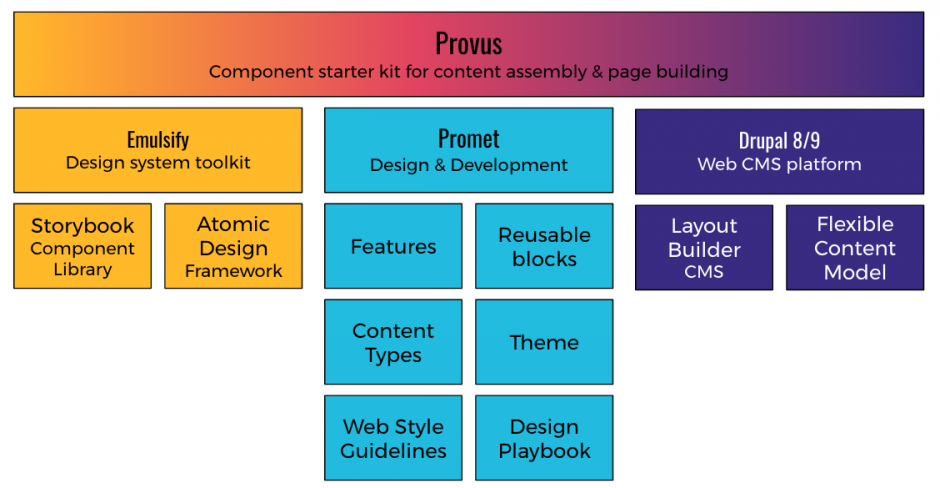 Provus® in Action
Traditional Drupal theming includes CSS and JavaScript selectors that are intertwined with their context, connecting them to the backend implementation. The result of this "theme for the page," approach is that assets that can't be repurposed across projects.
Having identified that component-based theming tools are key to next-level efficiencies in website building, our next step was to single out an optimal approach for delivering reusable components. 
Promet's strategy for achieving this new UI and content management paradigm incorporates the Emulsify® design system, which is a component-driven Drupal theme and gives us a huge lift in building repurposable components.
Emulsify® functions as both a starter component library with Storybook, which contains the Atomic Design library and is a tool for building user interface components. Storybook can be turned on from within the Emulsify theme, resulting in a highly efficient new workflow.
 
With Provus®, components built using JavaScript and CSS are curated int o a library. If the backend implementation changes or we want to move it to another project, the component itself is not changed, allowing us to efficiently redesign and reuse it.
What Sets Provus® Apart?
Content editor empowerment, combined with the robust guidance and governance are key factors fueling the success of Provus®. More specifically:
Self-adjusting features within components create a foundation for both readability and ADA accessibility, by ensuring, for example, adequate contrast between fonts and background colors. 
Design governance offers the assurance that content editor empowerment does not translate into mismatched, crowded, or sub-par page designs. Customization options are presented within an expertly calibrated design framework for ensuring the highest quality designs and user experiences on all devices, without breaking layouts or straying from an organization's brand guidelines. 
Content editors are able to seamlessly edit components and change patterns within the view mode, eliminating time-consuming processes of reentering content and switching back and forth between edit and publish modes.
As a thought leader on how humans interact with technology, Promet Source has enthusiastically pursued component-based design systems for their potential to drive high velocity capabilities that drive consistency and collaboration. 
While Provus® provides for game-changing advantages on multiple levels, we're most excited about the amazing new capabilities that we are now able to offer our clients. In blending a formal design system that ensures brand consistency across the site with the flexibility of drag-and-drop site building tools within Drupal core, we are reducing the cost of ownership and empowering clients with a site that's designed to flex and expand to fit evolving needs and new priorities. 
Interested in learning more about Provus® or seeing a demo of Provus® in action? Let us know how we can help and we'll be in touch!
                 Stay in-in-the-know with what's new and next for Drupal. Subscribe to the Promet Source newsletter.