Main Content
How to Optimize Your Drupal Support Relationship
On the surface, there's not much about Drupal maintenance and support that seems compelling. 
The exciting part, of course, is the design, development, and launch of a new site—this phase is full of promise, game-changing possibilities, and anticipation on many levels. 
If the fundamental difference between open source and proprietary or licensed software was not made abundantly clear at the outset of the engagement, there can be questions concerning why support is needed on a brand new site.
Drupal site owners sometimes find themselves wanting to wing it when it comes to support—or at least delay a support arrangement for the near term.
6 factors for an optimal Drupal Support relationship
As the Director of Support Services here at Promet Source, my team and I are passionate about great Drupal support relationships that add value on multiple levels. Drupal support is not a commodity. It's a relationship that stands to set your site, and your entire organization up for success over the long haul.
Committed to both the Drupal community and the success of our clients, while recognizing that the spectrum of Drupal support can range from so-so to stellar, we recently determined that the following six factors are what combine to create a Drupal support relationship that:
Secures essential data
Maintains a consistent user experience
Creates confidence
Fuels organizational growth
Augments staff expertise, and
Ensures the site stays on the leading edge of what's new, next, and needed.
1. Get real about open source vs. proprietary software.
And make sure key stakeholders understand these distinctions, as well. Open source software is freely available, the code base can be inspected, modified or enhanced, and there are no licensing fees associated with its use.
Proprietary software, on the other hand, is owned and managed by an organization that holds exclusive rights to the source code. There are licensing fees associated with use of proprietary software, which covers ongoing upgrades and security fixes. 
The flipside of open source is that keeping the site secure and up to date requires ongoing maintenance and support. 
At Promet Source, we are devotees of both open source and Drupal for a host of reasons that include greater security and functionality due to consistent and thorough vetting and review by the global community.
And while open source tends to be considerably more cost effective than proprietary solutions, it's essential to keep the concept of "free" in perspective. Keeping an open source Drupal site secure and up to date requires ongoing support and maintenance.
2. Get informed about the basics of your Drupal CMS.
Learn what versions of Drupal, PHP database software, and operating system you are currently running on. All four need to work together and the longer that an older version is operating without updates, the greater the security risk.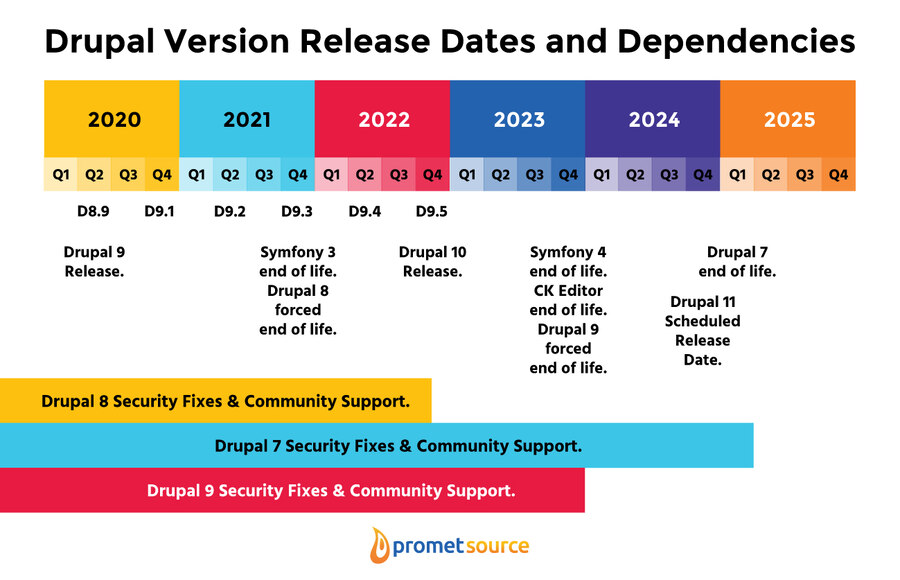 If you do not have this information, it tends to be a standard component of a support audit, if one is performed. Be sure to document these critical stats and keep them top of mind.
3. Elevate security to its rightful place. 
Security needs to appear at the top of the list of support relationship requirements.
The essential question concerning security is no longer whether your site contains sensitive financial or medical data that needs to be protected.
The question is whether and to what extent your organization would be disrupted if your site was compromised or disabled.
Keep in mind, there are no shortage of bad actors at large for whom hijacking a site is a sport. Failure to update your site as needed can result in unnecessary exposure on many fronts. The most effective means to confidently guard against a potential security breach is a solid support relationship that includes security monitoring and regular system updates. 
Drupal Core security advisories can be released by Drupal at any time, however they are generally released on the third Wednesday of each month. Some months there isn't an update issued at all, historically, there tends to be four to six updates every year. 
The Drupal community also issues security updates for core that it categorizes as "minor," as well as ongoing security updates for contributed modules—all of which need to be addressed, fixed, and tested. 
Hosting stack security is another essential Drupal support factor. All hosting stacks for Drupal sites contain a minimum of four items:
An operating system (Centos/Ubuntu/etc.)
A database (mySQL/SQL)
PHP
Drupal
If your support partner does not manage your hosting relationship, they need to be in sync with your hosting company's system administrators to ensure ongoing and seamless integrations. 
4. Consider what else you want your support relationship to accomplish.
Beyond security, determine what specifically you want your support relationship to accomplish. This can include an audit of core and contributed modules; a cleanup of unused code, metrics concerning ADA web accessibility and SEO, and UX consultations, and insight into migration timetables.
While initial consultations with your support partner can help to clarify objectives, the better understanding you have of what you want your support partnership to look like, the better positioned you will be to choose your partner wisely.
5. Think big picture.
Drupal support can be narrowly defined and confined to a limited checkbox of services, or it can be built upon a relationship with a partner that has access to a depth and breadth of expertise to power your site to the next level as needed.
6. Move forward with confidence.
Having earned the trust of countless Drupal support clients, I can say that trust is a critical component of a productive support partnership. You absolutely need to:
Trust that your site is updated and secure, 
Trust that your support partner has your best interest at heart, 
Trust that your partner is proactively bringing solution and ideas to the table, and 
Trust that your support partner has the expertise and capacity to do what's right.
Bottom line: If your relationship with your Drupal maintenance and support partner is not defined by a high degree of confidence and trust, with a track record of exceeded expectations, then it's time to look for a new partner.
Partnering with Drupal support clients to ensure that their Drupal CMS remains a well-oiled machine that works as promised, evolves with the organization, and stands up to the expectations of clients, is a particular passion for us at Promet Source.
Partner with Promet Source for a stellar Drupal support partnership
With our team of certified Drupal experts and a proactive Drupal support approach, you can be assured we will take excellent care of our partnership and your website. From security to SEO, our full spectrum of Drupal Support and Maintenance services are built to keep your website in its optimal condition.
Looking to start a conversation about what stellar support can look like? Let's talk!