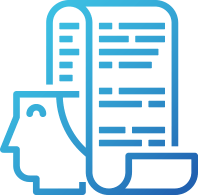 Powerful, Purposeful Messaging
What Sets Us Apart
Our holistic approach to content strategy involves a depth and breadth of inquiry. We work closely with you to define key personas and consult with them in a series of in-depth user interviews to validate any assumptions and ensure integration with your brand strategy. The talents of our entire team are tapped to create a synergistic alignment between visual and verbal messaging while leveraging SEO best practices to optimize your website's visibility by search engines.

Integrated Approach
The scope of our expertise broadens brings a perspective to content strategy that drives toward success on many levels: engaging web experiences, empathetic connections, effective marketing messaging, and leading-edge SEO outcomes.

Range of Results
High impact communications that are aligned with your brand and amplify your messaging serve to drive awareness of your market position, solidify your value proposition, drive customers and constituents to your website, encourage ongoing digital engagement, and increase search engine results. 
Contact us for a conversation about content strategies that amplify your messages and engage your audiences.