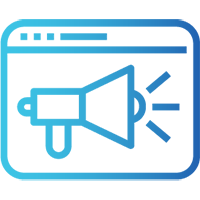 Websites as the Core Marketing Vehicle
Wide Spectrum of Marketing Support
Promet Source is guiding clients through quantum digital leaps that are required in the current environment.
With websites serving as the primary vehicle that defines a brand and engages audiences, Promet's website redesign work, is often incorporated into organization-wide rebranding initiatives. In the process of designing and developing a website, we pursue a depth and breadth of inquiry. We become intimately familiar with our clients' objectives, and as a result, we are well positioned to drive or support the full spectrum of innovative marketing and messaging campaigns that are integrated with the brand and messaging strategy. every aspect of their ongoing marketing initiatives.
This includes the design and copywriting of brochures and sales collateral, SEO consultation and support, presentations, press releases, and ongoing digital marketing initiatives. 

Connected to Digital-Age Demands
We work hand-in-hand with clients, sharing expertise driven by a sharp focus on innovative web strategy solutions tailored to specific needs for optimal, long-term impact. We share a deep understanding with clients that the stakes for getting it right are high, the margin for error is low, and marketing effectiveness is intrinsically woven into excellent web experiences.  
This is particularly true during times of social distancing, when 
municipal and county websites function as the new town square, 
higher education sites serve as portals for student engagement, and 
enterprise sites are the primary venue for conducting business. 
Interested in tapping Promet's marketing expertise for more that web design and development? Let us know what we can do for you!
Wait! There's More
Anticipating Post Pandemic Design Trends
County and Municipal Websites: The New Town Square
Communication in a Time of Crisis