Main Content
The Next Frontier: Top 10 New Features of Drupal 10
Powering the NASA site, along with 14 percent of the top 10,000 websites worldwide, Drupal marks the next frontier in it's 20 year history this month with the December 14 release of Drupal 10. 
Among the biggest questions concerning the upcoming release: Why now?
Fact is, the December 14 release date is a Drupal community imperative, and not a moment too soon. As Gabor Hojtsy, Acquia's Drupal 10 initiative coordinator explained during last summer's DrupalJam event, Drupal 9 is based on Symfony 4 and CK Editor 4, both of which are slated for end-of-life status in November of 2023.
This means that Drupal 9 will face end of life next November, as well.
This means, there's only an 11-month overlap between the release of Drupal 10 and all of the modules and dependencies that will need to be updated prior to the end of Drupal community support for Drupal 9. 
Symfony-Driven Schedule
If a Drupal version hard stop due to a Symfony version end-of-life is sounding familiar, the story was essentially the same last year. Drupal community support for Drupal 8 ended in November of 2021, without the option of extended commercial support, due to the November 2021 end of life of Symfony 3. 
These days, Drupal is built on top of Symfony, which means that Symfony release schedules have a big impact on Drupal major version release dates.
Ironic, of course, that Drupal 7, which was built before the adoption of the Symfony framework, is still receiving Drupal community support. Drupal 7's security support and bug fix window has been extended a few times and is currently slated to remain open through November 23, 2023. Fortunately for the 53.4 percent of Drupal sites that are still on Drupal 7, Drupal 10 incorporates a direct Drupal 7 upgrade path. 
So what's new for Drupal 10 and what are the need-to-know facts that matter most right now? Here's Promet's list of the top 10:
1. Drupal 10 represents a significant shift to the values of the open web.
Designed to fuel greater inclusivity for both users and developers from other communities this latest version of Drupal incorporates beginner-friendly strategic initiatives. Among the upgrades that will have the impact extending Drupal's reach: streamlined JavaScript support, the Decoupled Menus initiative, and the Starterkit theme generator.
2. The Drupal 9 to 10 upgrade path is simple and straightforward.
The process and tools for upgrading from Drupal 9 to Drupal 10 are a direct duplication of the Drupal 8 to 9 upgrade path, leveraging the Drupal 8 version of the Upgrade Status module.  Upgrade Status provides an accurate overview, and an actual to-do list of the level of effort needed to upgrade from Drupal 9 to Drupal 10. 
The recent trend toward tighter time spans between Drupal releases (Drupal 9 hit the scene on June 3, 2020), has helped to sharpen the Drupal community's focus on backward compatibility and an easy upgrade for sites that are up to date with the most current version of Drupal.
Two other factors that are driving easier upgrades in a post Drupal 8 world:
The sophisticated architecture that Drupal 8 ushered in has helped to streamline upgrades. 
Increased maturity for Drupal Rector can be counted on to create most of the changes needed to migrate custom modules to Drupal 10.
3. The upgrade to Symfony 6.2 and PHP 8.2 have laid the foundation for tighter security and a higher-performance back-end. 
The Symfony 6 upgrade has resulted in the removal of a considerable amount of deprecated code. In addition to enabling greater speed and site performance, the latest PHP and Symfony enhancements will drive a more sophisticated user experience.
4. The clean, accessible, and powerful Claro administration theme is replacing Seven. 
Claro offers a significant enhancement in user experience. It's also viewed as a modern step forward, replacing the Seven theme which has come to be viewed by many as having a dated look and feel. 
5. In replacing Bartik, the new Olivero default front-end theme is modernizing the Drupal out-of-the-box experience. 
In addition to presenting a more contemporary image than the Bartik theme that preceded it, Olivero has accessibility features baked in – conforming with Web Content Accessibility Guidelines for AA. Olivero's functionality is also designed to accommodate a more robust range of features.  
6. The replacement of CKEditor 4 with CKEditor 5 means a streamlined authoring experience for content managers and editors. 
Along with Claro as the new default administrative theme, the upgrade to CKEditor 5 provides a simplified interface and improved editing features for content creation. Enhanced features include track changes, revision history, intelligent text predictions, and the ability to export to PDF.
7. Modern JavaScript components replace some uses of jQuery.
Streamlined JavaScript support, with modern JavaScript replacing certain uses of jQuery, is cited among the most significant upgrades of Drupal 10. In years past, jQuery facilitated front-end development by simplifying JavaScript complexities. As JavaScript has evolved and improved, jQuery's usefulness has declined. Most of its features have now been incorporated into JavaScript. Removal of jQuery will enhance efficiencies due to a sharper focus on JavaScript's baked-in functionality. 
8. The Starterkit theme generator will streamline customization.
A significant step forward for Drupal front-end developers, the Starterkit theme generator simplifies the process of customizing a site to align with design and branding guidelines. The new Starterkit theme will allow front-end developers to get a copy as a starting point for their theme. Tooling is provided as part of the  Drupal command line interface.
9. Coming Soon: Automatic updates for Drupal Core.
Despite the controversy, automatic updates are one of Drupal's most frequently requested features. Users are attracted to the prospect of built-in security fixes and upgrades. Both complicated and controversial, with distinct objections and concerns emanating from both enterprise sites and small users, automatic updates will not be available on Drupal 10's release date, development is progressing at a steady clip and with an actual release date TBA. 
10. New initiatives aim to broaden access to Drupal.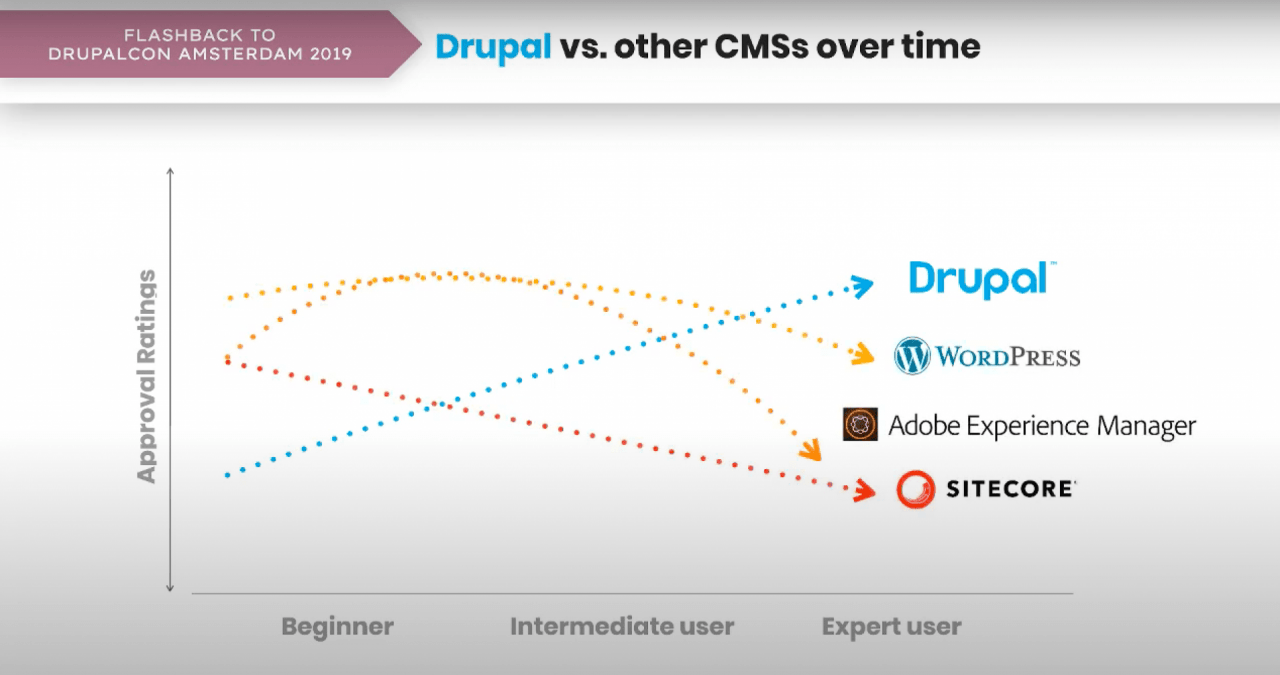 A user research project presented last DrupalCon Amsterdam 2019 by Dries Buytaert revealed that Drupal has the lowest approval rating among new users but the highest rating among expert users. Findings such as these have contributed to initiatives to expand Drupal's reach to a broader range of developers.
One such effort bundles the three modules, Media, Layout Builder, and Claro, which are now stable enough to be turned on by default. 
Additional initiatives designed to enable less experienced developers to leverage all that Drupal has to offer include a sharpened focus on no-code / low-code site building experiences, as well as the Decoupled Menus initiative, Project Browser, and the Easy-Out-of-the-Box strategic initiative.
As the next frontier, this new version of Drupal represents leaps forward on multiple fronts – within the framework of the sophisticated architecture that was ushered in with Drupal 8. 
As Drupal devotees and open source evangelists, Promet's overarching take on D10 is that Drupal never disappoints in its determination to push the innovation envelope to introduce next-level features and functionality.
Staying on top of what's new and next with Drupal calls for a lot of focus and perspective. That's exactly what Promet brings to the table – among other things. 
Have a question or concern about Drupal 10?  Interested in learning more about all that Drupal has to offer?
Image