Main Content
2023 Trends in Web Design for Government Sites
Government websites are needing to do more heavy lifting than ever before – serving as a digital hub for announcements, alerts, administrative tasks, events, and general information. Expectations are extending far beyond that of a functional powerhouse. Constituents count on their website to emphasize all that is appealing and unique about their county, or region, or municipality – in a manner that's engaging and easy to navigate. 
Savvy public sector stakeholders are increasingly aware of the fact that a powerful web presence and good government go hand in hand these days, and are sharpening their focus on designing sites that advance big-picture goals, improve the impact of programs, and unite communities.  
As the Director of UI/UX for an open source web development company with a purpose and passion for igniting new digital possibilities for public sector websites, I'm on the front lines of conversations with government clients concerning must-haves, nice-to-haves, and everything in between for their websites. I'm also at the other end of the conversation as a close observer and frequent recipient of best government website design awards.
Here's what I've observed lately to be the top trends for government websites that stand up to the full slate of stakeholder and constituent expectations. 
Easy to follow navigation that organizes content in a manner that makes sense to a wide range of constituent personas 
Given the depth and breadth of content that often needs to be organized and accommodated on government sites, modern design practices such as proper use of white space along with a spacious and fresh feel that mitigates against clutter and confusion are key. 
An open and inviting home page serves as an engaging launch pad for a wide range of user journeys.
User journeys that are built into navigation to streamline access to needed information
Once the key persona groups who visit the site are defined, and the user journeys are mapped, the essential focus needs to be on streamlining and simplifying the UX, with a focus on removing any potential or perceived roadblocks for users. 
Promet's people-first design philosophy recognizes that state and local government websites serve a broad spectrum of users, and follows a design imperative of defining end-user needs, goals, motivations, and pain points, as an essential first step in building and designing a site.  
Among the key indicators of human-centered design is increasingly friendly and highly contextual navigational language that provide a walk-through to specific tasks. For example, rather than a "Forms" tab, or a list of departments on the top navigation menu, we recently built a top navigation bar with a tab that read: "I want to," followed by a a sub menu of the following options: 
Apply for
Pay for 
Register
Report
View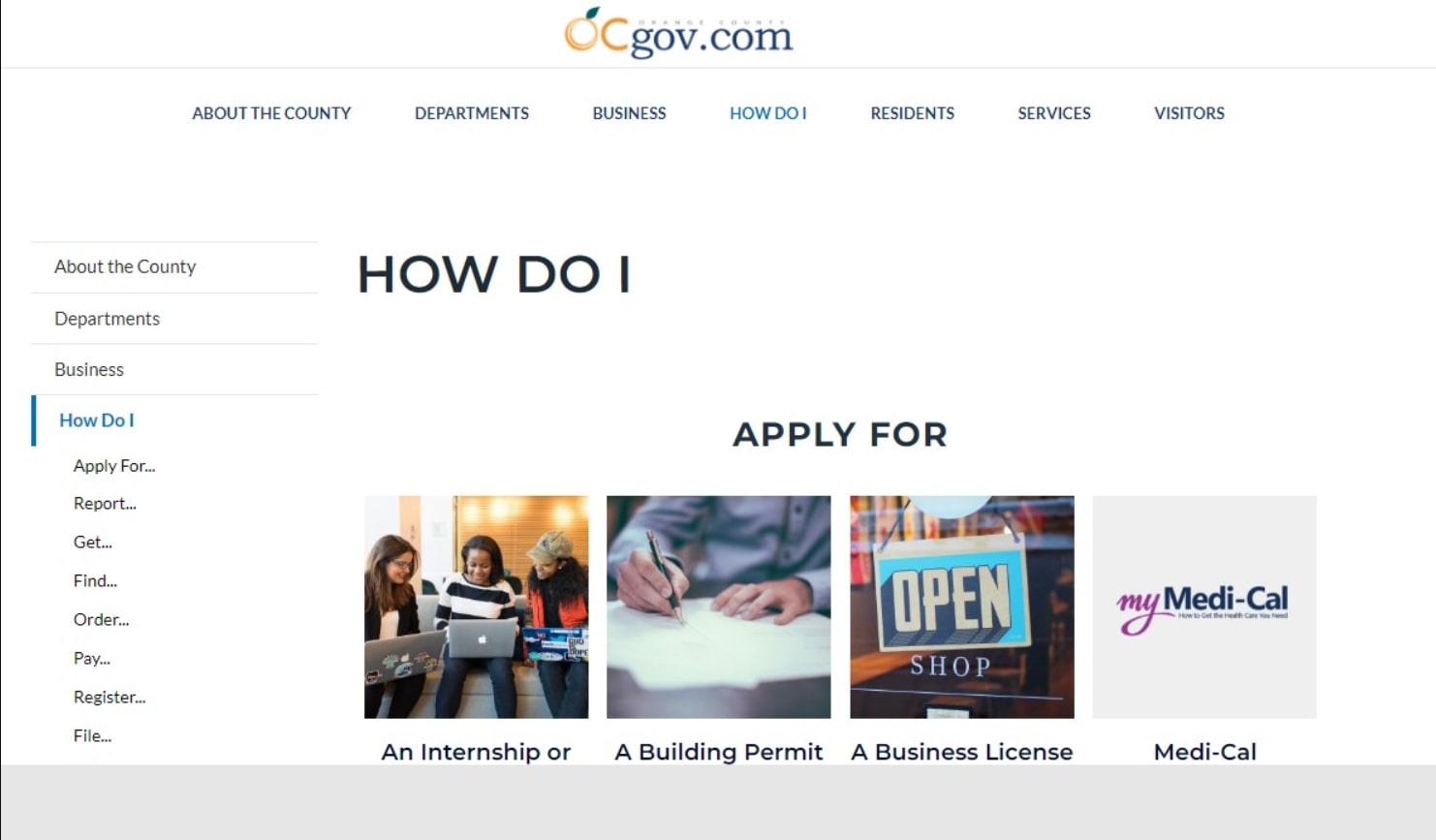 Navigation menus on the Orange County. Calif., website take a similar approach with a depth of options under "How Do I" that serve to streamline user journeys.
Components that enable full leverage of imagery that displays the local landscape and top attractions
Beyond information gathering and essential task-related factors, state and local government websites need to reflect the county or municipality in its very best light. 
Just as citizens have high expectations that the grounds and interior of their city hall, county courthouse, or state capital will be well tended and impressive, expectations are high for a modern, easy to navigate, beautifully designed website that reinforces civic pride.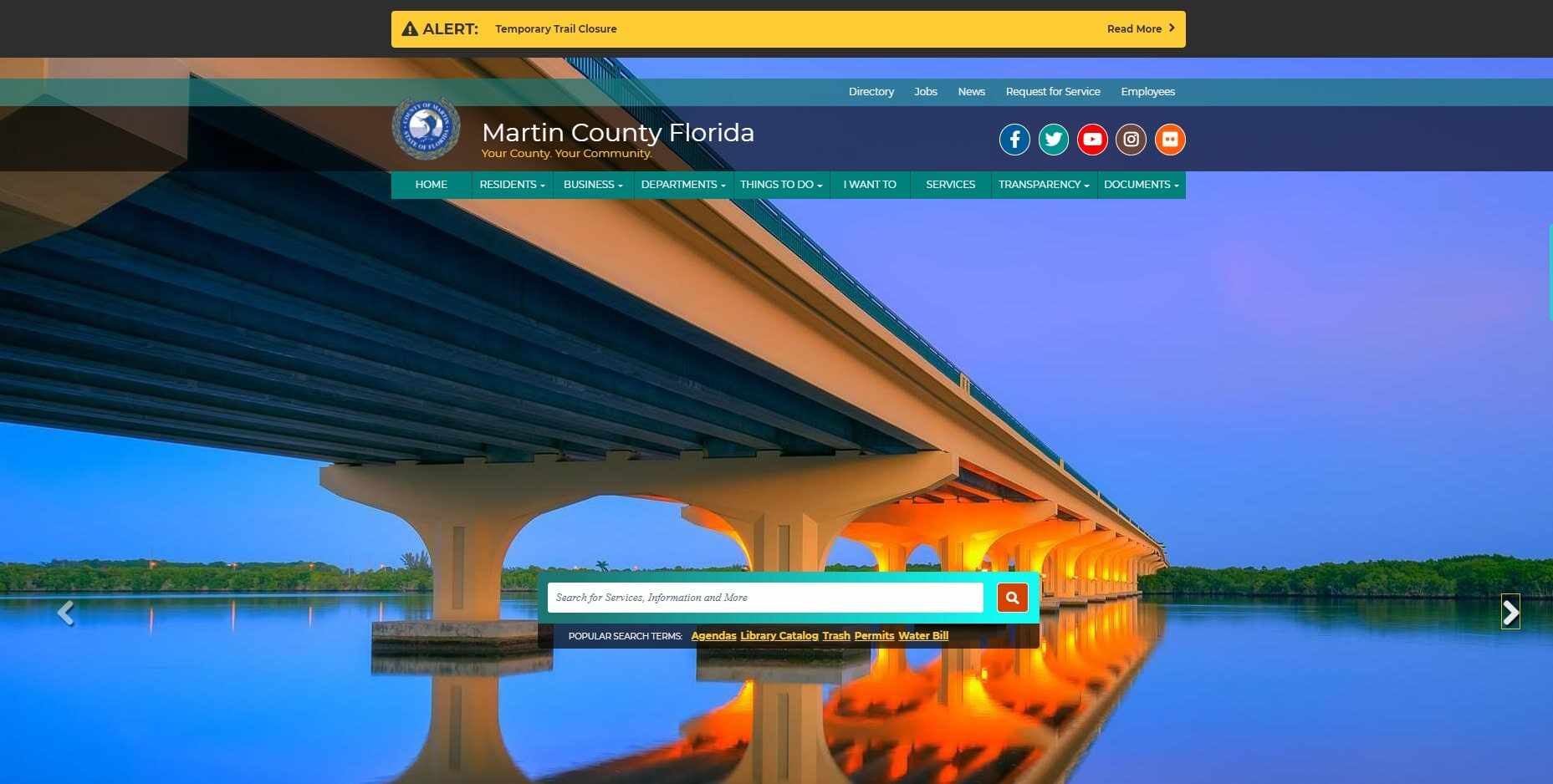 The Martin County Florida website features images on home page that highlight the area's spectacular beauty and attractions for both residents and tourists.     
An approach to Web Content Accessibility Guidelines (WCAG 2.1) that incorporates both compliance and inclusivity 
Guidelines are, of course, are important, but web accessibility is no longer being approached from the narrow perspective of just compliance. The best government websites take a strategic and empathetic approach to accessibility, based on a conviction that inclusive design presents an opportunity to unite communities within a digital platform. This means, among other things, government websites need to be easy and value-added for everyone to use, along with language and imagery that recognizes diversity. 
Flexible content management capabilities that enable internal staff to easily update the site, change layouts, and create new pages within prescribed brand and design guidelines 
At the heart of excellent design and UX for state and local government websites is a content management system that enables easy updates and possibilities for pivoting, as needed.  
Weather alerts or public health emergencies can emerge with little warning, and while the need for disaster communications is not likely to occur on any sort of regular basis, event schedules are often subject to change and community calendars constantly need to be updated. 
For government websites to maintain credibility as a single source of truth, site managers and content editors need to be able to make updates on the fly. 
Another factor fueling the importance of simplified and robust content editing: the opportunity for continuous improvements and citizen-centric enhancements based on community feedback and ongoing intelligence gathering. 
Prominent showcasing of local events
As the digital town square, state and local government websites are rapidly evolving into a replacement for newsletters, flyers, handouts, and bulletin board announcements – with an added function of promoting interest, participation, and community. 
Prominent showcasing of events also functions as an opportunity to continuously switch up content and inject new life into a site that might otherwise be dominated by static information and transactional needs. 
State and government local leaders are increasingly aware that every positive web interaction represents an opportunity to serve citizens and fuel vast new possibilities for connection and operational efficiencies. Partnering with the public sector to create next-level web experiences that address the full spectrum of citizen needs and expectations is what we do at Promet Source. Interested in what we can do for you? Let's talk!