Drupal migration refers to the process of moving a website from one platform or version of Drupal to another. This can involve migrating content, design elements, functionality, and other aspects of the site in order to ensure a smooth transition to the new environment.
What does end of life mean for a version of Drupal?
End of life signals the cessation of Drupal Community support, bug fixes, security updates, and any further core development. 
When previous versions of Drupal reached end of life, commercial vendors stepped in to fill the void with the option of paid support packages. However, Drupal 9 uses Symfony 4 and CK Editor 4, which will reach end of life in November 2023. This means ongoing support will not be available.
Drupal 7 will also reach its end of life this November 2023 after being extended for a year due to the impact of the pandemic on businesses, and the realization that many organizations are still on Drupal 7 and may not be able to migrate before the previously announced end of life.
Will a Drupal 7/9 CMS still function after end of life?
Drupal 9 is heavily dependent on Symfony 4, which will reach its end-of-life in November 2023. That means there will be no more security updates and no support. To ensure continued security and support for your website, you must upgrade to Drupal 10 by November 2023. Drupal 10 was released back in December 2022, giving users on Drupal 9 almost a year to migrate to the new version.
Drupal 7 is also scheduled to reach its end-of-life status November 2023, but since it's not dependent on Symfony, we believe that commercial support will still be available.
What's the risk of delaying an upgrade from Drupal 7/9 to Drupal 10?
Any organization that believes security is only an issue for sites that contain sensitive financial or medical data needs to question the potential organizational impact of their site being compromised or disabled.
There is no shortage of bad actors in the world for whom hijacking a site is seen as a sport. Failure to update can result in unnecessary exposure on many fronts. 
 
How long does it take to upgrade a site from Drupal 7/9 to Drupal 10?
From 10 hours or less on the low end to 50 hours on the high end. 
Upgrading from Drupal 9 core to Drupal 10 core is straightforward and simple. It's the presence of contributed and custom modules, along with detection of any deprecations, that can delay or complicate the process.
Drupal 9 contributed modules need to be evaluated to determine whether there is a supported upgrade path or if an alternative is required. Custom modules and themes also need to be individually reviewed to determine the upgrade path.
The Drupal 7 to Drupal 10 migration is more complex. Drupal 7 was launched back in 2011 and Drupal 10 is launched a full 11 years after, so there could potentially be issues uncovered that were not seen before.
The Drupal 7 end of life was originally slated for 2022, and it was thought that the acceleration of migration from Drupal 7 to 9 would have uncovered those issues already.
 
What are the new features of Drupal 10?
Drupal 10 represents a significant shift to the values of the open web.
The Drupal 9 to 10 upgrade path is simple and straightforward.
The upgrade to Symfony 6.2 and PHP 8.2 have laid the foundation for tighter security and a higher-performance back-end.
The clean, accessible, and powerful Claro administration theme is replacing Seven.
In replacing Bartik, the new Olivero default front-end theme is modernizing the Drupal out-of-the-box experience.
The replacement of CKEditor 4 with CKEditor 5 means a streamlined authoring experience for content managers and editors.
Modern JavaScript components replace some uses of jQuery.
The Starterkit theme generator will streamline customization.
Coming Soon: Automatic updates for Drupal Core.
New initiatives aim to broaden access to Drupal.
These are discussed further in the article linked below.
Read: The Next Frontier: Top 10 New Features of Drupal 10
What if a Drupal 7/9 site has a module that does not have a Drupal 10 version?
The first step is to try and identify a replacement with similar functionality.
If no good alternatives are found, site owners can opt to stay on the Drupal 7/9 version of the module, closely monitor the functionality, and watch for the release of an upgraded version.
In some cases, site owners might opt to have a custom module written to handle the gap. 
 
How does a Drupal 9 to 10 migration differ from a Drupal 7 to 10 migration?
The upgrade from Drupal 9 to 10 is a straightforward process that bears little resemblance to the inherently major undertaking that accompanied migration from Drupal 7 to 8 (or Drupal 7 to 9 for that matter). With that, we can surmise that a Drupal 7 to 10 migration will also need some effort.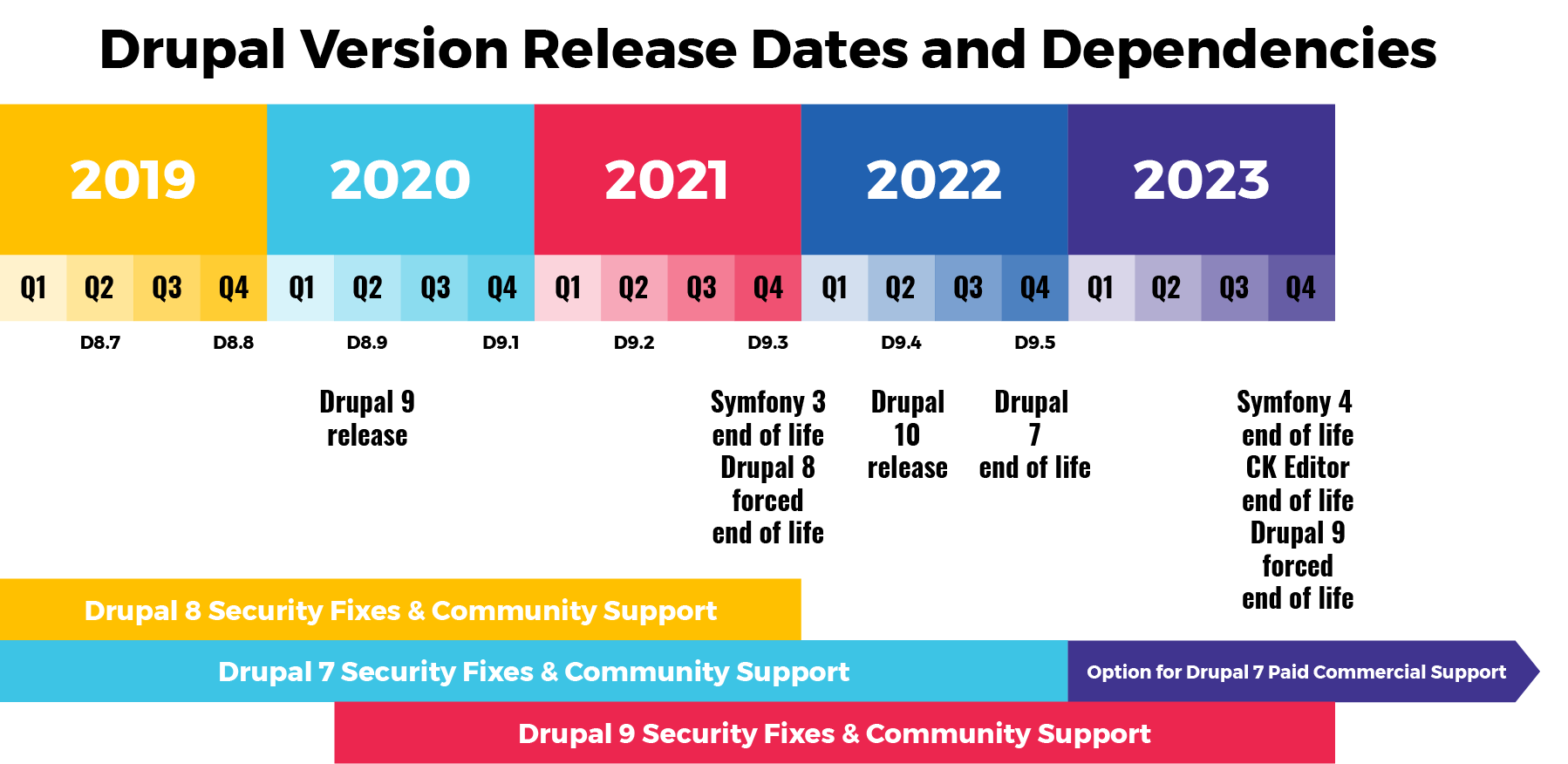 What should my team do to prepare for the inevitable Drupal migration?
Know the capabilities of Layout Builder for on-page flexibility.
Understand Twig.
Learn about object oriented programming.
Learn about enhancements to content editing in Drupal 10 with the upgrade to CKEditor 5.
These are further discussed in article linked below. You will also find a 6-point checklist for assessing your site for a Drupal migration.
Read: How to Prepare Your TEAM for a Drupal Migration
Will there be any sort of extension or grace period for upgrading to Drupal 10 following the November 2023 end of life date? 
Not for Drupal 9. 
The end-of-life date is based on a third-party dependency with Symfony 4. As such, it's a non-negotiable hard stop.
It could be possible that an extension will be given once again to Drupal 7, but the Drupal 7 Extended Support program is currently suspended. You can check the Drupal 7 Extended Support Program page for updates.
 
What is Symfony?
Symfony is a PHP framework for web projects that optimizes efficiencies in the creation and maintenance of PHP web applications, while leveraging a set of 50 reusable components. It is one of the most popular, reliable, and mature PHP frameworks available.
What to do now?
Promet Source has developed a comprehensive package of Drupal 7 and 9 to 10 migration and upgrade capabilities and targeted Drupal migration rescue services. Our team is adept at working closely with clients to optimize outcomes while ensuring no disruption to operations. 
Promet's focus on accessibility during every phase of strategy, planning, design, and development enhances efficiency while providing the confidence that backtracking will never be required to ensure the new site meets current ADA Section 508 web content accessibility guidelines. 
As a leading Drupal consulting, development, and support provider, we leverage a depth and breadth of skills and perspective, with a commitment to add value and share expertise every step of the way.
Contact us today and let us know what we can do for you!