Main Content
Recent Press For CTAR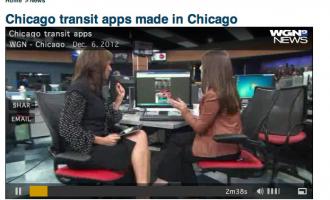 We are excited to share some recent favorable press on our newest contribution to the iTunes store - CTAR.
What is it? CTAR is an Augmented Reality app that lets users find and track Chicago Transit Authority buses and trains, all in real time. It's reality, only augmented! Promet's mobile development expertise really shines through on this app.
From Crain's Chicago Business: "In September, designers at Promet Source, a Chicago Web developer, created an augmented reality application that lets users find nearby CTA train and bus stops and their estimated arrival times, simply by pointing a smartphone in the direction of travel.
Promet CEO Andy Kucharski expects to see more GPS- and electronic compass-enabled applications in the next three years, particularly in the tourism, restaurant and hospitality industries." Promet also offers custom mobile development.
Promet also made it on TV. WGN-TV in Chicago showcased a handful of transportation apps and CTAR got top billing.  
Promet Source CTAR Augmented Reality App on WGN-TV from Promet Source on Vimeo.
From WGN's website:  "CTAR is an augmented reality app. That means, when you look through your camera, your reality will be overlayed with Chicago train and bus arrival times as well as which stops are closest to you."
To learn more about CTAR, click here.
Read more: