Main Content
Drupal Vs. Wordpress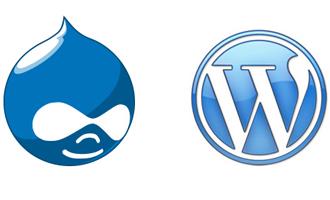 Drupal Vs. Wordpress
As a follow up to our previous blog post where we compared Drupal to Joomla, we have decided to pit Drupal against Wordpress.  This is truly the major battle of the open source content management systems.  Although these two platforms are incredibly popular and both are used to create and manage thousands of websites around the world they are still quite different from each other and should be used in different scenarios.

Both of these CMS' rely heavily on PHP and are licensed by the free GNU General Public License.  Both must use a SQL database in order to manage and keep track of the content that is uploaded.  Drupal had a much slower start than Wordpress, but as of recently has been picking up great speed.
 
 
---
Installation
Both CMS' are relatively simple to install.  Just about any major web hosting provider will allow you to easily install Drupal or Wordpress with a one-click installation process.  Drupal's installation is a little bit more involved if you decide to do it manually.  Drupal has made an effort to simplify their installation process as well as the instructions on how to do so after seeing Wordpress' famous "5-minute installation."  Wordpress really nailed this end of the bargain on the head.  They've over-simplified their installation process from their creation and as long as you have a basic understanding of some database terminology you're as a good as gold.  The two installation processes are quite comparable however, it is just a matter of preference.

 
 
---
Commerce
Drupal really takes the cake in this category.  Generally speaking, Drupal is a much more developer friendly platform than Wordpress, although Wordpress is typically seen as more user-friendly.  Wordpress contains a vast amount of plugins that can be used to tweak your site in many different ways, but one area that they really lack on is eCommerce integration.  Sure there is an eCommerce plugin for Wordpress, but because of the nature of Wordpress' one size fits all plugins, there is never a guarantee that they will work with your website.  Sometimes they can completely destroy your website or drastically reduce performance.  Drupal, on the other hand, is used alongside a world-renown technology known as Ubercart.  Ubercart is considered by many open source used to be the end all experience for eCommerce capability.  Here at Promet we have used Ubercart on a large number of different client websites and have never had a reason to doubt it's customization and performance.  Its list of features is enormous, and it makes designing an ecommerce website a dream.

 
 
---
Community
Each CMS has a huge user base, as well as an active community that regularly gives back in the form of plugins, modules, support, upgrades, etc.   There are over 11 thousand Drupal modules and over 15 thousand Wordpress plugins.  The amount of themes for each is possibly unquantifiable.  Drupal has a much larger and more active developer community.  This is likely because Drupal is a developer based CMS.  Wordpress' shear numbers also allow for you to find help with just about any topic you need.  Both communities are comparable.  You will likely always be able to get the help you seek no matter what the topic is.
 
 
---
Traffic and Search Promotion
The important thing to remember when optimizing your site is how you structure your on page and backend SEO, and not so much the platform you are using.  Wordpress is easily the winner of these two CMS' when it comes to ease of implementation to throw up a quick website, as it pretty much dominates the affiliate marketing community.  But even though there may be significantly more plugins based on social media and SEO promotion for Wordpress than Drupal, it is not to say that Drupal is lacking in this field.  Wordpress offers more flexibility out of the box with its main focus on search, because it was initially created as a blogging platform and later adapted to be a robust platform to create any time of the website.  Drupal, on the other hand, was built from the ground up to be able to implement it in any way.  If you're looking to match the out of the box search and traffic capability of Wordpress, you will simply have to find the right modules to use and make a few tweaks to your backend.