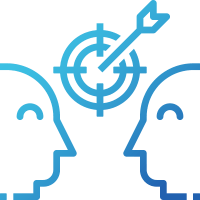 Our Distinct Approach to Strategic Consulting
Strategy is the Starting Point
We work with our clients to develop a roadmap and offer a strategic plan based on their business goals. Every client engagement is deeply consultative. Our first and overriding objective is to listen and to learn.
Our distinct approach is that we analyze client objectives from multiple perspectives, taking into consideration the needs and expectations of all stakeholder groups as well as the end users and audience. It is through uncovering where the organization and the end user's needs overlap that leads our strategies to successful outcomes.
We explore key challenges and risks, assess current approaches, consider legacy frameworks, and help shape the vision for the future by providing research to arrive at road maps and planning that help build businesses, institutions, and brands. 
Breakthrough Results with Digital Strategy Consultation
By consulting with our clients on their digital strategy, whether it includes their website, online marketing, digital properties, or brand, we help to define a strategy that accelerates innovation and is fueled by a common vision.
An emphasis on alignment at the earliest phases of a project reduces risk and lowers costs.
Synthesis of key stakeholder needs and expectations streamlines development and creates a strong driver for new possibilities.

Strategic Consultation for the Digital Age 
Outcomes of our strategic consulting services are largely a reflection of client objectives, and often include:
Assessment of requirements for a new site
User experience evaluation and recommended solutions
Greater understanding of the buyer journey and the creation of web and marketing strategies within that framework
Persona development and identification of user groups within a system
Drupal focused content strategy creation for data structures and blocks
Evaluation and creation of taxonomies
Engagement of DevOps teams for automating deployment
ADA Section 508 and WCAG compliance
Strategic Consulting at Promet Source is about starting strong and successfully powering through an engagement with a depth of perspective. Interested in a conversation concerning the difference our approach could have on the success of your project?  Let's talk!