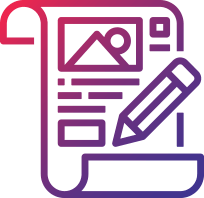 Words that Work

Content Production that Amplifies Your Objectives
Your customers, constituents, prospects and stakeholders are bombarded with more messages every day than they can ever hope to take in. They've become adept at tuning out.
Effective content needs to cut through the clutter and seamlessly align with your design and value proposition in a way that amplifies the full scope of your messaging strategy.
What's the Impact
Our focus is on high-impact communications with crisp and meaningful messaging that tells your story, and efficiently optimizes your objectives.
Experts with the full range of digital content production planning and execution, we inject a high level of confidence and creative energy into your messaging strategy.  
What We Know
Effective content strategy is a constantly evolving discipline that in the current environment in inherently intertwined with digital strategy and SEO. We take a holistic approach to content, drawing upon collaborative insights and expertise.
Interested in exploring new possibilities and taking your content to the next level? Let's talk.