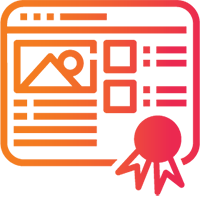 Web Accessibility Compliance Certification
Documenting Due Diligence
ADA Website Compliance Certification is an important step in the web accessibility audit and remediation process that demonstrates both a desire to have an accessible site and a commitment to doing it right. 
The basis for Section 508 Certification is AA Level compliance with WCAG 2.1. There are 78 WCAG 2.1 guidelines. 30 fall into the category of Level A; 30 are considered Level AA; and 28, are  Level AAA.
A site can be certified as WCAG 2.1 compliant if it meets all 50 Level A and Level AA Guidelines.
What Sets Us Apart
Certification of Accessibility Compliance is included at no additional charge as part of Promet's consultative and comprehensive web accessibility client engagements.
Our clients have the advantage of displaying an ADA Accessibility compliant logo on their website's home page, along with accompanying language that reinforces a commitment to accessible web experiences for people of all abilities.
Accessibility technologies and perspectives on how people of all abilities access the web are always improving, and as such, are committed to remaining on the leading edge of this dynamic area of expertise. Contact us to learn what's involved and the range of benefits that result from ensuring compliance for your website.