Main Content
Using Drupal 8 for Government Websites
INTRODUCTION:
The government uses Drupal to power some of the most highly trafficked sites on the web. Aside from the popular example of WhiteHouse.gov, a list of sites that demand scalability and security rely on Drupal to connect with users. Now that Drupal 8 has been out for a few years, should government websites stand pat with a Drupal 7 implementation? We know that Drupal 6 sites have a more immediate need to migrate to a newer version of Drupal, but here's why you should consider green-lighting Drupal 8 for a government site that needs to be fast, secure and perform to expectation. 
Check out some of Promet's other stories on using Drupal for government websites:
---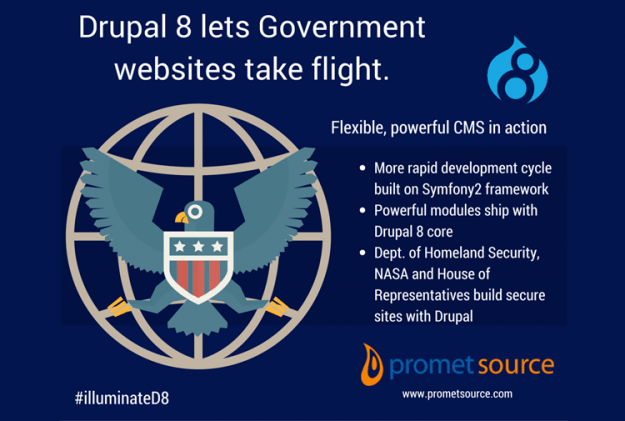 5 REASONS GOVERNMENT SITES CAN RELY ON DRUPAL 8:
The audience for government websites holds them to a high degree of scrutiny. This is to be expected for a web portal that will represent taxpayers' hard-earned dollars at work. Landing on the right development team, the essential requirements and the most powerful CMS for the website are crucial in the lead up to development. Take these five points as proof that Drupal has the power and flexibility to meet the needs of government websites: 
 
1. Security
Security is a common and legitimate concern for site owners. How does Drupal's inherent security stack up versus a licensed content management system (CMS)?
Open source structure means that Drupal is reviewed by more developers than closed systems. In this fashion, Drupal is able to crowd-source its security updates in ways that closed (proprietary) systems can't.
Drupal's security team releases updates often and on schedule. The team is composed of active Drupal community members who have architected significant Drupal implementations over the years. The lead for Drupal's security team is Michael Hess, senior technologist at the University of Michigan's School of Information, and his efforts are supported by a diverse team of skilled Drupal developers.
Organizations that require higher-than-average security rely on Drupal sites to deliver their message and connect them with the public, including the U.S. House of Representatives (https://www.house.gov/), the Department of Homeland Security (www.dhs.gov), NASA (www.nasa.gov), and many more.
2. Developers
There is a kernel of truth to the notion that Drupal talent is hard to find. Not every web developer has worked with Drupal. Once a Drupal developer is found, is it difficult to secure him or her for a lengthy project? Drupal is based on PHP, the most common and popular scripting language that supports not only the two of the most popular open source CMS among top sites (Wordpress and Drupal), but also the likes of Facebook. More and more Drupal developers are coming online every day to meet the demand. According to a Stack Overflow survey  from 2018, about 1 in 3 (31.4%) of professional developers use PHP; ranking it in the top 10 used languages by professional developers. 
3. Implementation
Typically the technical risk in WCMS implementations comes from long development cycles, which are difficult to test and implement integrations with lots of customization to the CMS. Drupal 8 eases the risk of implementation by improving on the Drupal 7 experience in these areas:
Core Drupal modules can do more out of the box than ever before so there is less need for development and more attention can be paid to the site configuration.
Configuration Manager shortens the development cycles, allows for faster testing and deployment by maintaining the same configuration between development environments.
There are hundreds of Drupal 7 modules which are being ported to Drupal 8 right now, making integration an easy configuration task. Some commonly used modules that were ported over include Lightweight Directory Access Protocol (LDAP), Login Toboggan and Shibboleth.
Drupal is guided by a principle of continual innovation and Drupal 8 is no exception with standard features such as inline editing and multilingual support shipping with Drupal 8's core.
Increasingly more important, Drupal 8 is also mobile-friendly.
4. Integrations
Drupal can be fine-tuned to play nice with almost any proprietary CRM or SaaS tool. Right now there's also a lot of focus on the potential for decoupled Drupal sites that work great with any API you can throw at them. If a contributed module doesn't already exist then you can author your own and contribute back to the community.
5. Product Lifespan
Getting enough time for the investment is not a concern with Drupal. Drupal updates always support the previous release version (in this case Drupal 7 will be around for a while) and a site built with Drupal 8 can withstand deprecation.
Drupal's modularity is made possible by creating granular content type definitions. This allows for storing content and flexibility in displaying portions of it, as in the Create Once Publish Everywhere (COPE) model.
Drupal is a software that supports an ecosystem of development, and this diverse community of developers ensures that Drupal maintains a flexible approach that will accommodate new services or ways of consuming content. For example, look at the rapid growth in popularity of a site like Pinterest. The skyrocketing adoption of this social network made it a significant force for content publishers to reckon with, and the ability to create and share content specifically for that social network became a priority. The Drupal community created the Pinterest module within three months of Pinterest growing to 10 million active monthly users.
---

CONCLUSION:
Now you can see why so many .gov sites are made with Drupal. Drupal 8 has changed many things (for the better!) around content creation and development workflows but it still delivers an open source framework that is fast and secure. Building secure systems that have earned the trust of the United States, Australian, and German governments, along with a host of state- and local-level governments, is a natural fit for the Drupal CMS. Recently the Israeli government decided to end their contract with Microsoft and move towards open source systems like Drupal. 
Have an idea for a Drupal project? Let us know if we can illuminate your project's requirements and set it on the path to results with Drupal!