Main Content
PrometSource.com Re-design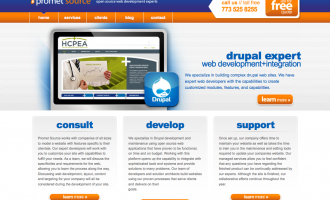 Promet Source has launched its new website!  With this new redesign Promet looked to not only provide more content about its services and capabilities, but offer this information in an optimal way to its potential clients.  Our goal was to create relevant content, while also providing necessary supplemental material to this content, to aid our customers in easily finding all that they needed.  We are extremely pleased with the results of our redesign, not only from a website standpoint, but also the business evaluation that came along with plotting our track. To help us with designing the structure and hierarchy to the site, we begin with a whiteboard session to discuss our core capabilities.                     
What Are Promet Source's Core Capabilities?
Next we began to discuss the services and offering that we provide for our clients.  We noticed there were several services that we performed that fell under each other these core capabilities.  This lead to a convenient opportunity to use taxonomy to assign each of our 20 services to the capabilities that we offer them under.
What are Promet Source's Services/Offerings?
Promet also felt that it would help visitors to see what Industries we had done our work in as well.  Each indiustry involves different challenges and complexities to the development process.  By showcasing what industries we have worked in for difference services and core capabilties, we felt we could best display our advanced knowledge and problem solving skills regarding the industry. 
What Industries has Promet Source Worked With?
Promet wanted to make sure to highlight which clients we had done each service or core capability with. We felt this was vital for our visitors to be able to see each specific service in action for each client.  Too often a client may be showcased that never had a given service performed for them.  Once again, with the help of taxonomy and categorizing, we found a way to highlight which clients had which services done, providing our website visitors with the most accurate information to see our work.

Lastly, we wanted to highlight which clients fell into each industry. For this reason, we added an industry & a core capability filter to our client list page.   We have also expanded our footer to include more links to not only this material, but other information about Promet.  Get to know our team, our history, or our community involvement all through these links. 

As you navigate through our site, through our core capabilities, our services, and the industries we work in, you will see blocks along the right sidebar and blocks underneith the main content.  These blocks provide this supplementary material to help you find everything you need.  If you are looking at our Mobile Application Development page (as seen in the image above) you will be able to see:
The services that we offer regarding Mobile Application Development
A case study on a client we did mobile development for
Other clients (if any) that we have done work for in that space
The industries that we have experience in
Testimonial about our work
A simple contact form
We hope that this new structure will help you find all that you are looking for.  If you have any questions, just navigate over to our contact tab and shoot us a message, or call our phone number 773.525.8255, listed at the top!