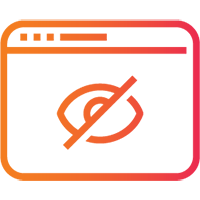 360 Web Accessibility Testing 
The advantage of thorough auditing and analysis
With flexible testing and remediation options, Our IAAP certified accessibility experts conduct thorough ADA compliant testing of your website, applications, and online documents ensure adherence to WCAG 2.1 and ADA Section 508 guidelines. We also provide long-term support, training, and technical expertise to elevate the usability and reach of your site.
Our ADA compliance check incorporates both automatic and manual testing procedures -- both of which are essential for a full understanding of the user experience of your site and the potential impact of the underlying code on assistive technologies. 
What Sets Us Apart
Our distinct, dual testing approach, combined with our passion for superior web experiences that engage people of all abilities, provides the confidence websites and applications have been audited from all angles and are accessible.
The impact is minimized legal risk for non compliance, enhanced SEO, broadened perspectives, and more inclusive web experiences.
Analyzing your website for accessibility is an exercise that results in a depth and breadth of value-added information. Interested in learning more about accessibility testing. We can help!
Wait! There's More!
Pros and Cons of 5 Web Accessibility Testing Tools
A Roadmap for Manual Web Accessibility Testing