Main Content
Drupal 8 Media Management with Widen Community Module
Do you have a ton of images and videos stored on your Drupal website, making locating the right content a nightmare? Or perhaps you have two websites with WordPress and Drupal that share the same images? If you are looking for a better way to integrate your content into Drupal, look no further than the Widen Community with Drupal 8!
Widen Collective is a Digital Asset Management (DAM). It provides digital marketers and content editors a way to easily locate photos, videos, and creative files. Widen uses quick search, keywords, search by category, an intelligent Faceted Search and more. Now here is the best part: this new module allows your Drupal projects to connect to the Widen Collective, with the WYSIWYG CKEditor. 
 
Promet Source and Widen Community have worked together to provide a great integration between the latest version of the CMS platform Drupal 8 and Widen's DAM platform Widen Collective. Widen offers software solutions that help digital marketers connect their visual content—like graphics, logos, photos, videos, presentations, and more—for greater visibility and brand consistency. The module is Open Source and now available to all, hosted on Drupal.org.
Access using CKEditor in Drupal 8
From Dropbox to JIRA and Slack, Widen integrates with many platforms and tools to match your workflow. It also works with CMS such as WordPress and of course Drupal. With Drupal 8, Widen is best integrated with the native WYSIWYG CKEditor. Just click the Widen icon in CKEditor and you will have access to your media library to insert photos and videos.
You can also have several users from your company with different accounts and different media, the permissions are on your user's access level. They are handled with user authentication through the Widen Collective API.
Click on the Widen Collective icon in your CKEditor.
Enter a keyword or specific sentence to find your media.
Click on a media and select the size.
Insert, Done!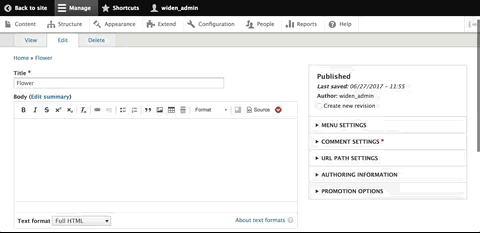 Widen Community Drupal Module: Open Source and available on Drupal.org
While the module should be linked to your own Widen account, the code of the module was released using Open Source and is now hosted on Drupal.org. This means the module can be downloaded just like any other modules for Drupal, manually or using Drush (the command line tool for Drupal).
Hosting Widen Collective on Drupal's servers also gives us a public platform to manage issues, a standard way to use and download the module (download using Drush and Drupal console) and a versioning system. The module is now available in a stable version for Drupal 8, and a Drupal 7 version is coming soon. Check out the module now at Drupal's Widen Collective page.