Main Content
A Drupal Website Ready for Crisis Response
A crisis can put a website to the test, and never has this been truer than in the current COVID-19 outbreak. As social distancing and stay-at-home orders are fueling a heavier than usual reliance on online communications, people are looking to state and local websites for up-to-date and authoritative information that's specific to their area.
Due to excellent planning, perspective, and great partnerships, the Martin County Florida website's Coronavirus section is serving as a trusted resource for residents on COVID-19 information. 
Solid Foundation for COVID-19 Response
When Martin County Florida partnered with Promet Source last year on the redesign of its website, the need for a flexible content management system (CMS) to communicate essential and up-to-the minute information about hurricanes and weather-related events was well understood. This is one reason why the team at Martin County chose Drupal for their web platform.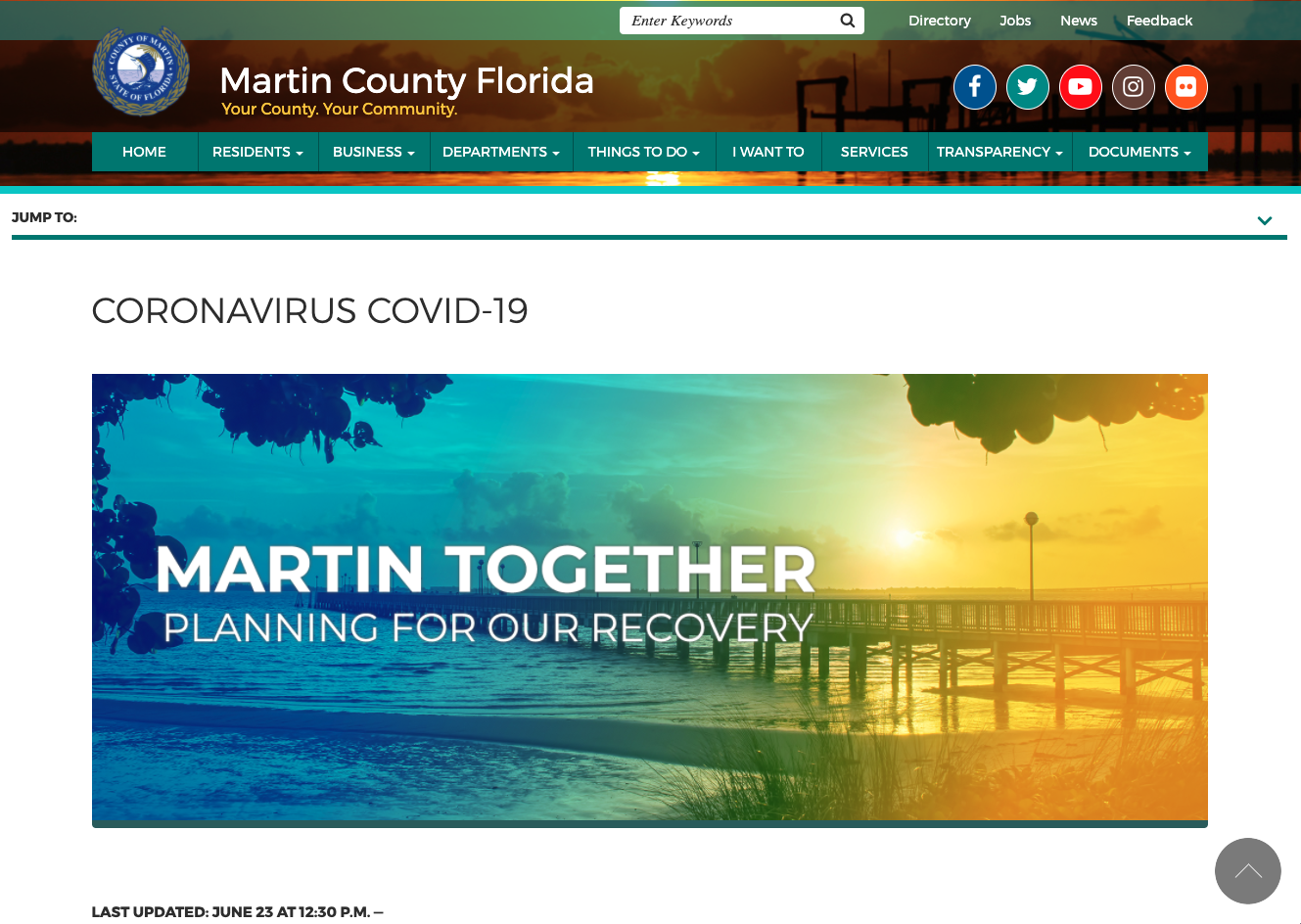 While the COVID-19 crisis was not anticipated, a high level of foresight and planning has served Martin County well. Since Martin County Florida is in a hurricane prone region, a communication strategy and website plan were already in place, along with yearly practice drills. Residents have relied heavily on the site in the past, and never more so than in the current environment.  
This emergency preparedness perspective has been a strong asset in developing a website that is providing residents with quick and comprehensive information on COVID-19. 
The recent outbreak of COVID-19 has driven a sharp increase in the number of visitors to the site. Between February 23rd and April 5th, 2020, the website had more than 375,000 sessions. A sharp increase than the previous month when COVID-19 was not yet considered by most people in the United States to be a significant threat, noted Jennifer Hagedorn, web content specialist. She added that the recent spike in web visits exceeds that of any other hurricane or crisis event by 44%. 
Surge in Mobile Usage
There has also been a shift in the number of visits to the site from a mobile device. Pre-pandemic, about 40% of visits were from a mobile device, that figure now stands at about 70%, and represents a 200% increase in mobile usage over the previous month. This recent surge in mobile usage has been factored into how information is being presented on the site. 
To facilitate the increased mobile usage, the website content editors at Martin County began to utilize shorter blocks of content and placing content within an accordion-style page layout for mobile users to scroll through multiple topics and quickly locate what they were looking for.
 

While there are many metrics indicating that the website is proving itself to be successful in providing residents with the information that they need, Jennifer pointed out that there has been noteworthy feedback by residents who have reached out to express their appreciation for the quality of the content on the website and the frequency of the updates. 
Success Factors
Key among the factors that have driven the success of the Martin County Florida website:
The ability to build new pages as needed and create page alerts facilitated a high-functioning emergency response system. 
Martin County also set up a single, easy-to-navigate Coronavirus page for all updates and information, which kept track of only the most up-to-date information and deleted all outdated information and announcements to prevent confusion from website visitors accessing outdated information and articles on their site.
The Drupal CMS and WYSIWYG editor provides for a high degree of flexibility, enabling non-technical members of the communications team to perform in-line editing, simply create new pages, add them to the menu, update alerts, and easily embed videos and insert images.
The communications team can easily collaborate and are given the appropriate level of permissions for their role so they can help edit content, and those with a higher level of permissions can publish approved content to the live site.
The Drupal site uses Paragraphs, a Drupal module, that allows regions of a page to be interchangeable by content editors and does not require complicated code by technical developers to quickly build in functionality and apply custom arrangements on site pages.
For purposes of ensuring messaging validity, all communications are consistently branded and include the Martin County seal both on the website and social media images.
Website messaging is closely aligned with shareable, social media graphics and posts that are shared to help reach more people with the critical messaging and updates.
Residents can sign up for regular text messaging, offered via a third-party provider. The county has branded this capability "Alert Martin," and these mobile text messages provide critical updates with links back to the website for the full story. This functionality offers one explanation for the increased traffic from mobile devices.
The "ALERT" region on the home page provides emergency and informative alerts and is color coded by level of importance: blue for general information, yellow for health and safety updates, and red for critical issues and warnings that require immediate attention. 

By including these features on their website, along with many more, their site has received positive feedback from local residents saying they were very happy with Martin County's COVID-19 emergency response and found the site easy to use and access the information they were looking for. The site was also recognized with industry awards for visual aesthetic and superior digital experience, proving to be not only nice to look at, but also usable and useful in a time of need.
COVID-19 is a moving target that is being attacked on many fronts. Never before have local governments had a greater opportunity and responsibility to ensure that their websites provide a trusted and single source of truth while providing a flexible content management experience for the site's managers.
Looking to ensure your website is ready to communicate in a crisis? Contact us today.