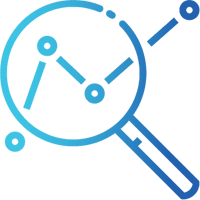 New Possibilities for Broadened Perspectives

Leveraging Data and Analytics 
Never before have the possibilities for data and analytics been so vast and so within reach. Data sources include analytics, website activity, usability testing, sales tracking, competitor assessments, and more, are fueling insights that would have been difficult to fathom as recently as a decade ago. 
Results-Driven Analytics Services
Google Analytics Management & Reporting
Pay Per Click (PPC) Reporting
A/B Testing
Usability Testing
Heat Mapping
Conversion Rate Optimization
Dashboard Setup
Analytics Training
Driving Results with Data-Driven Decisions
At Promet Source, a deep level of inquiry is inherent to how we work. We synthesize information, make connections, and recommend actionable strategies that drive your goals. In addition to tapping rich sources of data, our team helps you to understand your site's traffic and integrates this information with other organizational intelligence to help make data-driven improvements to your website over time based on performance metrics.
Effectively leveraging and presenting data is an essential component of competitive advantage. Clients who engage with Promet Source have access to leading-edge expertise for mining intelligence from their digital properties, unearthing emerging opportunities, and recognizing how to most effectively direct resources.