Main Content
WHITEHOUSE.GOV Puts Open Source on the Map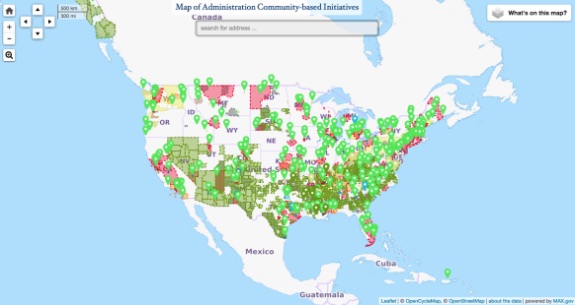 Obama's presidency has been marked by a number of technological firsts: Obama's been unofficially dubbed the "social media President" as he was the first sitting US president to have a twitter account, his campaigns embraced methods such as email marketing and by all accounts he's the first president to use a selfie stick. Yup.
But the latest data-driven project from the White House should have Drupal and open source enthusiasts particularly excited.
The White House created an open source map that offers a visualization of the Obama administration's community-based initiatives across the United States. 
The code is in GitHub and it contains this brief description of the project:
"This map is a snapshot view of the Obama Administration's work in partnership with local communities. The map is made up of data sets from initiatives across more than 15 Federal agencies. We are adding datasets and features to the map as we build it, so check back for updates (or help us add them!)." 
The map is built primarily with the Leaflet web mapping library and JQuery with data contributed from a number of open source projects, including OpenStreetMap.  Whitehouse.gov is inviting front-end developers to fix bugs or add new features to the map, which is pretty cool!
Related blog post: Open Source's Impact on Government
Do you have a favorite example that harnesses the power of open source in your community? Subscribe to Promet's newsletter and stay in touch!