Main Content
Drupal Module Usage Update October 2012 - January 2013
More on our coverage of Drupal module usage. We continue to see strong growth of Drupal modules as well as Drupal Core. I think the coverage of whitehouse.gov and their use of Drupal has added a level of visibility to the platform and it's making the enterprise take notice.
The fact that whitehouse.gov chose Drupal sent a number of messages to the marketplace. Security. More people now that Drupal is a secure platform and can easily provide peace of mind for a government or other potentially vulnerable sites. Flexibility. Whitehouse.gov is managing tons of content, in many formats and doing it quickly and efficiently. 
But choosing Drupal probably spoke more towards the viability, utility, and VALUE of open source as a whole. Choosing Drupal allowed the White House to immediately realize the value of their investment--the cost that might have gone into a software license instead became an investment in functionality, best practices and implementation of the solution.
Getting back to Drupal module usage, it's clear that the
Libraries API
module is leading the way in usage growth. The main reason is that as more and more enterprises make the choice for Drupal, much of the functionality etc. ride on the back of this module. You can't deploy a proper enterprise site, rich in functionality, without a module that lays the groundwork.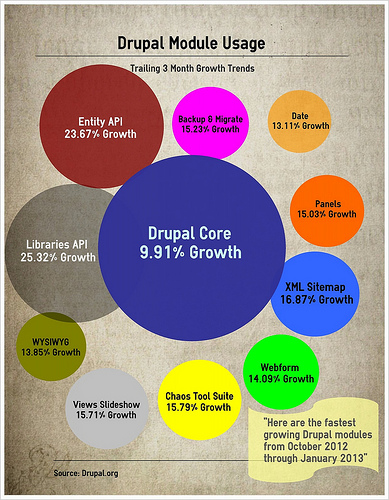 Here are the top 5 Drupal modules in terms of usage growth over the last 3 months:
1. Libraries API
2. Entity API
3. XML Sitemap
4. Chaos Tool Suite
5. Views Slideshow