Main Content
5 Fun Ways to Engage Remote Teams
Even among teams who are accustomed to working remotely, staying positive and connected can be a challenge when stay-at-home mandates turn lives upside down in a myriad of different ways.
Promet Source recognizes the challenges associated with keeping teams engaged and maintaining a positive culture when many of us work remotely. During the quarantine, we took it up a few notches with a sharpened focus on enlivening meetings and supporting each other.
Here are five ideas that have helped us to: 
Get a glimpse into each others' lives beyond faces on a Zoom call, 
Encourage accountability beyond immediate tasks at hand, and
Make regularly scheduled meetings more fun. 
1. Guess the Workspace
Prior to last month's all-company meeting, I requested photos of six individual's workspaces. Near the end of the call, I showed the photos of the workspaces and asked everyone on the call to match the six selected employees to their workspace and submit their votes via the Zoom chat. It was fun to speculate the owner, and in the end we all learned that we know each other better than we thought, because we mostly guessed them right!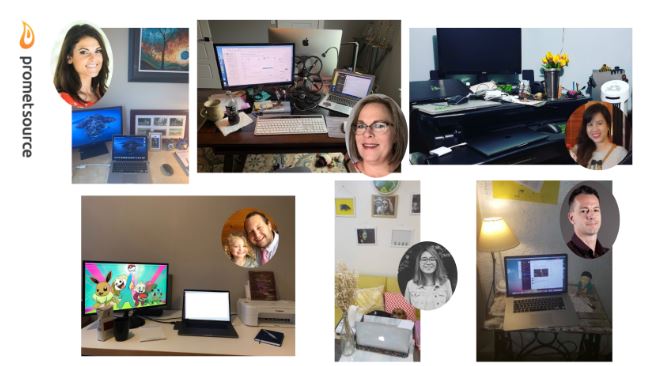 2. Meet the Family (Dogs and Children)
We played the above game with pets as well. Better than a picture is seeing them real-time on camera. Recently, I was in a meeting where someone's baby was connecting with a team member's dog through the camera. Working around children and dogs is part of this new normal for many of us, and instead of stressing about trying to keep other members of the family quiet and out of the way, we encourage team members to introduce us to current members of their household. Dogs and children bring joy to any meeting. Even if they're only on camera for a few moments, it brightens everyone's day!
3. Virtual Watercooler Questions
Since we can't chat by the coffee machine or while sipping a LaCroix, I like to post fun random questions in our Slack Channel. Building rapport through light conversation is a great way to help connect the team with fun facts or experiences that we might have in common. After all, how else are you going to find out that someone else's first concert was also Cool Kids On The Block?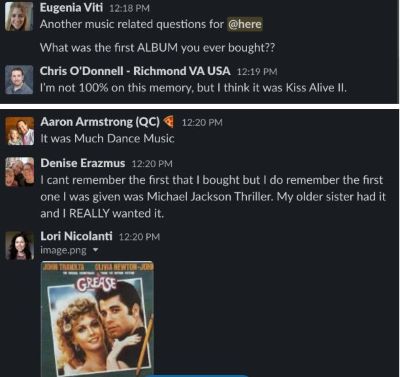 4. Get Fit Challenge
One of our team members reached out to the group wanting more accountability for his workouts. The cure? He started a "Promet Quarantine Fitness Accountability Challenge." Participants share their goals and report in every week and share whether they are meeting them. 
5. Hat-Mandatory Meetings 
Most of us know about being able to change the Zoom background on a call (when settings allow for it), and that can spark some fun conversation. But matching a hat to the background, or simply requiring a hat, can be a fun way to kick off a meeting, and keep us from taking ourselves too seriously.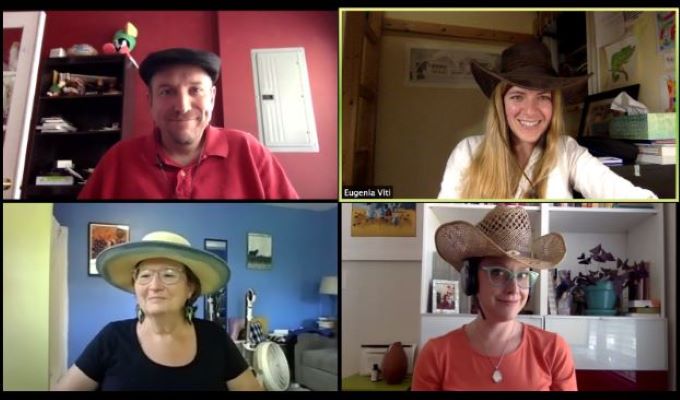 This is just a glimpse into the many ways that Covid-19 quarantines have have sharpened our commitment at Promet Source to connection and creativity. 
In the meantime, we're continuing to collaborate with our public sector, higher education, and enterprise clients on the development of amazing websites that redefine possibilities. Interested in what we can do you? Contact us today.