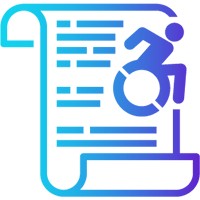 Why Accessibility Training Matters
Major Business Imperative
As lawsuits sparked by inaccessible web experiences continue to increase at an accelerating pace, knowledge of accessibility pitfalls for users of a wide range of abilities, and how to ensure compliance with the current Web Content Accessibility Guidelines (WCAG), is proving to be more than the right thing to do.
It's good business. 
Promet's web accessibility training team is passionate about advancing online experiences that are more inclusive and engaging for people of all abilities. In doing so, we help clients to broaden perspectives, expand markets, and lessen the likelihood of lawsuits.
 
How We Work
Through speaking engagements at industry events, online training opportunities, workshops, webinars, blog posts, and programs tailored to clients' specific needs, we are evangelizing the importance of ADA compliant websites, applications, and documents. 
Our current online accessibility training covers WCAG 2.1, as well as audit processes to determine whether a site is accessible, automated evaluation tools, and insights into coding practices that ensure accessibility for all online resources and capabilities 
Visit our public training schedule to learn more and to register for an upcoming class.
If you don't see a course that fits your current needs, contact us to discuss customized training for your team.