Main Content
Top 10 Reasons Why Drupal Dominates SEO

Drupal and SEO
The appearance of your web properties provides the very first impression of your business and brand to new visitors. This impression can generate leads, bring in new business, and promote word-of-mouth referrals as well as brand loyalty. The only problem is the fact that a good looking site alone will not automatically bring you, visitors. You need to be sitting on the first page of the search engines to get any type of targeted traffic. This is exactly why web designers and marketing professionals use search optimization. Specifically, they use the Drupal content management system (CMS) to design websites that are SEO friendly and give them the best shot to rise to the top of the SERPs. Drupal is an extremely powerful CMS that provides users with built-in tools that automate SEO efforts on a massive scale. Here are 10 reasons why you should choose Drupal for your SEO and web design needs:

1.       SEO URL STRUCTURE: Drupal provides complete control over the URL structure of your website. This means that you can create an attractive URL structure within your website that remains SEO friendly.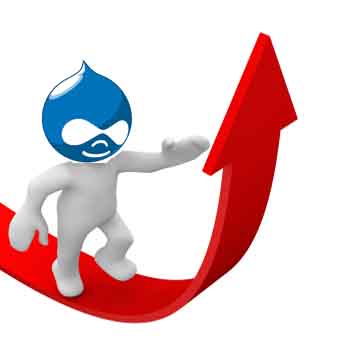 2.       CUSTOM CONTENT TYPES AND VIEWS: Use the included Content Construction Kit and View Modules to create all new content types. You can then create advanced custom views for those new content types. This means that you can create and display blogs, news stores, albums, books, tutorials, and other media types in a variety of creative ways.

3.       EASY EDITING: Drupal makes it more than easy to create, edit, and modify current and older versions of your various websites.

4.       ADVANCED TAXONOMY SYSTEM: The categorization system within the CMS lets users organize and tag various content with terms that are keyword rich. It is extremely flexible and can be used to categorize content in endless variations. Using keywords for categorization efforts will further search engine optimization.

5.       MULTIPLE USER MANAGEMENT: Drupal features strong user role and access control functionality so that many different people can access one site and work on their particular workload. Different roles can be assigned to different management positions.

6.       PAGE TITLES: Many SEO professionals believe that the TITLE of the page is the most important attribute related to high search engine rankings. Drupal has the ability to generate page titles automatically by using content names in the title tags. You have full management over Page Titles to fully optimize your site.

7.       GOOGLE ANALYTICS INTEGRATION: Drupal has the ability to integrate seamlessly with Google Analytics so that you can keep a close eye on your analytics data. This will help you track new changes to the site and see what brings in the most visitors.

8.       COMMUNITY: The Drupal community is absolutely huge. You will never go long without having a question answered because there are over 650,000 active accounts on Drupal.org. This means there are TONS of active community members ready and willing to help you 24 hours a day.

9.       NO COST CMS: The Drupal CMS and Drupal modules are completely free! There are no annual fees, licenses, or memberships required to take an active part in the CMS or its community. Just go to Drupal.org and download the software to get started.

10.   LEARNING SEO WITH DRUPAL IS EASY: Just download the Drupal SEO checklist module and install it on your site. You will be able to be walked through simple instructions that will help you fully optimize your Drupal site for the search engines.