Main Content
Promet's New Home
Promet's goal of global Drupal domination is one giant step closer after events that began on September 9th of 2011. Promet employees spent all of last week franticly packing up their desks and possessions while still maintaining a normal workload and carrying on as if nothing was different.
And then the move happened. Beginning on Friday the 9th, Promet made it's journey across the harsh terrain that is the North Center neighborhood of Chicago! After many hours of multiple trips back and forth, Promet finally established a presence in its new homebase - a whole four blocks away!
Looking Back
Promet Solutions first established itself in our previous office in 2003 and is proof that one simple idea can go a long way.
Promet currently has 40 employees worldwide and 20 specifically in our Chicago office - which is why we needed some more space!
Promet has completed hundreds of projects successfully and currently maintains multiple clients daily.
Promet has logged over 196 thousand hours of open source development and have never once had a complaint filed against us with the Better Business Bureau.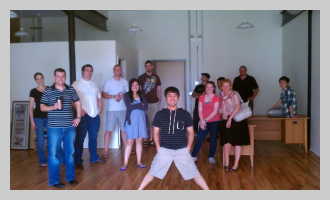 Moving Forward
A new office means a new attitude. It means more space, more employees, more productivity, more Drupal.
Promet has its goals for the remainder of 2011 set as well as the next five years, and with our new office there is nothing stopping us from acheiving anything we want.
We aim to bring on more projects and diversify our abilities while still maintaining the premier levels of customer service, integrity, and quality that has allowed us to build our name over the years and achieve this newly found success.
Our New Address:
1802 W Berteau Ave. Unit 209
Chicago, IL 60613
Highlights from the Move
All drama and intesnsity that a large move can bring aside, it was quite an enjoyable experience.
Here are a few images from the move to allow you to experience the intensity and excitement first hand: