Main Content
Promet Source at Opscode Chef Meetup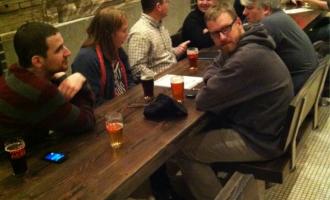 Promet Source was out en masse recently at the Chicago version of the Chef Meetup Group. No, we are not referring to Julia Child but to some serious code talk. 
What is Chef?  
Opscode
, the developer of Chef gives this description, "Chef is an open-source systems integration framework built specifically for automating the cloud. No matter how complex the realities of your business, Chef makes it easy to deploy servers and scale applications throughout your entire infrastructure. Because it combines the fundamental elements of configuration management and service oriented architectures with the full power of Ruby, Chef makes it easy to create an elegant, fully automated infrastructure."
Joining us at the Meetup was Nathen Harvey, Technical Community Manager at Opscode and one of the top Chef evangelists in the country. Nathan was in Chicago for some training and Promet arranged the Meetup. 
And where better to talk shop in Chicago? The
Half Acre Brewery
on the north side, brewers of some of the best craft beer this side of the Mississippi, that's where. While talking with Nathen, Prometster's tasted Half Acre Daisy Cutter Ale, Gossamer Ale and Over Ale which are the mainstays of the brewery. In addition, Half Acre was pouring Big Hugs Imperial Stout and Double Daisy Cutter. Mmmm mmmm good.
Promet has begun using Chef to automate testing and audits. We also feel that there are many additional uses for Chef outside traditional vanilla server setup. 
If you would like to learn more about how Chef can automate your life, contact Promet Source at
info@promethost.com.