Main Content
Promet Presenting at DrupalCon 2013
Promet is going to Portland this May for DrupalCon 2013. DrupalCon is the premiere event on a Drupaler's calendar, offering up buckets of information for the Drupal developer, project manager and user.
This year's theme for DrupalCon, Building Bridges, Connecting Communities is one we take to heart. Our work in the Higher Education and Non-Profit space has been chock-full of community building so we can't wait to attend.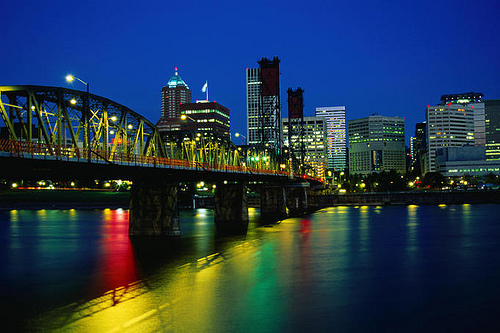 There are a couple special bonuses at this year's event. Promet employees have written some top-notch talks which have been selected by DrupalCon and we wanted to recognize our employees and plug their presentations.
DevOps For Drupal Presentation
First up, Jay Uhlinger, Promet's Director of Products and Will Milton, Promet Solution Architect will present, "DevOps For Drupal--Why We Cook With Chef." Their presentation is scheduled for Wednesday May 22nd at 2:15pm.
Here is the abstract:
"We continue to see DevOps, as a growing movement to bring together the practices and people in Development and Operations, take shape within the world of Drupal. It touches on a wide range of areas and activities: from building a Drupal site, to testing it, to deploying it, to monitoring it, to maintaining it, and to supporting it.
We'll provide an intro to DevOps (what it is and what it isn't), talk about the needs and goals for infrastructure as code, and how it applies to Drupal.
We'll also talk about Opscode Chef, our configuration management tool of choice for automation in working with Drupal and how we use it to make our lives (and the lives of our clients) better. We'll show examples of how to build, deploy, and manage Drupal stacks and sites leveraging the power and flexibility of Chef."
Drupal Support Presentation
Next, we have Michelle Krejci, Promet Developer presenting: "Making Support Support Fun and Profitable" on Tuesday May 21st at 2pm.
Here is the abstract:
"After the site launches and the project is over, there are two paths: developers and project managers can shake client's hands, pat backs, and all head our separate ways. Or we can continue to build a relationship—continue being a part of our client's success.
Strong long-term relationships benefit clients by providing trust and security, like a familiar mechanic or the barber we have had since we were a kid. As merchants, we also benefit. Happy clients mean referrals and recurring income.
Offering support is a different type of commitment, requiring a different strategy. A dev shop becomes a different type of service provider and needs to prepare for great execution.
This session will cover the why, how, and when of offering support, as well as exchange ideas about the many aspects: selling, marketing, staffing, delivering and monitoring support for Drupal."
Michelle will be joined in her presentation by Scott Massey who is Customer Success Manager at Pantheon and Meghan Sweet, Drupal Mechanic and Anne Stefanyk, Director of Support and Training, both at Chapter Three. Thanks to all for the collaborative effort!
We are incredibly stoked to attend DrupalCon and having our team members delivering this exciting content makes the entire event even better. We encourage you to attend these presentations.
Want to learn more about Drupal? Check out our training schedule!