Main Content
Promet Gets PowerLearning21 into midVenturesLAUNCH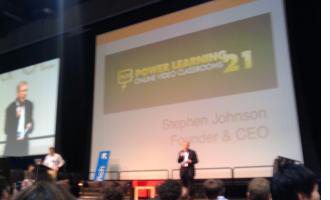 We at Promet are proud to mention that our client PowerLearning21 (PL21) was one of the featured startups at last month's midVenturesLAUNCH conference! Held September 27-28 in Chicago, midVenturesLAUNCH is the largest startup and innovation conference in the Midwest, bringing together the whole tech community in one place, from entrepreneurs and venture capitalists to bloggers and media professionals. Because of its large, targeted audience, this conference is the ideal setting for companies like PL21, with its fresh, new technology applications, to present their products. That's why we were so excited to get PowerLearning21 into LAUNCH: so it could get the word out about the new features filling its innovative online educational media hub.

About midVenturesLAUNCH
As the largest conference of its kind in the Midwest, midVentures highlights some of the best and brightest startups around, making it a hot event for all tech professionals. The conference's two-day agenda is filled with a variety of workshops and events, led by speakers chosen because they are recognized experts in the industry and/or successful entrepreneurs. This year's keynote speakers were Brad Keywell of Groupon.com and MediaBank, LLC; Steve Huffman of Hipmunk and Reddit; and Scott A. Jones of ChaCha. The main event was hosted at the U.I.C. Forum, a mile from downtown Chicago, which can seat 3,000 people. There were 14 LAUNCH companies selected for the event, including PowerLearning21.

About PowerLearning21
An online media hub for educators and students across the world, PowerLearning21 offers a state-of-the-art content-sharing platform filled with a wealth of educational content on diverse topics. Educators called teachers or tutors (loose terms for anyone with background or knowledge on a subject) upload instructional videos, which can then be purchased by other users, called students. What makes this such an innovative concept is that the interactive PL21 community pulls passionate teachers and students globally, creating an international source of education available in any country or continent.  PL21 is a great way to earn supplementary income with an online teaching job. 

PowerLearning21 at midVenturesLAUNCH
PL21 presented its product on Tuesday, September 28, at the U.I.C. forum, as part of the LAUNCH showcase, speaking to a huge community of industry professionals, entrepreneurs, and media professionals. Together with Promet, this interactive media hub is launching all kinds of new features, including an improved user interface, social media capabilities, better aesthetics, easier uploading, and even customizable storefronts for educators who upload their videos to the site. These changes will make PL21's video e-commerce platform even better and more successful.

Congratulations, PowerLearning21!