Main Content
Promet Doing It Up at DrupalCon 2013
DrupalCon 2013 in Portland just concluded, and Promet Source was there in force. Nearly everyone from our Chicago team went to Portland for the weeklong event—attending and presenting sessions, sharing Drupal best practices and generally partaking in the vibrant Drupal community.
Promet also had a booth presence in the exhibit hall, and we were excited to present our newly released Augmented Reality framework for iOS along with our PRAugmentedReality D7 module. Both of these components are available to the community by visiting this page.
DrupalCon Portland Tuesday, May 21st
Drupal Support is a growing area of expertise for us, and we were thrilled that one of our Drupal Developers, Michelle Krejci co-presented a great session titled: Making Support Fun and Profitable. Planned and executed correctly, support is as important for the client as development.
Offering support is a different type of commitment, requiring a different strategy. A dev shop becomes a different type of service provider and needs to prepare for great execution. Michelle's session covered the why, how, and when of offering support, as well as exchange ideas about the many aspects: selling, marketing, staffing, delivering and monitoring support for Drupal.
Watch the session below:
At the Promet booth, we talked shop with many visitors who descended on DrupalCon from all over the world. And this lucky guy won some cool Sony headphones.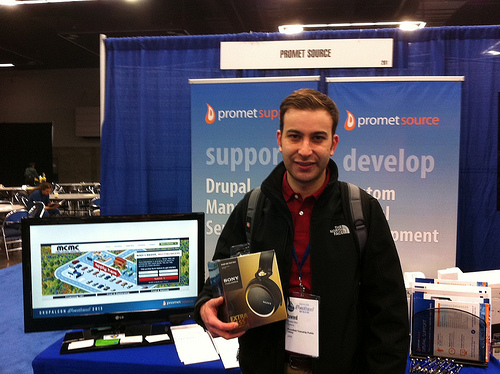 DrupalCon Portland Wednesday, May 22nd
Promet brought their A game today and 3 of our team members presented a session called: DevOps for Drupal, Why We Cook with Chef. DevOps is gaining popularity among the Drupal community and at Promet, it's how we do things. In this talk, Will Milton, Greg Palmier, and Jay Uhlinger provide an intro to DevOps (what it is and what it isn't), talked about the needs and goals for infrastructure as code, and how it applies to Drupal.
They also talked about Opscode Chef, our configuration management tool of choice for automation in working with Drupal and how we use it to make our lives (and the lives of our clients) better. They also showed examples of how to build, deploy, and manage Drupal stacks and sites leveraging the power and flexibility of Opscode Chef.
Watch the presentation here:
Meanwhile, the marketing team continued to meet and greet, and this cool guy won an Apple TV.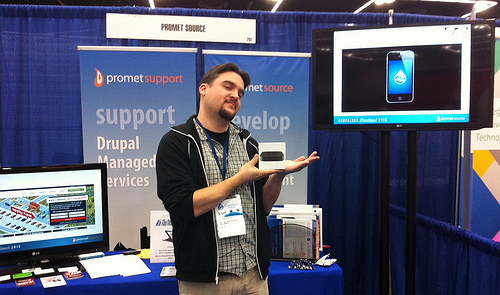 DrupalCon Portland Thursday, May 23
The final day of the exhibit hall brought even more folks to the Promet booth. Visitors wanted to talk about lots of topics with us: When's Drupal 8 going to hit? How is Promet preparing for Drupal 8? What kinds of apps are institutions of higher education building? What's that Augmented Reality demo you keep looping in your booth? We've been actively working with augmented reality and got a great response from our booth visitors. 
And in the Promet booth, we never stopped giving stuff away. This happy guy won an Otterbox iPad Case.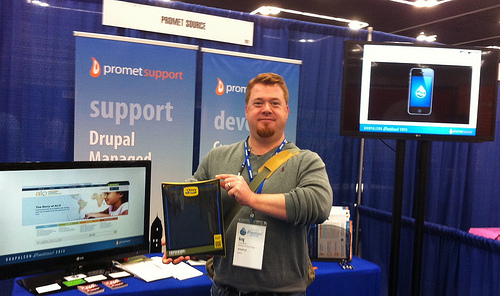 The team is back home in Chicago now, but we are already thinking about how we can contribute to DrupalCon 2014 in Austin, TX.