Main Content
Locational Search on Mobile Phones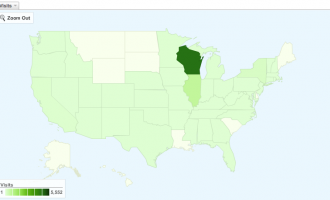 I was recently asked a very good question about one of our client's Google Analytics.  After we finish developing a new client's website, we are often asked to begin an engagement performing search engine optimization techniques as well as consulting and training to maintain their websites.  The field of SEO (search engine optimization) is always changing as Google and other search providers find new ways to better provide results to searchers.  Keeping that in mind we often run into new eye-opening results and findings when we do a deep analysis of their analytics. 
 
To the question…..  The other day our CEO was searching through the Google Analytics for Green Cab of Madison and recognized something interesting about their organic search results.  He noticed that there was a decent amount of organic search results that were being located throughout the US. 

 This was just strange because Green Cab of Madison is a LOCAL business that only operates in Madison, Wisconsin…. It was strange because the search terms included such phrases as Cab in Madison, taxi in Madison Wisconsin, etc.  However, there were also search terms without a location or city names.  This couldn't be attributed to there being other "Madison's" throughout the nation as many of the terms included the state (Wisconsin) in the keyphrase and because some of the search terms didn't have any city listed. 
 
For a moment I thought that just maybe Green Cab of Madison had received some national coverage about their "Green" cab service that uses hybrid electric vehicles.  BUT, after some quick filters and investigation, I found what I was looking for.

 Green Cab of Madison and many other location-based companies are benefiting from the growing locational-based search results provided by mobile providers.  Search engines are now recognizing the location of a searcher (not where the mobile phone is registered) by using it's GPS features.  For this reason, Google was providing search results to these mobile searchers that were accurately pointed at the city they were in, again, not what city the mobile device was registered in.   

So what does this all mean?  It means that Google is finding YOUR location at the current moment, not where your phone is registered, to help give you a more accurate result.  What else does this mean?  Well as we can see, Google Analytics is not recording where YOU were for the search, but instead where the mobile device is registered.  This is the reason for the Chicago location on LOCAL Madison, Wisconsin results.          
Need help with any type of Online Marketing or any other website & marketing help? 
We Specialize in  Web Hosting, Chicago Web Development, & Chicago Online Marketing for Web Sites!
This blog entry was written by John Nollin - Director of Operations & Client Management for Promet Marketing