Main Content
How to Leverage Google Alert Tags
Google has launched an important new feature to help bring critical alerts and announcements to the forefront of search. While COVID-19 has highlighted the need to convey a single source of truth and critical updates in a timely manner, alerts can cover a wide range of topics that include weather events, criminal activity, threats of foodborne illness, environmental dangers, street closures, and much more. 
Here's how you can now ensure that your site's alerts are highlighted as a rich result on a Search Engine Results Page (SERP).
As shown below, the rich result includes the page's regular snippet description and can contain a structured summary of an announcement that can be expanded directly from SERP.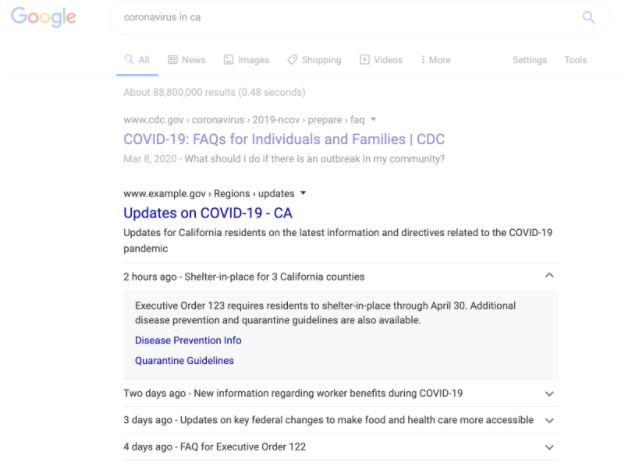 Using the Special Announcement Markup
The special announcement is a type of structured data that is tagged as a Special Announcement Markup that the Google Search Engine can identify and display in the Search Engine Results Page. 
Two Options for Implementing COVID-19 Special Announcement Markups
Google has provided websites with two ways to implement COVID-19 announcements markups to their webpages.
 
1. Add Structured Data to Web Pages (Recommended Method)
Google recommends that websites add special announcements as structured data markups, as structured data is a standardized format for providing information about the page and classifying the page content.
 
2. Submit Announcements in Search Console (Alternative Method)
The second method is intended as a short-term solution for websites that have limited technical ability or support. Websites need to manually send a request inside Google Search Console through the special reporting tab to submit a special announcement request for a specific page of their website. This is a more tedious process as it requires pages to be manually updated inside Google Search Console whenever there are updates.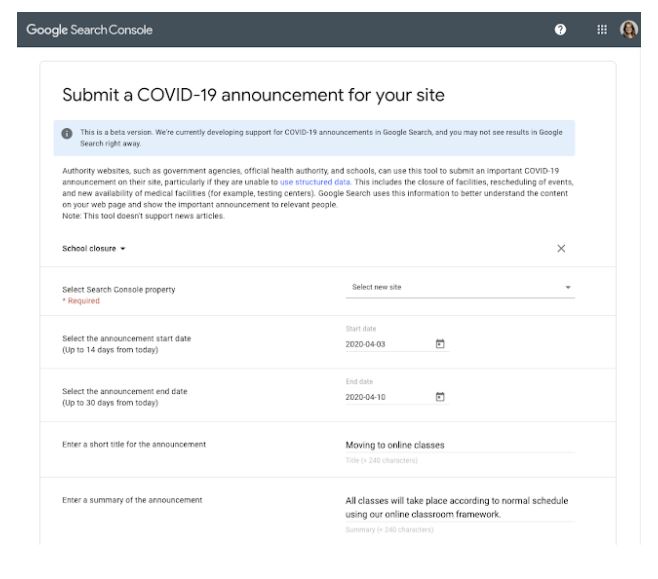 Google is actively developing the COVID-19 Special Announcement Feature and we can expect changes in requirements or guidelines as the COVID-19 pandemic progresses. These special announcements are designed to provide crucial and accurate information from a single source of truth. information and reduce the risk of panic that can be caused by misinformation. 
COVID-related announcements can include:
Announcement of a shelter-in-place directive
Closure notice (for example, closing a school or public transportation)
Announcement of government benefits (for example, unemployment support, paid leave, or one-time payments)
Quarantine guidelines
Travel restrictions
Notification of a new drive-through testing center
Announcement of an event transitioning from offline to online, or cancellation
Announcement of revised hours and shopping restrictions
Disease spread statistics and maps
In an environment characterized by drastically curtailed social engagement and rampant uncertainty about what's next, websites have never served such a vital role for communications and engagement. At Promet Source, we are actively consulting with clients from every sector to ensure that their websites step up to the challenge of current realities. Let us know what we can do for you.