Main Content
Drupalcamp Cebu 2017 Up Close
Another Drupalcamp event had just successfully ended in Cebu! This is one of the largest Drupal Conferences in Asia Pacific Region organized by volunteers and open source enthusiasts. Promet is happy to provide organizing space and event support.
The local community is growing!
It was very overwhelming to see Drupalcamp Cebu grow in number year after year since it first started last 2014 with 120 attendees. Drupalcamp Cebu 2015 had 70 attendees while Drupalcamp Cebu 2016 had 100. The monthly meetup in Cebu City helps in keeping in touch with the local community over the years.
This year we had a total of 150 attendees!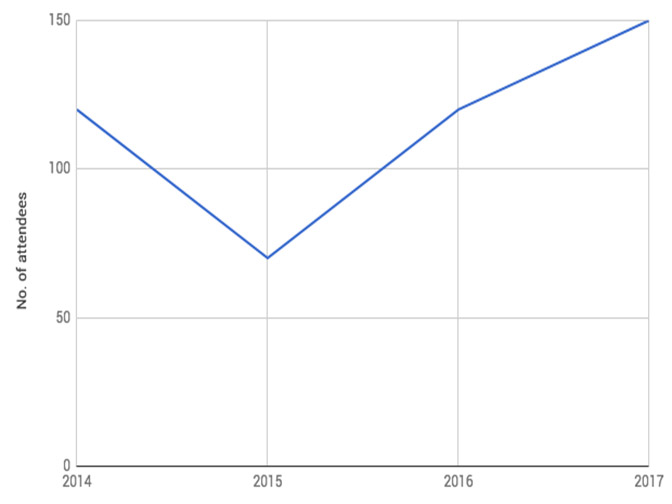 Last November 1, 2017, Cebu had just successfully concluded its 4th consecutive Drupal Camp (thanks to the collaborative effort of the Drupal Cebu User group led by Luc Bezier), hosted by CIT University.
"CIT University has been one of the most dynamic universities that we worked with. They were very active in the venue preparation. They also sent student volunteers to help us during the event." - Luc Bezier, Organizer.
 

Drupalcamp Cebu 2017 Logo was selected following a logo contest. Congratulations to Ron Corona for his winning entry :)
Sponsors
Of course, the event would not have been made possible without our sponsors. Promet Source has been happily sponsoring Drupal events in Cebu and in the Philippines and has been a GOLD Sponsor for Drupal Camp Cebu every single year! It's no surprise, as Promet Source is already the venue for the Drupal meetup, last Wednesday of every month.
Below is the list of Drupalcamp Cebu 2017 sponsors.
GOLD SPONSORS: Promet Source, and Srijan
SILVER SPONSORS: Pantheon, and ANNAI.
BRONZE SPONSOR: Powerstorm.
COFFEE AND SNACKS SPONSOR: SkyRockIT
It is interesting to see that every sponsor had already sponsored this event in the previous years. I think it is a great proof of the success of the camp and that sponsoring the event is successful for both: the event organizers and the companies involved.
Pre-camp: the speaker's dinner
A night prior to the event, Drupalcamp Cebu 2017 speakers got together over dinner at the rooftop of Harold's hotel.
It was fun to see familiar faces again and meet new speakers at Drupalcamp Cebu. It lets the speakers meet each other in a less formal way. Some had a long flight from another country, so they could enjoy a nice dinner and have a good rest before the conference. The dinner was organized and paid by the Drupal Cebu User Group. A few of the speakers were missing but most of them came and really enjoyed the live band.

The sessions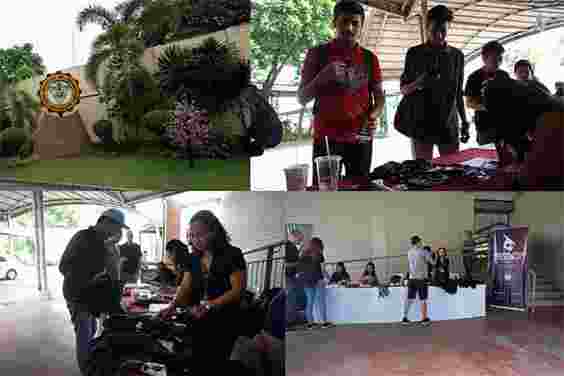 The camp this year had 23 sessions (one was canceled), but before the sessions started, we were able to attend the Keynote by John Albin Wilkins (JohnAlbin on drupal.org). It was great having John to visit us in Cebu and be our keynote. He is a very prolific sharer of free code. His Zen theme has been downloaded nearly two million times on drupal.org!

During the Keynote, he talked about future versions of Drupal 8 and Drupal 9, and how modern software evolves to facilitate migration from one version to another. By listening to him, we learned that with Drupal 8 we will slowly depreciate the API when changes are needed. This is to make migration from one version to another way smoother than we had ever experienced with Drupal. Link to the slides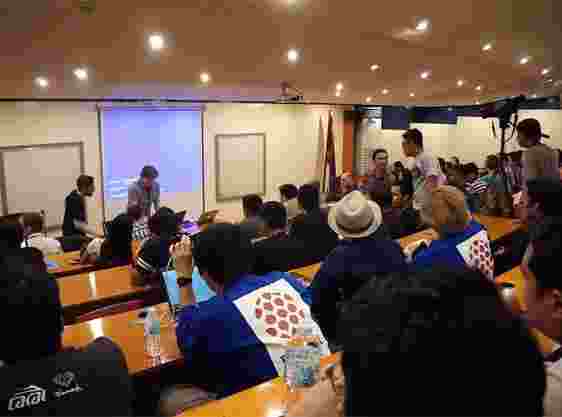 "I saw John's keynote in Drupalcamp Taipei and I asked him to present the same for Drupalcamp Cebu 2017. I really liked his way of demonstrating how Drupal is planning to fix one of the main issue we have when migrating from one major version to another version in drupal. Gradually depreciating the API rather than breaking changes"
- Luc Bezier, Organizer.
Session for everyone
After the keynote, attendees went into their choice of sessions held simultaneously at four different rooms. Each room was labeled after each sponsor. To make it easier for the attendees, the sessions were divided into 8 categories:
frontend,
backend,
QA / accessibility,
business,
devops,
UI/UX,
lifestyle.
There was also 3-hour Drupal training for beginners attended mostly by students.
Cedric Chaux, from Taiwan, talked about the mistakes he made as a developer (Link to slides). He discussed some of the common issues we come across at work like task mismanagement, wrong estimates, procrastination, and unreliable clients.
The session was easy to relate to. I think it was a good reminder of the things that we should not do and the things that we should do as a developer.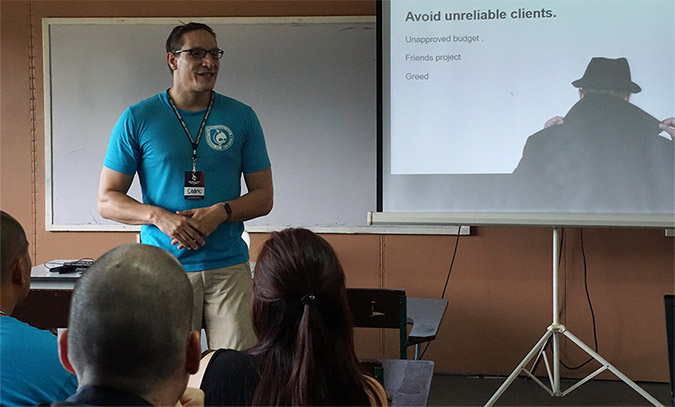 Donnabel Carato gave an overview of Web Accessibility. It was a very interesting session and helped me understand the process behind QA for Web Accessibility. Donna is the QA lead at Promet Source so the personal experience on QA was very interesting. She is involved in the ADA Website Accessibility services that Promet is providing.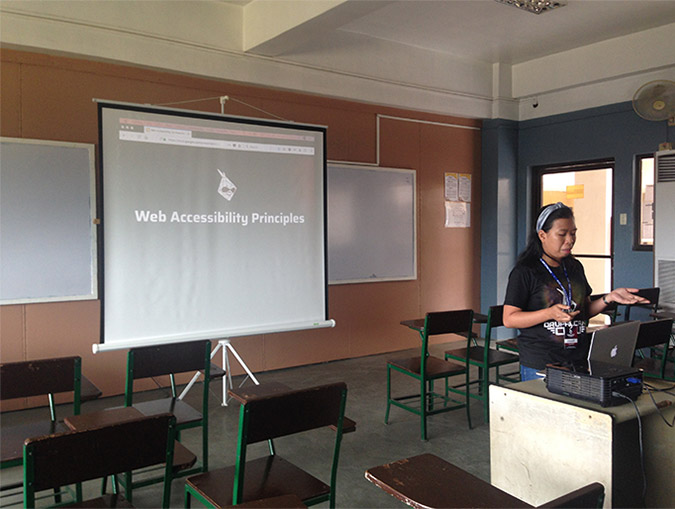 Aman Kanoria, from India, discussed the improvements that came with Drupal 8 when it comes to managing media. He did a good showcase of some possibilities using cool modules like Dropzone or Entity Embed (Link to the slides). Some of them I will definitely try to re-use in the future.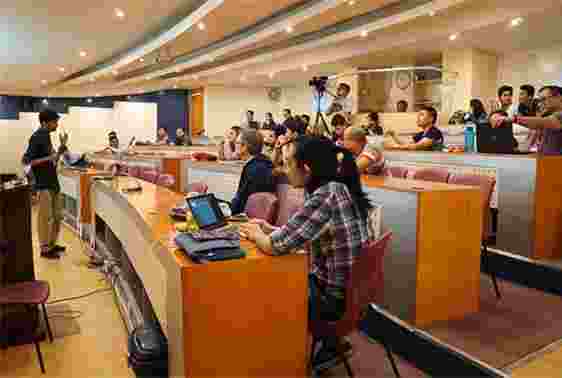 The session of Luc Bézier "Guide to Freedom and Travels for developers" was not technical, but on lifestyle as a remote developer. Luc gave some highlights of the remote lifestyle and some tips on how to keep in budget while traveling. He traveled to many countries this year like Australia, Thailand, Morocco, Italy or Taiwan, and his session included exotic photos and a bunch of useful advice (Link to the slides).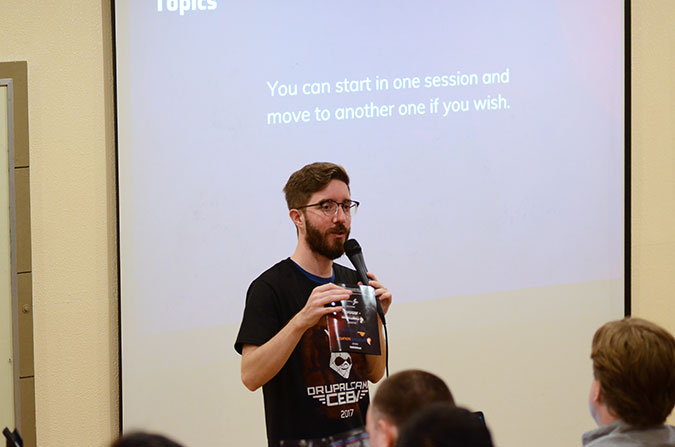 From the 23 sessions, I was not able to attend them all. Other sessions included for example: "Ionic and Drupal Headless" by Leolando Tan, "Atomic Design" by Justine Win Canete, "Manage Docker Host or Swarm Cluster with Portainer" by Ashwini Kumar, "How to make your site on D8 Fly with Redis" by Paul de Paula, "Master of Mailgun" by Ranny Navarro, "Skill up! Learning, relearning and unlearning" by Joan Maris Rosos and "Automated Accessibility testing via PA11Y" by Raymond Angana.
"I like the session from Annai about 'Open Portal Data Using Drupal. It's interesting to note that drupal is able to bring positive change to the community (like Japan), and the number of things you can do with drupal's technology."
- Mike Vallescas, third time attendee.
The Drupalcamp Training
Aside from the ~20 sessions offered, every year, we organize a training for beginners. Donnabel Carato and I usually present the "Drupal Introduction". It is a one-hour presentation. The main purpose is for the first-time attendees to get acquainted with what Drupal is, it's history, when to use Drupal, and who uses Drupal.
This is always followed by 2 or 3 hours training for beginners. This year Dennis Abasa and Keith Roi Francis Sasan did an amazing job. Their training was focused on site-building and theming with Drupal 8.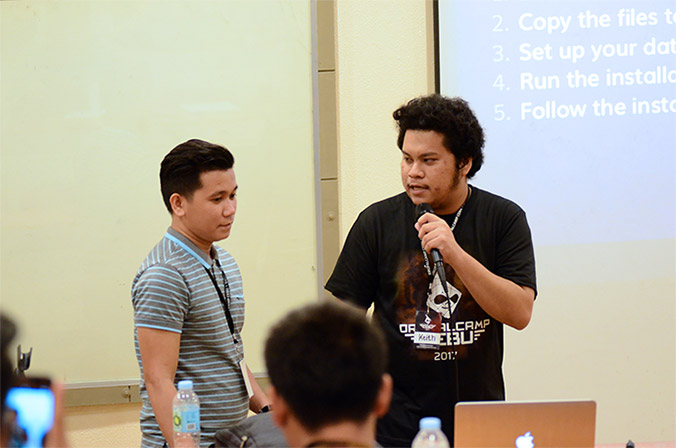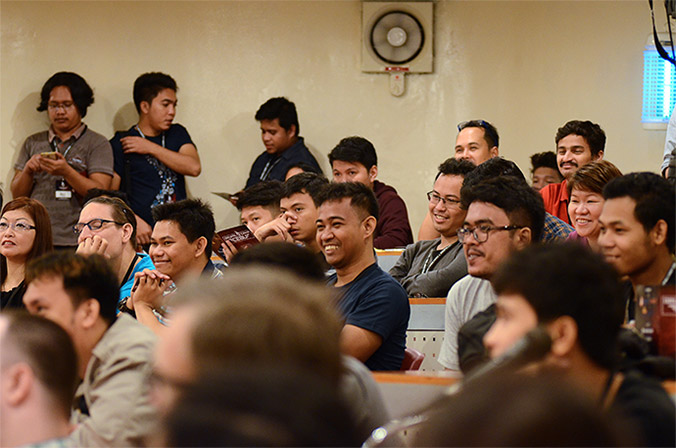 We had around 60 people in the room, that's a big jump from 35 last year. A majority of the beginners were students, but among the crowd, we had two IT Directors and an IT instructor from Eastern Samar (a neighboring island of Cebu) - all three were first-time attendees.
We also had a WordPress developer all the way from New Zealand. During the registration, I happened to have a quick chat with him. He mentioned traveling to Asia and happened to see 'Drupalcamp Cebu 2017' event on Drupical's website. He had always wanted to learn Drupal and decided to stop by and join the event.
"Always browse Drupical, you might be surprised where it takes you."
Luc Bezier gave his closing session at 6 p.m. And just as the camp started with a live band at the speakers' dinner, it also ended with a live band at 'IAMIKS Chicken and Beer' for the yearly after-camp party. The trivia was organized by Raymond Angana.
Beer and games!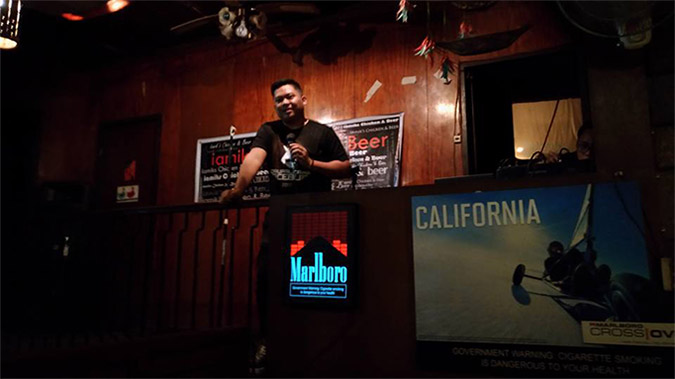 Wait... Where is Cebu?
Cebu City is the second largest city in the Philippines and is one of the most popular tourist destination in the country. Known as the 'Queen City of the South' this island is surrounded by more than 150 islets, you can just imagine the number of beautiful beaches waiting to be visited.
Aside from the beaches, there is still a lot to love about Cebu. 
Here you will find diving spots, snorkeling areas, mountains to climb, waterfalls, caves, and historic places to explore.
For Drupal lovers, one good reason to visit is the yearly Drupalcamp. Now that's tempting.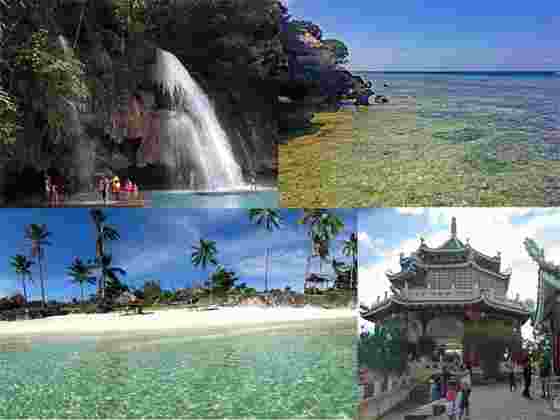 Testimonials
This year we decided to throw questions to our attendees to get to know what they think and how they feel about the camp.

Q: What are the main improvements made in Drupalcamp Cebu 2017?

"One of the improvements of this year's camp was the use of online payment. It was quite successful. We had the better estimate of how many people we would have ahead of the event" - Luc Bezier, Solutions Architect.
Luc has been the main organizer of Drupalcamp Cebu since 2014. Kudos to you!
Q: What session did you like the most?
"I honestly liked Mark Koh's session "Drupal Beginner's Essentials". The topic on GIT was the most interesting part for me because of its power and capabilities on file management. And the fact that the speaker was not boring. He has the ability to capture our attention and he has that guts in the delivery of this topic." - Gil Dialogo, IT Instructor.
Q: What do you think about Drupal?
"Drupal, though I have not used it yet in the development of websites, I guess it's good and user-friendly. Plus, there are experts whom we can lend a hand during development because of its a supportive community." - Gil Dialogo.
Gil is a first-time attendee and an IT instructor at Eastern Samar State University - Salcedo. Eastern Samar is a neighboring island of Cebu and one of the biggest islands in the Visayas.
Q: What interested you most about Drupalcamp Cebu 2017?
"Drupalcamp Cebu 2017, has an interesting line up of talk and sessions." - Donnabel Carato, QA lead.
Donnabel is the QA lead of Promet Source Cebu, one of the organizers of the Drupalcamp and presented during the Training for beginners.
Q: What do you think about Drupal?
"I am a pro-open source advocate and I see Drupal be an evolving CMF platform that's flexible, extendable, scalable, and secure. There's so much you can do with Drupal and hope to see more platform development and growing modules in the future". - Michael Mark Vallescas.
Michael Mark Vallescas had been attending every Drupalcamp Cebu, since the first one in 2014. When asked about why he finds Drupalcamp interesting he said: "I like meeting like-minded people and learning new things about Drupal."
In conclusion, Here is Drupalcamp Cebu 2017 in numbers:
2 gold sponsors
2 silver sponsors
1 bronze sponsor
1 coffee and snacks sponsor
23 sessions
3-hour Drupal training for beginners
150 attendees
 
Thanks to all the organizers of the camp for doing extra hours after work. Kudos to Luc Bezier for taking the lead, well done!
We greatly appreciate the support from all the sponsors, the speakers for sharing your expertise, and to all the attendees.
We would also like to thank our foreign attendees and speakers for flying all the way to Cebu to be a part of Drupalcamp Cebu 2017.
Saving the best for last ….
Q: What session did you like the most?
"I like the training session most since it was the first time I was introduced to Drupal. I also like the 'Guide to Freedom and Travels, for Developers' a great session where Luc give us some pieces of advice on traveling tips
Too bad He didn't give us some free plane tickets." - Mikko Olmillo.
Miko is a student and a first-time attendee of Drupalcamp Cebu. He is very interested in learning Drupal and hopes to participate again in Drupalcamp Cebu 2018.
See you guys next year!!
Special thanks go to Luc Bézier for his significant contributions to this post.