Main Content
Drupal Con Chicago 2011 Session Selected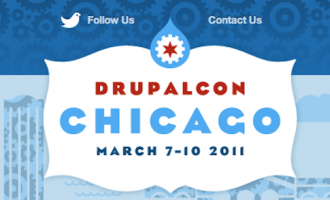 As the Drupal Con event draws near, thousands of developers, users, businesspeople, etc. want to know which sessions will be some of the best to attend during the March 7th-10th, 2011 conference.  Promet is just as eager to attend and after looking over the sessions from each track, we are interested in these topics:
 
 

Coder

Automated Testing and Drupal:
         Steven W. Merrill will discuss the new features in Drupal 7 that will incorporate automated testing for developers!  This session will be geared towards developers. 
 

 
Implementation and Configuration

Workbench: Managing Content Management:
         Promet is interested in seeing the capabilities of the workbench module and how it can help manage content. We will be attending this session put on by Colleen Carroll.
 
Design and UX

Visual Hierarchy 1,2,3: This MUST Be Important!:
         This session, given by Jared Ponchot, will answer your questions about visual hierarchy and its importance. Designed for beginners, new developers and designers can learn the fundamentals that help create better interfaces.
 
Theming

Drupal 7 Theming Basics:
         Are you worried about converting a theme from Drupal 6 to Drupal 7?  This session by Jennifer Lea Lampton and David Needham will aid with information geared towards converting theme to the new release.
 
Business and Strategy

Getting Early Estimates Right:
         Jakob Persson's session will teach how to use fixed estimated to manage uncertainty, break requirements down into features, draft rough Drupal solutions for features, and provide an estimate based on experience. Learn how to fulfill proposals with an accurate price.
 
Drupal Community

Welcome to Drupal (Con):
         This session by Jeffrey A. McGuire and Robert Douglass is a great session for newcomers and will explain the wording associated with Drupal, how it the community works together, and the benefits of open source communities in general.
 
Promet is thrilled to be a sponsor of this year's Drupal Con and we look forward to the many sessions that will take place in March. With a lot of exciting advancement in Drupal including the new Drupal 7 release and its growing use, the conference will be the best one yet.