Main Content
Drupal 8's Chicago Connection
Chicago is Drupal 8's home sweet home.
That's right, Drupal 8 was born in the City of the Big Shoulders, that Midwestern metropolis where monsters roam the midway, hot dogs never come with ketchup and office towers scrape the sky.
Back in 2011, Chicago was host to DrupalCon and Dries was giving his State of Drupal address to a crowd of more than 2,000 attendees. It was during this address that Dries created the development branch for Drupal 8 and the future of the Drupal project started to take shape.
We created the Drupal 8 branch live at DrupalCon. Screenshot attached. /cc @sboyer #drupalchi #drupalcon

— Dries Buytaert (@Dries) March 10, 2011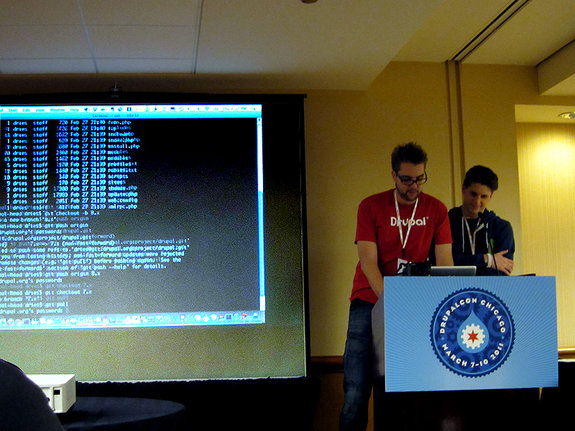 Dries creating the development branch for Drupal 8 in Chicago, 2011. Photo credit: Ariane Khachatourians
Four years and hundreds of contributions later...
It's amazing to think how much has changed on the web since those humble origins four years ago. Dries had the following guidelines laid out in his head before he went ahead and created the Drupal 8 branch:
The realization of all these features (and a couple hundred more) in the new version of Drupal started from a bold declaration for the future of the platform; Drupal wasn't going to scale down, rather it would scale up and continue to grow into an even more sophisticated content management system.
The focus on accessibility, multi-language support, and interoperability set Drupal apart from other CMSs because it makes it an even more attractive platform for large, enterprise-like web applications.
Drupal 8 and Chicago
Chicago was a fitting point of origin for this declaration that Drupal would continue to grow bigger and better.
Chicago's Drupal community gathered to celebrate the official release of Drupal 8 on November 19, 2015, and there was some appropriate comparison to the robust architecture surrounding revelers in downtown Chicago.
The first modern skyscraper with a steel skeleton was built just a few blocks from where Dries wrote the first lines of code for Drupal 8. That's a bold example to follow and there's no doubt that Drupal 8 will continue to stretch the limits of what's possible for a CMS, growing larger and larger over time and supporting even more complex web applications than it already does today.
Read: Building Production Sites on Drupal 8: Our Experience
The Drupal community should be proud of what it's done in the intervening years to contribute to Drupal 8's release. Chicago's Drupal community was responsible for more than 600 contributions to the D8 core that came from individuals, companies, and universities.
With such an active and passionate community behind it, the sky's the limit for Drupal 8.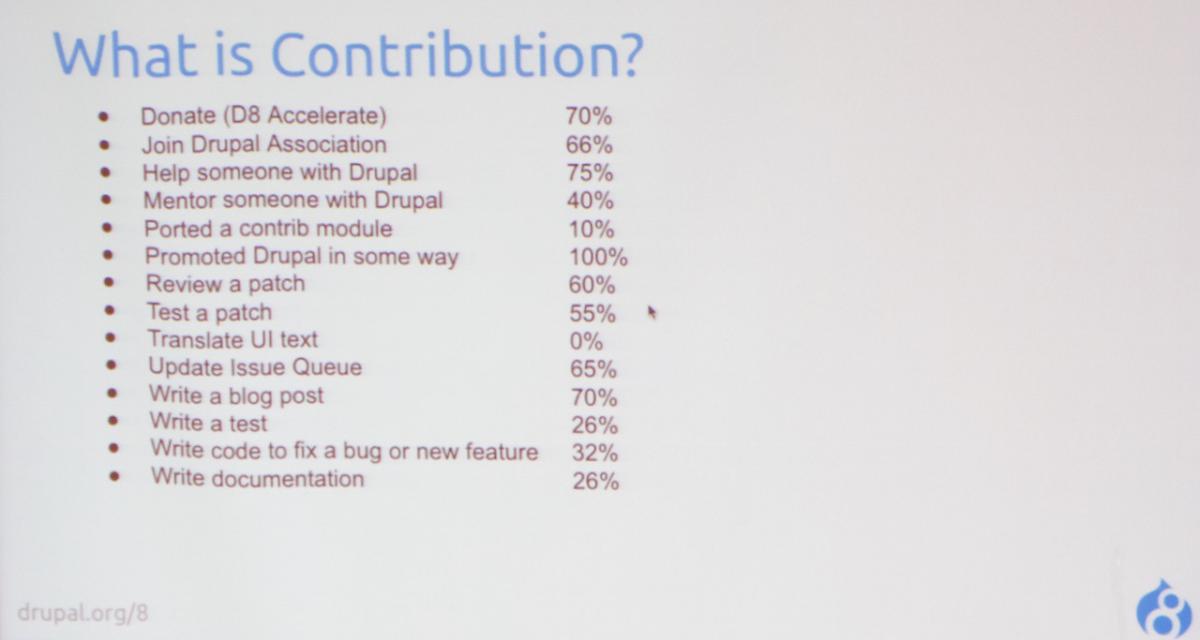 A snapshot of contributions to Drupal 8 from Chicago's Drupal community