Main Content
Building Online Communities For Higher Education
Promet sponsored the recent Drupal Day event at the NTEN Annual Conference in Minneapolis. As part of the sponsorship, Andy Kucharski, Promet's CEO moderated a breakout session on Building and Sustaining Online Communities. 
Andy's talk touched on many topics that are crucial for organizations to consider when building web functionality to service their many constituents. These topics resonate with organizations of any size and industry but especially are hot for the Higher Education and Non-Profit industries. 
On the web, Higher Education organizations face the challenge of appealing to, and maintaining high value communities for their multiple audiences which include current students, prospective students, staff, faculty and alumni. The alumni population is extremely important and attractive to any higher education institution due to their fundraising capability and marketing reach.
One of Promet's clients, a midwestern university looked to create a flexible alumni community site that provided scalable, secure, easy to use functionality. During the initial phase of the project, Promet developed a community Functionality Matrix that proved extremely valuable to the client in helping to identify key features and assign priority and weighting to each feature based on value. 
What is the Functionality Matrix?
The matrix breaks out key functionality areas with related sub-functions. It allows the user to assign value to the function based on numerous criteria like user benefit, business benefit and technical complexity.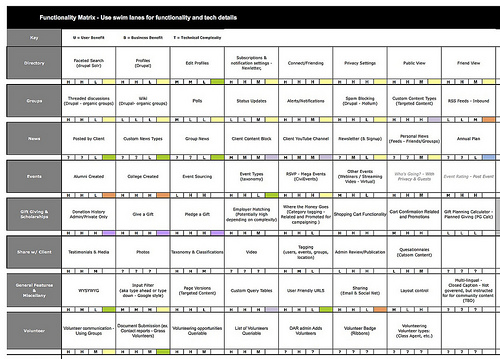 Functionality Examples
Think about this: You have identified that you need a directory for your community. Fair enough. How can you embark on your plan to implement the directory?
What are the benefits to the users or administrators?
Is directory functionality built into the core Drupal code or is a module or plug-in needed?
How difficult would it be to deliver the functionality?
Thinking further about your directory, what functionality is needed?
What kind of search will be used?
How will users access or edit their profiles?
Will the public have access to their profiles or just "friends"?
Another example of functionality that is important for your online community is gift giving and scholarship. What are important sub-functions that users and/or admins might need? 
Donation history and donor management
Giving gifts and pledges via eCommerce
Categories for gift giving i.e. athletics, library, etc 
Ability for scheduled giving
Use the Functionality Matrix as a tool to help you discover and prioritize questions and issues like these. It's a tool that immediately adds value to the community development process for both client and developer.
Promet builds sites and apps using Drupal and so the matrix is geared towards a Drupal instance. However, you can customize the matrix to fit your needs. And if you find any additional uses for the matrix, or if you can improve it in any way, please let us know. 
Download an editable Functionality Matrix here (Google Doc format, convertible to Excel or .csv format).
Download the matrix here. (You must have Adobe Reader to view the matrix).